The man they call Tiger: The diplomat who stood up to America's bullies becomes China's new and unlikely hero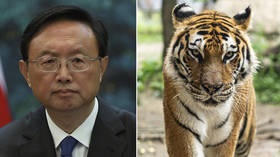 Yang Jiechi's outburst against the US at a high-level meeting in Alaska last month has been widely praised and elevated the career bureaucrat to the status of national deity.
Until recently, Yang Jiechi, a 70-year-old Chinese career diplomat, had a reputation, at least among his foreign peers, of being a somewhat mild-mannered and colorless bureaucrat.
Sixteen minutes at a meeting with his American counterparts in Alaska last month changed all that.
Also on rt.com
Don't expect this week's talks in Alaska to break any ice between Beijing and Washington – here's why
That was the length of time Yang spent delivering a blunt and uncustomary lecture about America's racial problems and democratic failings, saying the US should address its own human rights record and stop interfering in China's internal affairs. He also warned Washington not to challenge Beijing over a mission it views as sacred – the eventual reunification with Taiwan.
Yang hit back after US Secretary of State Antony Blinken and National Security Advisor Jake Sullivan had opened the session by undiplomatically accusing China of threatening a "rules-based order that maintains global stability" with their actions regarding Xinjiang, Hong Kong, and Taiwan; of carrying out alleged cyberattacks on the US; and of exercising economic coercion on other nations.
Yang responded angrily, chiding Blinken for trying to "speak to China in a condescending way from a position of strength," telling him: "So was this carefully all planned and was it carefully orchestrated with all the preparations in place? Is that the way that you had hoped to conduct this dialogue? Well, I think we thought too highly of the United States. We thought that the US side would follow the necessary diplomatic protocols. So for China, it was necessary that we made our position clear. So let me say here that... the United States does not have the qualification to say that it wants to speak to China from a position of strength."
His blunt, out-of-character remarks went viral in China, and were praised for their forthright denunciation of America's hypocrisy. Some media comments drew comparisons to Mao Zedong's famous declaration in 1949 that "the Chinese people have stood up," viewing his words as laying down a marker in China's challenge of American dominance. Others said there had only been "one winner."
There is one big winner from the Alaska meeting, i.e, Politburo member Yang Jiechi, director of the office of the Central Commission for Foreign Affairs. His lecturing of Americans has been a resounding success with the Chinese press and public and will continue to resonate there https://t.co/A81eN2a5dw

— Dali L. Yang (@Dali_Yang) March 19, 2021
The meeting between the United States and China in Anchorage, the first formal dialogue in the Biden presidency, turned out to be not so much a reconciliation as an escalation in the sharp deterioration of the relationship between the two powers. One commentator tweeted afterwards that Yang had "smacked Blinken square in the face."
The outburst was all the more surprising given Yang's long-standing reputation as a mild-mannered diplomat who knows the West well. Born in Shanghai in 1950, he studied at Britain's Bath University and the London School of Economics in the 1970s. After joining the foreign service, he spent much of his diplomatic career in the US, becoming a close friend of the family of George H.W. Bush, for whom he served as host and translator during a visit to Tibet and was given the nickname "Tiger" (after the Chinese zodiac symbol for the year of his birth). In 2000, the Los Angeles Times reported: "At several junctures over the past two decades, including the aftermath of China's Tiananmen Square crackdown of 1989, the man they call Tiger has emerged as a hidden liaison between the Bushes and the Chinese leadership."
Last month's exchange was quickly conflated in the media as a new approach from China toward America, shying away from one which had previously been marked with restraint.
It is no surprise that Yang's comments received widespread popularity back home, and afforded him the status of national hero. Of course this shift in tone isn't exclusive to him as an individual, it's part of a broader trend of Chinese diplomats becoming much more vocal in hitting back against the US, which have earned them the title "Wolf Warriors" from the mainstream media, after a popular Chinese movie four years ago.
Also on rt.com
China's 'wolf warrior' diplomats take on the West on Twitter to provoke a reaction, just like President Trump did to Beijing
Why is this happening now? These comments are not so much intentionally provocative or aggressive as they are reactive. Contrary to public belief or media sensationalism, it's exaggerated to claim that it's an attempt to rewrite the world order either or to "show America who's boss." It is, however, aimed at placing an increasingly powerful and confident China on an equal footing with the US, to show Washington it will no longer be bullied by it, and to let the world see that Beijing is unafraid of pointing out America's many failings.
Vocal and confrontational Chinese diplomacy is often misconstrued as a product of authoritarianism, or an attempt to silence those who criticize the state. This is incorrect and is a misleading discourse pushed by Western mainstream media to frame China in overly aggressive terms. Proper understanding of this issue vests itself not in absolute power, but historical and social relations between the two countries. It is a reaction to the mindset in the Western countries that they are superior to China. They ultimately believe that they have a divine right to evangelize its values and ideology upon China and to "change" it in accordance with their vision, whilst aiming to exploit its markets.
This is how it's always been. Chinese discourse emphasises what is styled as "the century of humiliation" whereby Western powers subjugated and interfered in China between around 1839 to 1949, aiming to "civilize it" and shape it to their desires.
The People's Republic of China state has institutionalized these historical experiences and from that, strongly advocates the mindset that China is not a subordinate to the West, and ought to be treated as an equal sovereign state. This is what produces the commonly held line in Chinese diplomacy that "the West must not interfere in China's internal affairs" – it is not a projection of oppression as much as it is a projection of independence and historical experience with the West, which seeks to selectively use human rights to weaponize various territorial issues in China for geopolitical again: such as Hong Kong, Tibet, Taiwan and Xinjiang.
But it is also a product of the contemporary environment too. We must not lose track of the reality, something the mainstream media never acknowledges, that for the best part of an entire year the US has relentlessly vilified China on multiple fronts. There has been the longstanding blame game over the Covid-19 pandemic, including the "China virus" jibe of the Trump administration, the hyping up of Beijing as a political threat to American values and the world, and the smearing, sanctioning and attacking on Chinese companies on a global scale.
Also on rt.com
A leak from a Wuhan lab or a US military one? As the US and China trade barbs over Covid's origin, the world waits for answers
Not surprisingly this has sharply turned public opinion in China against the United States, and sparked popular nationalism to fight back against it and its endless rhetorical condemnation of Beijing. This is the part which is always missed when commentators bark about so-called "Wolf Warrior diplomacy."
As a result, Yang's retort at the Alaska summit was extremely popular. The diplomat, who directs the country's Foreign Affairs Commission, is a member of the politburo and is close to President Xi, demonstrated the new confidence in China's approach to America.
Beijing will not be "boxed in" by the West or be subordinate to a group of countries who believe they know "what is best for it." While it does not explicitly aim to rewrite the world order, it will challenge the monopoly on discourse that the west has held until now. China is now more ready to vilify America's human rights record in response and highlight its perceived hypocrisy on the world stage. The war of words is on, and Yang, China's unlikely new national hero, will go down in history for his part in it.
Think your friends would be interested? Share this story!
The statements, views and opinions expressed in this column are solely those of the author and do not necessarily represent those of RT.
You can share this story on social media: