Treating masks as fashionable, 'smart' accessories obscures necessary debate on liberties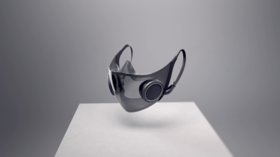 Electronics company Razer is creating a "smart" mask as a new development in face coverings designed for everyday consumers. But when we adopt masks as a cultural trend, what happens to the debate around Covid-19 policies?
Recently, the electronics company Razer announced Project Hazel, their upcoming line of surgical-grade "smart" masks. In addition to an N95 respirator, a ventilator to regulate airflow, and an auto-sterilizing charging case, the masks also come with a built-in microphone and amplifier system, as well as personalizable lighting accents.
Regardless of how it will ultimately perform with consumers, Razer's investment into this design is a somewhat grim reminder that, more than one year on from the start of the pandemic, masks have become part of the 'new normal' we now find ourselves in.
End-of-days consumerism?
When public health officials first advised the widespread adoption of face masks, fear over coronavirus was at an all-time high. Scientists were still in the process of investigating the virus's mortality and transmission rates, and hospitals were scrambling to find effective treatments.
Also on rt.com
Keeping us masked forever? The Davos set's dystopian ambitions are very clear
And although many suppliers of face masks, a previously niche item, initially sold out, it didn't take long for the supply chain to catch up with demand. Soon, masks were sold everywhere – from grocery stores to gas stations and even bookstores. And, eager to set themselves apart from the competition, brands began offering masks in different colors and patterns, a departure from the traditional blue and white hospital garb.
Fast-forward to today, and masks have fully become integrated as part of mainstream culture. YouTubers sell masks emblazoned with their logos as part of their merch collections and, questionably, some companies have also started incorporating face coverings into the designs of pieces of clothing, like dresses and sweaters.
Razer's Project Hazel is just the latest effort to make masks feel less like PPE, and more like a wardrobe accessory. Considering how psychologically distressing so many aspects of the past year have been, from the social isolation to the economic woes, it's understandable why many have jumped at the prospect of making face masks just a little bit more bearable and, perhaps, even a little fun. But as the debate over civil liberties versus public health policies rages on, there's valid concern over whether pushing masks as the latest fashion trend obscures the threat of eroding personal freedoms.
The politics of pandemics
Like almost all aspects of coronavirus, face masks have become widely politicized. Policies mandating the wearing of face coverings in public areas are both hailed as a necessary step in preventing the spread of the virus, and are criticized as an overreach of state powers.
At one extreme, some areas have mask regulations that apply even to outdoor spaces, and at the other there are governments which never instituted mandates at all, preferring to leave the decision to mask-up to individuals and businesses. For politicians worldwide, these mandates are almost like a trap that can leave their constituents believing they're too authoritarian, or conversely, too lenient when it comes to the virus.
Despite dropping daily cases and the ongoing rollout of vaccines, the outcry that occurred as Texas revoked its state mask mandate is an indicator that, for many, compulsory masking should be here to stay. And, though there is nothing inherently wrong with consumers choosing to wear masks and customize them, the cynics among us may wonder how the 'mainstreaming' of gear formerly reserved for medical professionals is affecting people's willingness to submit to these government directives.
After all, implications for personal liberties aside, if they say masks stop the spread of coronavirus, plus all the cool kids are wearing them, are mask mandates really such a big deal?
A fashion-forward dystopia
We could have never predicted its development a year ago, but Project Hazel is truly the intersection of technology, fashion, and politics. And while it may be interesting to imagine a world where we all look like cyborgs, with electronics embedded into the very clothes we wear, this is also a sign that we will never truly return to the time before "Fifteen weeks to slow the spread."
The statements, views and opinions expressed in this column are solely those of the author and do not necessarily represent those of RT.
You can share this story on social media: