You can forget a Beijing 2022 Winter Olympics boycott over Xinjiang. The US has neither the will nor the support to do it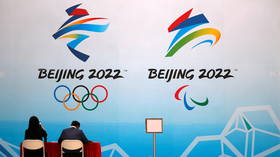 Despite reports, the Americans are unlikely to lead allies in a boycott of next year's Winter Games in Beijing over the treatment of Uighur Muslims in Xinjiang. There's too much to potentially lose by upsetting China.
Remember 1980? Following the Soviet invasion of Afghanistan, the United States and some of its allies launched a coordinated boycott of the summer Olympics in Moscow. The memory lives on among Cold Warriors today, who thrive on that kind of nostalgia.
Fast forward 41 years, and following controversy over apparent human rights abuses in China's Xinjiang autonomous region, the idea that the upcoming 2022 Winter Olympics in Beijing ought to be boycotted has unsurprisingly gained some momentum.
Yesterday, following a US State Department briefing, spokesman Ned Price was subsequently misquoted saying that the US and its allies were discussing a coordinated boycott, only for an official to backtrack on it later and claim no such discussions had taken place.
Although the idea is being pushed frequently by zealous human rights activists, an outright boycott that prevents athletes from participating remains highly unlikely for a number of reasons. The idea is not popular among American allies, for one, and China's retaliation would certainly be heavy handed. While the US will undoubtedly seek to continue coordinating condemnation over Xinjiang and the press will toy with the possibility of a boycott in order to keep it on the news agenda, what we might consider 'serious action' will ultimately not materialise.
The first and most important point people should understand regarding the frequent coverage of Xinjiang by Western media and politicians is that the issue is ultimately being wielded as a geopolitical weapon to discredit China.
That does not mean one should agree with everything the Chinese government is doing regarding the Uighur minority. But it should encourage scepticism and awareness of how the rhetoric of 'human rights' is often weaponized in order to manipulate people's consciousness to make the case for political confrontation and even war, or as Noam Chomsky styled it, to "manufacture consent".
In this instance, the wielding of the Xinjiang issue is almost certainly a form of atrocity propaganda. It is designed to make the moral case for geopolitical confrontation and decoupling, to raise the costs for engaging with China.
Xinjiang's emergence onto the news agenda in 2018, as the US reoriented its policy on China, is not a coincidence, and not surprisingly its emphasis is wholly selective. It is a coordinated campaign. If we're talking about sports and forced labour, why has there been such little noise over verified reports that more than 6,500 workers have died in slave-like conditions building stadia for the FIFA 2022 World Cup in Qatar?
Where are the calls for boycotts? Where is the comprehensive coverage from the BBC? It does not exist, because accusations of human rights abuses are most frequently wielded as a useful extension of geopolitics.
While several prominent US Republicans have called for a boycott of Beijing, there is not a complete consensus in Washington on the issue, primarily because such a move would have dramatic political and diplomatic consequences.
Although the talk of coordinated action was subsequently denied, it has become a staple of Joe Biden's presidency to say it will do everything while 'consulting allies', effectively meaning that whatever position it might take, it will be a multilateral one.
While this approach often sounds stronger as it opts for unity, in practice it actually dilutes the strength of the US position because it necessitates compromise with others. And so, the end result is weaker, as we saw with the issuing of coordinated sanctions last month which only blacklisted several low-level officials, and didn't prove a game-changer for relations.
Consider that as recently as yesterday, German Chancellor Angela Merkel was on the phone to Xi Jinping talking about deepening economic coordination. President Trump's administration, for one, didn't believe in this multilateral strategy. Judging by its record, you would not have been surprised if it had single-handedly announced it was boycotting the Winter Olympics without warning and then sought to coerce others to follow. Any decision Biden makes is likely to be far less dramatic by necessity, as America's allies have made it clear they aren't interested in taking such an extreme course of action.
Also on rt.com
US considers BOYCOTT of 2022 Beijing Olympics, may convince allies to skip winter games – State Department
China's response to any potential boycott would have to be taken into account, too. The coordinated browbeating of H&M over EU sanctions and Xinjiang cotton controversies was designed to serve as a template and a warning for any further action on the matter.
Beijing has drawn the red line clearly that any country that opts to take this path will suffer heavy economic consequences, most likely in the form of consumer boycotts within the massive Chinese market. This is not something the European Union and the UK want to go through. Therefore, while they will not ignore the issue of Xinjiang when requested by the US, they will take only piecemeal actions and drag their feet.
Given all this, talk of a fully-fledged, coordinated and comprehensive boycott from the US and its allies remains far off. Something might still happen – such as a "soft" boycott where some national representatives don't attend, or minor sanctions are issued, or even statements of disapproval – but there will be no repeat of 1980, because no country, including the US, currently has the political will, incentive or appetite for it.
However, don't expect human rights activists and lobbyists to stop campaigning. This is one chorus we're going to be hearing again and again, growing in intensity, over the course of the year.
Think your friends would be interested? Share this story!
The statements, views and opinions expressed in this column are solely those of the author and do not necessarily represent those of RT.
You can share this story on social media: