If the Biden name really was 'synonymous with democracy' then Hunter's book tour wouldn't look like Our Democracy's victory lap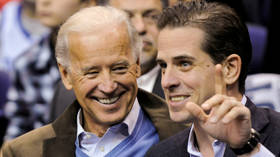 Given how Big Tech, the media, and a shadowy bipartisan cabal all conspired to cover for him so his father could become president, it's only natural for Hunter Biden to declare his family name is now "synonymous with democracy."
Joe Biden's son is making the media rounds flogging his memoir 'Beautiful Things,' supposedly a story about family, love and overcoming addiction. Of course, there was no nepotism whatsoever in the multimillion-dollar contract, secretly signed sometime in 2019 and made public in February. Don't be silly, merely suggesting that is a vile conspiracy theory.
Not surprisingly, it wasn't a US outlet that asked Hunter Biden about his infamous stint on the board of the Ukrainian gas company Burisma, but British state media, the BBC. With a straight face, Biden junior said he "missed" the perception the appointment would create in the US. Yet he apparently knew that the Ukrainians saw him as a "bulwark [against] Russian aggression" and his name as "gold" because "the Biden name is synonymous with democracy and transparency."
Also on rt.com
Biden's 'gold' name landed Hunter Biden $50K per month Burisma job, president's son reveals in interview
Oh dear. The blatantly obvious takeaway is that this is literally a confession, from the mouth of Hunter Biden himself, that he was in fact trading on the family name overseas. You might recall that this was the accusation from Republican lawmakers, former business partners of the Bidens, and even then-president Donald Trump himself in the run-up to the 2020 election – ruthlessly suppressed as a conspiracy theory, "Russian disinformation" or whatnot, by the Democrats, their media and Big Tech allies, and even former (sic) spies.
The New York Post got locked out of Twitter for weeks and was stealth-suppressed on Facebook over the story that revealed Hunter's contacts with Burisma, based on materials found on a laptop abandoned at a Delaware repair shop. Hunter now claims the laptop "could have" been his – he was supposedly so drug-addled at the time, he doesn't quite remember, you see.
Also on rt.com
Hunter Biden says incriminating laptop 'absolutely' could have been his, suggests 'Russian intelligence' possibly behind leak
What's at issue here aren't Hunter's rationalizations, but the big picture. Here's a scion of a powerful Democrat political family – Joe Biden has been in US politics since 1972, for heaven's sake – admitting he traded on that family name in Ukraine.
None of this is new, only the confession. All of these facts have been known for years. Joe Biden himself boasted about threatening to block an IMF loan to Ukraine if a prosecutor wasn't fired. It was on video. When Trump brought it up, however, Democrats tried to impeach him for allegedly withholding aid from Ukraine!
In case you haven't noticed, in today's America facts don't matter one damn bit – only who does what to whom. Hunter is part of the dynasty that's been in US politics for almost 50 years, currently controls the White House and Congress, and has powerful allies in the institutional bureaucracy, intelligence, corporations, the media, and Big Tech.
They themselves call this system "Our Democracy" – you can just hear the uppercase letters – and don't you ever forget it. This, rather than the abstract and very lowercase concept of "democracy," is what the Biden name is indeed synonymous with.
Also on rt.com
'For The People Act' confirms it: Our Democracy has officially replaced the American Republic
This is why Hunter can say he's "absolutely certain, 100% certain" that a DOJ investigation will clear him of any wrongdoing. Not because of anything he did or didn't do, but because of who he is.
Republicans still haven't figured this out. Day after day they bring up factual contradictions and highlight hypocrisies, not understanding that this was how things used to be in old America, the one that thought itself a constitutional republic. The one that doesn't really exist anymore. Because if it did, at the very least Hunter Biden wouldn't be promoting an astroturfed bestseller right now, and who knows how the 2020 election would have turned out.
In that old America, when Jack Nicholson's Colonel Jessep snarled "You're goddamn right I did!" in the crucial scene of the 1992 military courtroom drama 'A Few Good Men,' he was arrested and the Marines that were on trial walked free.
Almost thirty years later, Hunter Biden basically says the same thing – when you strip away the rationalizations, nonsensical excuses and attempts at emotional manipulation his father's much better at – to a friendly interviewer, and he's celebrated as stunning and brave.
QED.
Think your friends would be interested? Share this story!
The statements, views and opinions expressed in this column are solely those of the author and do not necessarily represent those of RT.
You can share this story on social media: