Did Butler University cave to woke pressure tactics and 'cancel' black activist Angela Davis for her pro-Palestinian views?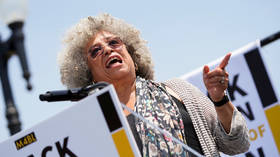 Communist and civil rights activist Angela Davis has been dropped from a long-scheduled appearance at Butler University. The school insists it's a bureaucratic formality, but students have pointed the finger at pro-Israel peers.
Davis, a dedicated left-wing activist who spent the last half-century deeply involved in Communist politics, feminism, prison abolitionism, and other radical causes, had been set to speak as the star of the Joint Struggle and Collective Liberation event at Butler University on Thursday for four months. A marquee name in left-wing circles, her appearance would have been a major event, particularly amid the resurgence of black activism in the form of the Black Lives Matter movement.
Designed to "Highlight the advancements against racism and state violence against Black, Indigenous, People of Color (BIPOC)" – and thus checking all 2021's boxes – the event nevertheless found itself "cancelled" on Monday. Literally cancelled, according to the 14 university and community organizations that collaborated to host the event, groups that included local chapters of Students for Justice in Palestine, Leading Women of Tomorrow, Asian and Pacific Islander Alliance, Act Now to Stop War and End Racism (ANSWER), Jewish Voice for Peace, and Butler University's Race, Gender, and Sexuality Studies Department.
In a letter published in the Butler Collegian on Tuesday, the groups blamed the shutdown on "Zionist students… bombard[ing]" Davis' event with pressure because of her support for the nonviolent Boycott, Divestment, and Sanctions movement, a Palestinian-led economic pressure campaign aimed at forcing the government of Israel to cease building illegal settlements in the West Bank, end the stranglehold on Gaza, and treat Arab citizens equally, a mission analogous to the anti-apartheid campaign conducted against South Africa during the 1970s and 1980s.
"Simply put, Butler [University] and others try to silence marginalized voices in order to maintain systems of power and privilege," the statement by the event organizers, posted on Tuesday in a widely-shared GoogleDoc, argues, explaining that "This is not the first time that Zionists have attempted to deplatform Angela Davis for her supportive stance on Palestine."
But a representative for Butler has insisted there is no such pro-Israel bullying. Indeed, the school's Interim Director of Strategic Communications Mark Apple insisted in a Wednesday email to RT that there was no bullying at all, affirming that "allegations that the event was cancelled due to pressure from students who had concerns about the speaker and the content of the program are completely false."
Instead, he insisted, the students had merely postponed the event and opted to make a few tweaks between now and then, having made an error regarding the "substantial expenditure of student activity fees" – "a decision made by student leaders," he said.
Apple declined to speculate on why so many students believed rabidly pro-Israel pressure groups were behind Davis' disappearance from Thursday's program, but it's not really hard to figure out, looking at the school's recent history. Last October, a beleaguered student government was dragged together in the midst of a pandemic for a third time in one month at the insistence of just such groups seeking to redefine the concept of anti-Semitism in line with the highly controversial "working definition" proposed by the International Holocaust Remembrance Association (IHRA) in 2016. That definition weaponizes the suffering of the Holocaust, belittling the deaths of non-Jewish groups during World War II in order to protect the perpetrators of modern-day Israeli war crimes by insisting every mention of those crimes be placed in the context of similar crimes committed by other nations – essentially requiring the speaker to excuse the inexcusable by default. While some of those war crimes are at last being investigated by the International Criminal Court, it took years to overcome efforts by the US to prevent just such an eventuality; the IHRA's wordplay seems designed to ensure it never happens again.
That October meeting was deemed necessary after the school's chapter of Students for Justice in Palestine held a pro-BDS art show, an event roundly condemned by… someone. The Jewish News Syndicate, which implied a significant student backlash to the event, mentioned no names of actual student groups that opposed the exhibit and could only cite one individual who claimed to have felt offended by the event, but this was considered enough to demand vote after vote upon what is truly meant by 'anti-Semitic.'
Forcing college students to debate the merits of the IHRA definition of anti-Semitism while they're being told the future they'd hoped for is no longer available is adding insult to injury. It should come as no shock that these students are sick of being told their suffering doesn't count, or that they may resent meditating on what one is allowed to say about Israel without being attacked as an anti-Semite.
It hasn't gone unnoticed that only an honorary Intersectional Olympics gold-medalist like Angela Davis – who, it must be said, is content to rest on her hard-earned laurels instead of turning them into a bludgeon to be deployed against the insufficiently woke – has spooked the usually-vocal Jewish-supremacist forces into silence. A group that hasn't hesitated in recent years to demand nothing less than the demise of the US First Amendment (at least the part emphasizing the legality of boycotts) is not easily deterred.
Alas, there are too many other Black Lives Matter heroines who see no problem with forcing young adults to pore over Robin DiAngelo's "White Fragility," whose own ideas of racial segregation verge perilously close to the same Nazism or apartheid we are reminded (justifiably!) must "never again" make its warped appearance felt in human civilization.
Also on rt.com
Invoking 'anti-Semitism' to silence people works – until it doesn't. Then what?
One wonders if the same "student leaders" who made the decision to cancel – er, postpone – Davis' event were the ones who failed three times to convince their classmates that what they really needed to do was dig out the dictionaries and start redefining words – like "anti-Semitism," or "racism," or, hey, why not "sexual preference"?
Because the woke brigades aren't just lurking in colleges, or under the Israeli flag, or behind the latest raised-fist graphic du jour. Wherever it began, its unparalleled success there has sent it rushing through the rest of Western society like fire through dry grass, and those who still hold up civilized debate – once the foundation on which collegiate discussion was based, as difficult as it might be to recognize now – must step forward to protect it. That means reining in the excesses of our own communities, whatever their flaws. Nothing can be considered off-limits to study, however uncomfortable it may make us, no matter how tempting it may be to put ignorance on a pedestal and stubbornly embrace our out-of-focus memories as 'good enough.' Only by confronting reality – by subjecting it to a logical, scholarly analysis – can we discover where we need to improve.
Like this story? Share it with a friend!
The statements, views and opinions expressed in this column are solely those of the author and do not necessarily represent those of RT.
You can share this story on social media: