Absurd hypocrisy over Trump's new website provides latest evidence that mainstream media is irreparably broken by Bad Orange Man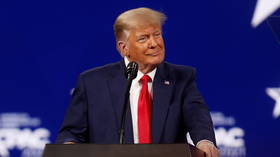 The Guardian and other mainstream media outlets can't seem to get over the fact that ex-President Donald Trump launched a public affairs website and neglected to fill it with his most embarrassing moments and crushing failures.
The Guardian chided Trump on Tuesday for "a very selective retelling of the history of his time in office," noting that he failed to include such noteworthy facts as the world's largest Covid-19 death toll, an economic collapse brought on by the pandemic, two impeachments, the US Capitol riot and so on.
Also on rt.com
Trump launches website dedicated to 'putting America first' amid growing speculation over 2024 run
Canadian newswire Global News was similarly perturbed, noting many of the same omissions, including being banned from social media. "But you won't read about any of that on his new official website, 45office, which presents a rosy and scandal-free account of Trump's time in the White House," Global News said.
Yes, the media disgust over 45office was widespread and international. The UK Independent and US outlets the Daily Beast and the ironically named Truthout joined in the attack. With its usual classiness (not), the Daily Beast declared in its headline, 'Trump blows smoke up his own ass'.
The articles were presented as news, not opinion pieces. And the media critics were joined by the usual left-wing voices, such as comedian David Baddiel and former NBCUniversal executive Mike Sington, in the predictable ripping or ridiculing of Trump.
Social media critics -- no doubt brave and strong -- can be expected to pounce on anything and everything that Trump does or doesn't do. However, mainstream media outlets are supposed to be more measured and fair-minded in their analyses. That's one of the many press fundamentals that was shattered forever during the Trump era.
Reporters are now activists, working to advance their causes and promote themselves, rather than honest messengers, seeking to find the truth and reveal it to the public. Stories that fit the desired narrative are told ad nauseum, and those that don't are ignored or falsified.
It's no wonder that in the aftermath of Trump's presidency, with their audiences shrinking dramatically and no bogeyman on whom to focus, media outlets are completely lost and foundering.
For instance, one of the most reliable truisms in journalism is that news is surprise, and the bigger the surprise, the bigger the news. And yet, the mainstream press somehow found it remarkable that Trump has described his track record in a flattering light on his own website.
Think about it. A politician emphasized his accomplishments, portrayed them as glowingly as possible, and avoided talking about the things that went wrong. That wouldn't be surprising for any office holder. Former President Barack Obama and former Secretary of State Hillary Clinton took almost the exact same approach on their personal websites.
That's right. There's nothing new or outlandish about Trump's post-presidency site. It's standard operating procedure nowadays. And, of course, the Guardian and other mainstream outlets found no fault with the Obama and Clinton websites.
It's all the less noteworthy for Trump to be self-aggrandizing and self-promotional. That's his entire life, in business and politics. His ability to build up his own name, more than anything else, made him a billionaire.
Also on rt.com
CNN's 'Reliable Sources' savaged for error-laden attempt to debunk 'misinfo' on channel's Rio Grande migrant smuggling report
But then, would the media demand that anyone else bash themselves on their own resumes? Does Obama's website tout his historically horrible economic record or his abysmal failures in foreign policy? Does he brag that he lost Democrat control of the House and Senate, failed miserably with his anti-Brexit meddling and helped give rise to Trump?
Speaking of omissions, Clinton's website doesn't talk about the 30,000 missing emails, her illegal handling of classified information, the Benghazi debacle or her track record of racist comments. And self-promotion? Clinton took it to an embarrassing height, such as when she wished herself "Happy birthday to this future president" just days before losing an election in which she was heavily favored to win.
Nor does the Guardian or any other mainstream media outlet promote itself by reminding everyone of its most embarrassing corrections, its most erroneous predictions or its worst ideas. No, the Guardian says of itself: "Millions rely on the Guardian for independent journalism that stands for truth and integrity." It touts its award-winning work and its most bombshell stories, as one would expect.
Even some of the omissions that are cited against Trump are things that happened to him, rather than examples of failures that he caused. He was twice impeached in unjustified political prosecutions, and he was twice acquitted. Perhaps he should have bragged that he was the first president to be twice acquitted by the Senate – and the first president who so thoroughly owned the emotions of his unhinged enemies that he was prosecuted even after leaving office.
Trump's website bragged that he "overcame virtually every entrenched power structure." I don't know if I'd put it quite the same way, but it's safe to say that he broke an already corrupted mainstream media into a fully exposed public laughingstock that lost its ability to control public opinion.
Also on rt.com
Boulder shooting spun by opportunists who have no interest in truth or solutions – if blaming 'whiteness' fails, play the gun card
Like this story? Share it with a friend!
The statements, views and opinions expressed in this column are solely those of the author and do not necessarily represent those of RT.
You can share this story on social media: