Tesla & Bitcoin are perfect bedfellows – one's an overhyped, risky investment likely to end in tears, and the other... is the same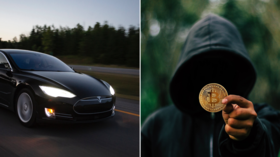 It's no surprise that billionaire Elon Musk has announced you can soon buy his cars using the cryptocurrency bitcoin. After all, he's making vastly more money from investing in it than he is from selling his vehicles.
Saint Elon is a social-media megastar and millennial pied piper. His vast persona and wealth have been created by internet hype, cosy government deals, insane valuations and a lack of regulatory enforcement.
Musk's Tesla shares are the most traded on any exchange in history, with nearly $43 billion worth of its shares bought and sold on a single day this month, adding more than $100 billion to the mania market capitalization of the business. Who on earth is trading these shares? Is Tesla an automobile company, robo-taxi provider, carbon credit sales machine, technology company or a speculative trading vehicle for bitcoin?
In 2021, Tesla has made over one billion dollars by speculating in bitcoin. That bet made bigger profits for Musk's Tesla than the firm made selling its electric vehicles in a similar time frame (though, given its poor sales record, that's perhaps not surprising).
Now the multi-billionaire has created new headlines by announcing that the cryptocurrency will soon be accepted as payment for his cars, a move that saw the price of bitcoin enjoy a short-lived jump of almost 5%.
There are some who say that Tesla and Bitcoin make perfect bedfellows. Both are decidedly risky ventures where you're just about guaranteed to lose your whole wardrobe, let alone a shirt or two.
Bitcoin has exhibited extreme volatility and has seen a stratospheric rise in its price during the past few months, hitting new highs approaching $60,000 and prompting some to claim it will go up by a further 500%.
Its surge illustrates how reckless central banks worldwide have destroyed fiat (paper) currencies that are backed by nothing other than a promise to repay debt by insolvent governments with a printing press. It signals a mania that will eventually see an end to US dollar hegemony. Bitcoin is binary – it can go to a million or zero – so no one speculating on it should risk what they cannot afford to lose. And as I've warned many times before: NEVER listen to the Musk-rat hype.
It's not the first time Musk has used Tesla's balance sheet to speculate. In 2016, Tesla spent $2.6 billion bailing out one of his other companies, SolarCity, which was, according to Ernst & Young, completely insolvent.
Additionally, as chairman, CEO, CTO and majority shareholder of SpaceX, Musk used his position to leverage that company's balance sheet by buying around $300 million of SolarCity bonds in 2015-16. In 2017, Tesla shareholders filed a lawsuit against the company's directors and Musk. The basis of the lawsuit, according to Reuters, was: "Tesla shareholders have alleged Musk breached his fiduciary duties, squandered Tesla's assets and unjustly enriched himself by pushing to buy the money-losing solar company in which he was the biggest investor."
Were Musk's actions unethical and unlawful? It's likely. Will Musk ever be prosecuted? It's highly unlikely, since America has a dual justice system based upon pay-to-play.
Musk's cult-like followers act like an angry mob that protects the visionary St. Elon at any cost, because it's so different this time. His god-like status becomes apparent simply by looking at Tesla and Musk's domination of the media, with several articles appearing every day hyping him and his brand. Musk and Tesla receive more positive press than any other companies, allowing the bubble to inflate into a mania.
And yet, Musk's track record on autonomous driving, vehicle production numbers and Tesla profits has been abysmal. For example, Musk has said "Full Self Driving" hardware would be capable of a "coast-to-coast" autonomous trip by the end of 2017. In February of 2019, Musk promised, "Full self-driving would be available in 2020." Tesla's valuation builds in earnings from a non-existent robot taxi model.
Also on rt.com
Tesla will 'get shut down' if used for spying in any country, Musk says after reports of restrictions on vehicles in China
The point: Musk makes new bold claims nearly every quarter yet consistently fails to deliver. In fact, if it were not for the money Tesla has enjoyed from government subsidies and the selling of carbon-emission credits, the business would be profitless. Tesla's valuation will one day be a Harvard Business School study on the irrationality of market manias.
Musk has also made a number of unsubstantiated claims that have landed him in hot water, including an infamous tweet back in 2018 that lied: "Am considering taking Tesla private at $420. Funding secured." What happened with the share price manipulation from these lies? Musk received a small fine and ignored the judge's orders. Musk's SolarCity self-dealing? Nothing.
Musk's Tesla has been extremely pro-China and has inked many deals with that country, including: receiving substantial loans to build a factory in Shanghai, a five-year deal with a Chinese Lithium supplier, and a massive tax deal with the Chinese government. Musk publicly praised China's government and workers while badmouthing US citizens as "complacent and entitled." Were all the China deals between Tesla and Musk investigated and scrutinized on issues of "National Security" as SpaceX is also a US government contractor? It appears that financial and securities regulators do not enforce existing regulations uniformly when it comes to Mr Musk.
The US has become an oligarchy, and social media megastar Musk is now on the top of the heap, bowing to China, aided by a completely rigged, uncritical mainstream media. The real question is how regulated companies can pull the unlawful shenanigans that a conflicted Musk has, bailing out an insolvent SolarCity with funds from SpaceX and Tesla where he is the major shareholder for these companies?
Investors must be concerned by Musk's disregard for any laws, rules and guidelines as they pertain to fiduciary duties. More shocking is how financial and automobile regulators always give St. Elon a pass. If you've got money to burn, by all means invest it in the combustible Mr Musk – but if you want to hang on to it, look elsewhere.
Like this story? Share it with a friend!
The statements, views and opinions expressed in this column are solely those of the author and do not necessarily represent those of RT.
You can share this story on social media: