It's less 'cry freedom' and more a crying shame. Why are we STILL in Covid-19 lockdown when deaths are back to normal?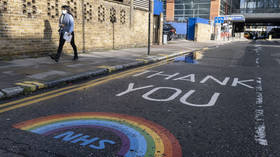 So much for UK government ministers promising that restrictions would be lifted once hospital cases had fallen and pressure on the NHS lifted. That's been achieved, yet now we're talking of even tougher curbs on our freedoms. Why?
Figures from the UK Office for National Statistics (ONS), released on Tuesday, seem to confirm that the 'second wave' of Covid-19 is coming to an end. The report, providing a provisional account of death certificates in the week up to 12 March, says: "In Week 10, the number of deaths registered in England and Wales was 4.4% below the five-year average (511 fewer deaths); this is the first time that deaths have fallen below the five-year average since the week ending 4 September 2020." In other words, fewer people are dying than we would expect at this time of year.
That doesn't mean that there weren't any coronavirus deaths. The ONS says: "Of the deaths registered in Week 10 in England and Wales, 1,501 mentioned 'novel coronavirus (COVID-19)', a decrease of 604 deaths compared with Week 9." That compares to over 9,000 deaths per week involving the virus at the end of January. But probably because we are in lockdown, or perhaps because some people's deaths were brought forward by Covid, there were fewer deaths than usual from other causes.
What is the likely direction of travel over the next few weeks? Deaths appear to be falling by a third every week at the moment, so even by the 'gold standard' of death certificates (rather than the daily figures for deaths reported), we're likely to be averaging under 100 Covid-attributed deaths per day right now. While the decline in case numbers looks to have plateaued – in part due to the mass testing of school pupils and partly due to people going back to workplaces – death rates continue to fall as the effect of mass vaccinations becomes more and more significant. Hospital admissions are down by almost three-quarters in the past four weeks.
Meanwhile, the vaccination programme has now reached about 54% of adults, with over 4% (in the top priority groups) having had two doses. All of the most vulnerable groups will have had a second dose by mid-May, probably even sooner. Every adult over 50 or with a significant underlying condition (heart disease, diabetes, morbid obesity, asthma and more) will have had at least one dose by mid-April.
The government's 'roadmap' out of lockdown looked conservative when it was announced in February. Since then, things have gone better than planned. Vaccinations have continued at a fast pace and the data on the effectiveness of those jabs looks even better than hoped.
So why is the government still dragging its feet on lifting restrictions? One reason given is that ministers want to see the impact of schools reopening on March 8. But while that may have had some effect, it doesn't seem to have pushed infection rates up, though it seems to have slowed the decline. And schools will break up for the Easter holidays in the next few days in any event. Yet all that people in England are being offered right now is the chance to meet up, outside, with up to six people from next Monday. (Different rules apply in Scotland, Wales and Northern Ireland.) In three weeks' time, non-essential shops and outdoor hospitality will be allowed to open.
By then, a clear majority of adults will either be vaccinated and/or have some protection from having caught the virus itself over the past year. We may not quite be at the level of 'herd immunity', but it will be very hard for the epidemic to take off again in the way it did in spring last year or during the winter.
In fact, far from freedoms being restored, restrictions are in some ways becoming tougher. The revised Coronavirus Act, likely to be waved through Parliament this week, will actually ban international travel, with a list of specific exceptions, until 30 June. It's already the case that there are strict rules on entering the country – such as proving you have had a test shortly before arriving – and a ban on travel from 'red list' nations with high cases of new variants. Now the state will demand you have a good reason to leave, with a fine of £5,000 ($6,860) for even turning up at an airport without good cause. It's not North Korea, but it is still astonishing in a 'free country' like the UK.
And there are still plenty of voices suggesting that even the government's conservative strategy is a reckless, one-way ticket to another huge wave of infections. It's true that we should have good checks at our borders to stop the spread of new variants of the virus, particularly ones that might evade vaccine protection completely. But that does not mean bans or automatic quarantine – we can surely be smarter than that. Moreover, the current vaccines seem to give good, if imperfect, protection against serious illness and death for the known variants, even the ones barely seen in the UK. This precautionary approach looks like overkill.
Also on rt.com
Forget about QAnon and other conspiracy theorists. The EU now peddles Covid-19 vaccine misinformation to undermine Brexit UK
And it's not as if this is cost-free caution. The lockdown has been costing the UK economy over £500 million ($686 million) per day, on top of last year's decline in GDP of 9.9%. The rights and wrongs of going into lockdown will be debated for years. There is a crying need for a proper account of the damage lockdown has done, not just in easy-to-count ways like economic output, but in the impact on education, health (both physical and mental), children's socialisation, family life and, above all, our general ability to live freely. But there can be no doubt that such astonishing emergency measures should only be applied when death rates are high and health services are reaching overload. We are well past that situation now.
This slow-motion opening up seems wildly out of kilter with the view of the health secretary, Matt Hancock, in an interview for the Spectator back in January.
"When Covid hospital cases fall and pressure on the NHS is lifted. That is the point at which we can look to lift the restrictions," he said, adding, "The goal is not to ensure that we vaccinate the whole population before that point, it is to vaccinate those who are vulnerable. Then that's the moment at which we can carefully start to lift the restrictions." When asked if he would still lift restrictions when the majority remained unprotected, he replied, "Cry freedom."
Well, the majority of adults, including almost everyone at significant risk of death, are well protected against the worst effects of the disease now. Few people would suggest that we open up society with no restrictions at all, but there could quickly be a better balance between opening up alongside continued testing and low-hassle social distancing measures. Why not move everything forward by four weeks, so we have a substantial opening up by mid-April? That's still very cautious but would mean one month less of lockdown damage.
So, isn't it more than time to 'cry freedom', Mr Hancock?
Think your friends would be interested? Share this story!
The statements, views and opinions expressed in this column are solely those of the author and do not necessarily represent those of RT.
You can share this story on social media: