America badmouths China as their joint talks get off to a pugnacious start – but then asks for Beijing's HELP over North Korea...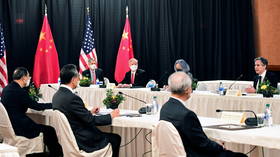 The sparks and the rhetorical punches flew with abandon in Alaska as the two adversaries clashed. So why does Washington think China will ever assist in getting rid of Pyongyang's nuclear weapons? It's just delusional.
You didn't need to be in the room in Anchorage, Alaska to hear the fiery rhetoric and see the sparks fly. The US vs. China talks kicked off with all the ferocity of an Ali vs. Frazier heavyweight clash, with the US Secretary of State, in the blue corner, warning that China's actions could result in a "far more violent" world, and Beijing's top diplomat, in the red corner, countering by accusing the US of slaughtering Black Americans.
Phew. Seconds out, round two...
Also on rt.com
Don't expect this week's talks in Alaska to break any ice between Beijing and Washington – here's why
It was perhaps inevitable that the first meeting between the two adversaries under Joe Biden's rule would quickly turn confrontational. While the US side spoke of accusing China of threatening global stability, Beijing hit back at American hypocrisy, double standards and aggression around the world. China has never before been so direct with Washington.
One of the problems of this pugnacious approach by the new US administration is that it's not the only exchange of heated words the White House is engaged in right now. It's like Smokin' Joe Biden is lashing out at all his enemies at once, snarling, "Come on, I'll take yers all on... right here, right there, right now… ".
Trouble's not only afoot with Beijing, but with Pyongyang, Kabul, Damascus, Baghdad, Tehran… not to mention his undiplomatic jibe of calling Moscow's Vladimir Putin a 'killer'. What the heck are they feeding the ol' fighting Irishman these days?
On his visit to Seoul two days ago, Antony Blinken, the Secretary of State, demanded that North Korea denuclearize, a tired old trope that has gotten nowhere and won't get anywhere.
The visit drew harsh rhetoric from Pyongyang, predictably, but what is more extraordinary is that Blinken called for China to cooperate in achieving this goal. You read that right: China. The country that the US are treating as a geopolitical adversary, are seeking to contain on the global stage, and which they accuse of seeking to unleash violence on the world (when, after all, that's normally Washington's job).
As Doug Bandow, a former aide to Ronald Reagan, put it: "Threaten #China with war, try to destroy its industries, accuse its officials of committing genocide, apply sanctions against them, try to organize allies against China ... and [then] ask them to solve a geopolitical problem that you have consistently bungled? Don't hold your breath!"
One headline in a British newspaper stated: 'China must persuade North Korea to give up nuclear weapons, says Blinken'. Perhaps China should ask for something in return, maybe: 'America must persuade Britain to give up nuclear weapons, says Xi'. It's that fanciful.
The US trope of getting China to "help" with North Korea isn't new. Trump notably had some success with it for a short while. That was before he started treating Beijing as an enemy. The sequencing wasn't a coincidence on his part. Now, the world has changed. China's relationship with North Korea is complex and it's a far throw from the rhetoric of allied solidarity in the 1960; if anything, Beijing's relationship with Seoul is actually more important than that with Pyongyang when you look at the economic incentives.
However, the question remains: Why would Beijing feasibly advance US foreign policy objectives in East Asia at its own expense? And when there is no strategic trust left? China wants stability on the Korean peninsula and doesn't favor a nuclear North Korea either. Neither does it like the extreme risks that come with changing that status quo.
The Korean peninsula is an area of strategic importance to China, most obviously because it is a land bridge directly into China itself. Maintaining a stake in it is subsequently crucial for its own national security. This is conditioned by history. In 1895 and then 1905, the Empire of Japan defeated both China and Russia in a series of wars in North East Asia which gave it hegemony over the Korean peninsula, which it soon colonized.
Also on rt.com
US accuses Beijing of sabotaging 'rules-based' world order & decries 'protocol violation' after Chinese hit back at Alaska talks
This gave Tokyo a straight route into China itself, from which it subsequently launched the occupation of Manchuria in 1935, and advanced deeper into the country later. This has conditioned Chinese strategic thinking that it must prevent a hostile power from dominating the peninsula at all costs; since World War II, that power has been the US.
Following the division of the peninsula after the war ended in 1945, and the subsequent 1950-53 war between North and South, China intervened after US forces advanced north of the 38th parallel, and pushed the Americans back. This created a fragile status quo from 1953 to now, whereby China has sought to uphold the existence of the DPRK as a strategic buffer against the presence of US soldiers in the South.
Although China's specific priorities via the DPRK have changed over the years, from a Cold War binary position to forming ties with Seoul in 1987, nonetheless the principal interest is the same. Any collapse of North Korea, chaos on the Korean peninsula and American hegemony over a future unified state is a threat to China's security.
Therefore, while China disapproves of North Korea's nuclear trajectory and has cooperated with the US in the past in the view to achieving stability, this has never been about making the changes the US would like to see. China has selectively engaged in sanctions over Pyongyang to attain diplomatic leverage over it and to make it "behave" – not to try and crush the regime as some in Washington would like.
Also on rt.com
Chinese FM invites Russian counterpart Lavrov to Beijing after talks with US, as pressure from Washington propels closer ties
But now this problem is compounded by another factor, the fact that the US is now treating China as a geopolitical adversary and advocating regional containment against them. Why would you want to do a favor for the US in the Korean peninsula by cooperating with them? China isn't going to squeeze Kim Jong-un to suit America's preferences. Biden and Blinken are being delusional.
Given this, there is one obvious conclusion: The denuclearization of North Korea is a non-starter. The DPRK has shown an enormous resilience to pressure, and a hardline resolve toward negotiating with very clear goals. It isn't going to capitulate and Kim Jong-un knows well that even if he angers Xi Jinping, China can never throw them under the bus. North Korea remains the only obstacle to a fully reunified Korean peninsula, with a hostile American military in situ, extending to China's border. Why would you change anything about the status quo?
Think your friends would be interested? Share this story!
The statements, views and opinions expressed in this column are solely those of the author and do not necessarily represent those of RT.
You can share this story on social media: