Tara Reade: With their crumbling image and internal bickering, Democrats should beware the Ides of March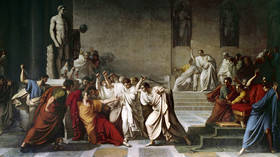 'Beware the Ides of March' was coined as a prophecy of impending reckoning when a soothsayer warned Julius Caesar of a coming betrayal. We all know what happened next and who delivered the most infamous stab into his back.
The Democratic Party leadership is at a crossroads where soon the elites must turn on each other to survive their own hypocrisy.
In Biden's typical blustery style, failing to read the room, he refuses to speak out decisively about the corruption in the New York governor's mansion. Meanwhile, Chuck Schumer let loose his desire to see Cuomo ousted.
Now, to suppose Hillary is eyeing a takeover of the New York governor's mansion in 2022 could seem far-fetched, but so do most of the events of 2020. The squabbles at the top of the party result in fractured and awkward responses to the Cuomo saga of over 15,000 American deaths caused by his Covid policies and then covered up. But Cuomo's sexual misconduct allegations are culminating in a public relations nightmare that even Anita Dunn would have a hard time untangling.
Meanwhile, in between all the betrayals and smears, my story took a turn for the better when Ryan Grim of the Intercept cleared my name. He also took sharp aim at the New York Times and CNN for their mishandling of my story and outright character assassinations of me.
For me, the Ides of March were pretty much 2019 and all of 2020. The betrayals of friends and other Democrats was stunning. I still have no way to quantify the feelings when I discovered people I knew were paid to attack my character.
One old family friend said to me about the sexual assault, "Oh Tara, that is just what men do. Sorry you lost your career but maybe that is where you go along sometimes. We just cannot have Trump."
Then there was that activist who tweeted she'd still vote for Biden even if he had raped her on Fifth Avenue.
Joe Biden could rape ME in the middle of Fifth Avenue and I would still vote for him before I would vote for Trump or Sanders. #ForReal#StopTheStupid #

— Sandy Knauer (@sandyknauer) May 2, 2020
At this point, we can agree America has lost its collective mind.
No to that old family friend, who I have not spoken to since, and no to the weird Democrat and her fantasies. I will not be forced to have sex to have my career or cover it up so the abuser gets to be president.
Rose McGowan is so right about America being a cult.
And I, as my daughter once put it, have "called out the cult leader and now all the sheep do not know what to do." So they have to make me the villain in this scenario to justify their votes and ease their conscience.
All that said, something is shifting.
A popular 'liberal' voice on Twitter was recently outed as a Democratic operative paid by the Really American PAC. The Democratic National Committee screamed and pounded its chest over Russian troll farms for years, and now it turns out that paid trolls are going after individual American citizens and survivors of sexual assault?
Very American – or should I say REALLY American? Don't worry, they will find a way to blame Russia. The neo-McCarthyism absurdly still trends despite the fact that Russia is quite capitalist. Let's face it though, America is not an exemplar of capitalism working very well. Poverty does not "sort itself out in the marketplace" for the millions that live below the poverty line, food insecurity and homelessness are at an all time high. The American oligarchs are not sharing.
It is no surprise that a predator runs a predatory nation that is America. The repugnant reality of having a man as POTUS who has committed sexual misconduct is that you have to play dirty to win and keep that power. Thus, hired troll farms to feed media outlets misinformation.
Lindsey Boylan keeps calling out the Democratic leadership's silence and is answered with online trolling or more silence.
As we watch the Democrats pat themselves on the back for the scraps thrown to the poor with the stimulus package, the elites continue to protect the massive wealth of just nine people.
This week as the Democratic leadership hits the road to trot out their shiny new 'stimulus package' they will have to answer some nasty questions about Cuomo and Biden's corruption and sexual misconduct with staff, or will they? Will Cuomo resign or be investigated and impeached? Will that lead to an investigation into Joe Biden?
"Et tu Brute?" The Ides of March are indeed upon us.
Think your friends would be interested? Share this story!
The statements, views and opinions expressed in this column are solely those of the author and do not necessarily represent those of RT.
You can share this story on social media: