Sharing Oprah Winfrey's 'What!' is now 'digital blackface'. But is it really?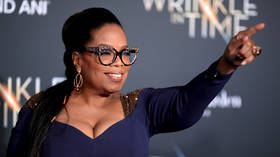 The debate on whether it's appropriate for non-blacks to use black people in GIFs or memes is back in the spotlight following Meghan and Harry's interview. But the issue is more about intention, rather than perception.
Prince Harry and Meghan Markle's explosive interview with Oprah Winfrey has sparked all sorts of debates. Britain's most prominent TV host Piers Morgan has quit after comments he made about the Duchess of Sussex , the Queen has issued a statement and even Joe Biden has waded in.
However, the most lasting image of the event will be Oprah Winfrey's expression as she incredulously gasps "What!" after Meghan revealed that a senior British royal enquired how dark her and Harry's baby would be. It's since been shared thousands of times on social media as a GIF. That's nothing out of the ordinary, there are millions of such animated clips. But the popularity of Oprah's reaction is deemed by some as committing digital blackface.
The theory is that when non-black people use these images or clips "it often reinforces negative stereotypes around black folks such as they're aggressive, loud, sassy and simply here for your consumption and entertainment."
Many will scoff at this notion and dismiss it as being far too PC while others will consider it valid that if the black community feel that way then it deserves attention. The problem is that both these extreme views boil someone down to their skin colour. We all have an ethnic background and the idea that no one sees colour is ridiculous.

There's a cavernous difference between seeing, and behaving differently due to the colour of someone's skin. Are we seriously suggesting that white people can only share white GIFs, and the same for black people? Can a Chinese person only laugh when a clip of a Chinese person doing something funny is shared?
There was a mini furore in Scotland recently due to Netflix's thriller series Behind Her Eyes. An Oxford-born actor, Tom Bateman, plays the role of a Scottish psychologist. His accent is horrendous and the script includes jibes about Scots being "miserable" and "stingy."
I'm Scottish and I've heard such jokes many times, I brushed it off without blinking. I'm also sure many of my Russian colleagues at RT will have encountered vodka being crowbarred into a conversation within minutes of meeting foreigners. I would hope they would similarly disregard it as playful.
Cultural appropriation and using black people as entertainment is not the problem online.
GIFs are often used as a tribute because people consider a certain person funny or expressive.
Automatically the idea of someone being noticed for being sassy is seen as a bad thing, but why is that? We recognise individuals who are gifted singers, talented dancers or powerful athletes – regardless of skin colour.
So the problem is not picking a person out for their attributes, it's the perception of those attributes. That rests solely with the user who posts a GIF. It's impossible to know everyone's internal thought process but we can make a pretty accurate gauge. Trolling or being racist is a line we all understand. It doesn't matter what colour you are, by this point we have all been exposed to enough information to know where the line is. Nevertheless, it is regularly breached by certain characters.
But the remedy to that is not to clamp down and attempt to erase skin colour from pop culture.
Stereotypes will continue to exist and they probably should, as we can't all be individuals with no common threads. No matter how big a grouping of people, there are similarities in our shared cultures or nationalities. They do not apply rigidly to us all but to consider everyone as a free-spirited, completely unique individual would make any form of discussion a chore. Democracy operates on the principle of the majority and it applies here too.
This is not to say the casual racism of the '70s and '80s which was part of mainstream entertainment is acceptable. It's not. Neither is blacking up, drawing on Chinese eyes or dressing up as Hitler (ironically, one of Prince Harry's previous misdemeanours.)
Also on rt.com
Vintage movie channel in UK hit with BLACKFACE complaint, after refusing to censor 'racist' content
We need to frame this discussion as celebrating our cultures. If we are known for certain things, consider it a badge of honour and don't try to hide it. For instance, Italians are celebrated for giving the world a host of great pasta dishes, as that's a significant part of their diet. When you consider reggae music and its ethos, you think Jamaica. Is the much derided double-denim combo known as the Canadian Tuxedo espousing a negative connotation?
All of these are snapshots, nothing more. The same with digital blackface accusations. We don't want to encourage more separation and have youngsters worrying they can only share content of someone with the same skin colour. If they are using the clip as ironic or to make a joke, go ahead. But the joke has to revolve around what the person is doing, not their identity.
A lot of the outpouring of anger at Oprah's What! GIF is frustration. Many feel in today's society we have to correct any perceived slight, but that's impossible. People will drop litter, they will swear and they will use multi-racial social media clips. That has to be accepted. You can't let your own offence become of greater importance than someone's intention.
Of course, that is negated by blatant racism and those who are bigoted. We have to start though from a point of trust. Don't recoil at being loud, sassy or aggressive, if you're black or not.
A quick search for 'sassy' even brings up clips of Conan O'Brien (Irish American chat show host), Rita Ora (Albanian born British singer) and Barack Obama.
Be glad if you make an impression that someone feels the need to share, even if it is to convey humour.
Like this story? Share it with a friend!
The statements, views and opinions expressed in this column are solely those of the author and do not necessarily represent those of RT.
You can share this story on social media: