US activists are cynically politicizing a double murder to terrify the LGBT community into voting a certain way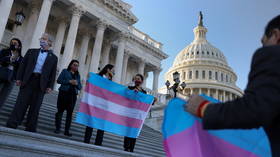 Last week a mother in Ambridge, Pennsylvania brutally murdered her two children. Days later the situation was turned into propaganda by the Human Rights Campaign. This is the disingenuous nature of the trans murder rate.
On Monday, February 22, Krisinda Ann Bright walked into her 22-year-old daughter's room and shot her in the head as she lay in bed. Following the murder of her eldest child, Krisinda proceeded downstairs where she aimed the gun at her 16-year-old transgender son's head and pulled the trigger, only for the gun to malfunction.
As the mother stood and fiddled with the weapon to get it working, her son pleaded with her to stop, saying "Please don't shoot, I'm gonna call the police," but Krisinda could not be wavered and upon fixing the weapon, she shot her son in the face.
Also on rt.com
After Harry Potter game developer gets trashed for not being SJW enough, it's clear: We need GAMERGATE 2.0
Only for him to not immediately die.
According to police records, Krisinda didn't want her son to suffer, so she went and grabbed another gun and returned to the grisly scene where she shot him in the head once again. Ending his existence.
Following the destruction of life within her household, Krisinda called 911 to let them know what she'd done, unloaded the gun and set it on a dining room table, and then proceeded outside to wait on the porch until police arrived and arrested her.
As reported on by LGBTQ Nation, which received a statement from Krisinda Bright's cousin, the crime was carried out after the mother, who happens to be a military veteran, experienced a PTSD break. She allegedly doesn't know what triggered her episode, nor does she even know what happened as she didn't snap out of it until after the incident occurred.
Whatever the reasoning for the murders happens to be, based on the evidence presented, it's safe to assume that her transgender son's gender identity played no role in what occurred. He wasn't even the first victim. Yet as is to now be expected, this hasn't stopped the disingenuous arm of the LGBT community from swooping in to put a finger on the scale of the transgender murder tally.
In a tweet fired off on February 26, the Human Rights Campaign (HRC) wrote that it is "horrified" to learn of the death of Jeffrey Bright, the 16-year-old transgender boy who was murdered, adding that "his death is at least the eighth violent death of a transgender person in 2021."
HRC is horrified to learn of the death of Jeffrey "JJ" Bright, a 16-year-old transgender boy who was killed in Ambridge, Pa. on Feb. 22. His death is at least the eighth violent death of a transgender person in 2021. https://t.co/bfchEXcd8t

— Human Rights Campaign (@HRC) February 26, 2021
Notice it makes no mention of his older sister.
In the article linked to the tweet, it discusses where Jeffery went to school, his role in a local LGBTQ+ youth organization, and his smile, all before ever so briefly mentioning that he was just one of two victims. This vital detail buried under multiple paragraphs.
Although perhaps making it all more disgustingly cynical is that, before that fact is presented, in ultra big letters is a quote from the HRC's Director of Community Engagement for the Transgender Justice Initiative Tori Cooper, who laments how young Jeffrey was, and the tragedy of his murder given he had friends, family, a community, and a life. Her quote further adds that "our hearts go out to everyone in JJ's community. As this high rate of violence against transgender people continues, we need everyone to keep mobilizing, keep speaking up and keep supporting trans lives."
I guess his sister isn't important.
Also on rt.com
There is NO trans murder epidemic. But someone IS using trans deaths for political gain in America
There's actually a ton more I could discuss about the disingenuous nature of the article, like how it brings up guns used in hate crimes or the higher rate of murder that trans women of color face, but the most important detail as I see it are the calls for action that it makes multiple times. Be it Tori Cooper's quote, or the paragraphs dedicated towards pushing the LGBT community to get active within the political sphere.
This poor child is one of two siblings who were both killed by their mother, who is ex-armed forces with PTSD. There is no connection to transness, and the other child isn't trans. The HRC doesn't even _mention_ any of this. Just instrumentalising this death. Utterly cynical https://t.co/wHBQ5MfRIt

— Helen Joyce (@HJoyceGender) February 27, 2021
As I wrote on this very topic just over a year ago, there is no trans murder epidemic within the United States, and the stats are very heavily skewed. This ranges from tallying people who weren't even murdered at all, to those who died in mass shootings where gender identity played zero role in their being shot. When broken down and adequately investigated, it becomes quite clear that the majority of trans people murdered in any given year are not murdered because they are trans.
It is vital that more trans individuals recognize this because in its current form, the trans murder stat exists as nothing more than a tool for leftwing political groups to scare the LGBT community. It is propaganda in its purest form.
There's a reason why the HRC's article about Jeffrey Bright is presented as it is, and why Tori Cooper's large quote is kept above the tidbit that his sister was also killed. They need transgender people to believe they are at a higher risk of being murdered because that fear goes a long ways towards pushing them towards particular candidates. This was all but admitted to in 2017 during the HRC National Dinner where then organization president Chad Griffin said: "It's critical we organize and mobilize the 10 million-plus LGBTQ voters in this country. Which by the way, is a voting bloc that is larger than the margin of victory of every presidential election since 1984."
Violence against transgender and gender non-conforming people — particularly Black and Brown transgender women — is an epidemic that needs national leadership. But Donald Trump has done nothing but fan the flames of transphobia.It has to end. https://t.co/v2DAbcIcCv

— Joe Biden (@JoeBiden) October 16, 2020
To the leftwing political elite and their allies, the LGBT community is an electoral tool, and they hold no qualms about using the dead to achieve its goals. It is an utterly disgusting use of murder victims. What happened to Jeffrey Bright and his sister Jasmine Cannady is a tragedy in its purest form. And given the prevalence of PTSD among military veterans, a vital discussion should be had about the mental trauma they go through, and the carnage it can lead to when not properly treated. But instead that potential conversation has been ripped away by the selfish political elite so that one dead body out of two can be used to push fear.
Also on rt.com
As a new survey shows that more young people identify as trans than lesbian, is the Sapphic sisterhood facing a crisis?
As a transgender individual myself, I am both angry and sad about this current state of affairs, and more people need to wake up to the manipulation tactics used by the very same organization that claims to care.
If you're LGBT yourself, wake the f**k up. You're merely voting booth tokens to those in charge. Don't believe their lies.
Think your friends would be interested? Share this story!
The statements, views and opinions expressed in this column are solely those of the author and do not necessarily represent those of RT.
You can share this story on social media: