Normally, Hollywood would have used Golden Globes to slam Syrian airstrikes & keeping kids in cages. But not with Biden in charge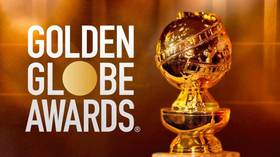 After four years of star meltdowns over Donald Trump, Hollywood's A-list turned a blind eye to America's egregious misdeeds at the US television awards on Sunday night. Wonder what the difference was this year?
Hollywood once again proved itself to be the moral authority of our time when a bevy of stars took to the stage on Sunday night at the 78th annual Golden Globes Awards to rail against President Joe Biden's unconstitutional, murderous airstrikes in Syria, his caging of illegal immigrant kids, and his failure to fight for a $15 minimum wage, Medicare-for-All and a $2,000 stimulus check during this calamitous coronavirus lockdown.
Also on rt.com
Postponing Oscars 2021 due to Covid-19 would be a cowardly move, the final nail in the ceremony's coffin
Just kidding.
With the bad orange man gone from the White House, it was back to Hollywood business as usual at the painfully lackluster, socially distanced Golden Globes, where there was a lot of performative virtue signaling about diversity, but no actual political courage on display.
The Golden Globes have long been a running joke. The Hollywood Foreign Press Association (HFPA), a collection of 89 "foreign entertainment journalists" who vote on the awards, notoriously care less about artistic quality than corporate swag, lining their pockets, and basking in star power.
The LA Times recently conducted a searing investigation into the organization and, shock of shocks, found it to be corrupt. I think Captain Obvious was the reporter who broke the story.
Hollywood's big takeaway from the LA Times story, though, was that the HFPA is racist because it has no black members.
This was highlighted throughout last night's show as flaccid comedy duo Tina Fey and Amy Poehler, as well as numerous presenters, made snide comments about the racial "scandal." This led to one of the more riotously funny moments, when an Indian woman and a Turkish man who are members of the HFPA had to grovel on live TV about how bad they were for not having black people in their group. Diversity!
Ironically, after all the bemoaning of HFPA racism, three of the first four awards given out went to black actors, Daniel Kaluuya for Judas and the Black Messiah and John Boyega for Small Axe, and to the first black-led Pixar film Soul.
Also on rt.com
Forget the racial politics, Pixar's first black-led movie, 'Soul', isn't about being black – it's about being human
Later in the night, the Best Actor and Best Actress in a Motion Picture Drama awards also went to black artists: the late Chadwick Boseman for Ma Rainey's Black Bottom and Andra Day for The United States vs. Billie Holiday.
The stupid Golden Globes can't even stay on brand when it comes to their own racism.
Besides the endless babbling about diversity and inclusion, the political talk was pretty minimal. Sure, Borat made some stale Trump and Rudy Giuliani jokes, Mark Ruffalo bemoaned the "hideous dark storm" of Trump "we've been living through" and Aaron Sorkin mentioned democracy being under siege. But that was about it.
What is so striking is there were ample opportunities for Hollywood heavyweights to speak up about current issues, but they refused.
Sean Penn, one of my favorite actors and activists, was there, and besides looking like Moe from the Three Stooges, didn't do much of anything except display a shocking lack of testicular fortitude. He could have spoken up about Biden's illegal attack on Syria, like he had done about the Iraq War, but he didn't.
Jodie Foster won Best Supporting Actress for her work in the film The Mauritanian, a movie about the injustice of a prisoner held in Guantanamo Bay for 14 years without charge. But Foster never mentioned Guantanamo Bay, injustice, or the immorality of the War on Terror in her acceptance speech.
Famed anti-war activist Jane Fonda, who once went to North Vietnam while the US was at war with it, was awarded a Lifetime Achievement award but never mentioned Biden's illegal airstrikes in Syria, or his support of murderous tyrant Mohammed bin Salman in Saudi Arabia, or the continuation of the "kids in cages" immigration policy. Instead, she just regurgitated the usual woke pablum of diversity and inclusion.
Chloe Zhao won Best Director and Best Drama for her film Nomadland, which examines those crushed under the boot of American capitalism. Yet she never once mentioned Biden's failure to push for the $15 minimum wage or Medicare-for-All, or the coronavirus stimulus check he promised – three things that would immeasurably help the suffering people featured in her film.
Also on rt.com
Oscars frontrunner Nomadland chronicles the working-class despair wrought by US capitalism, but still manages to kiss Amazon's ass
With Trump gone and Biden now being the one obliterating Syrians and caging kids at the border, Hollywood's elite is all too happy to lose its stridently socially conscious rhetoric in favor of status quo cheerleading and social justice ass-kissing.
Everyone knows Hollywood is not exactly filled with the bravest souls driven purely by integrity and their commitment to principle. But the amount of self-righteousness mixed with craven cowardice on display last night was remarkable even by its depraved standards.
In conclusion, if the Golden Globes are any indication, awards season is going to be filled with the most venal, vacuous, and vapid posing and preening imaginable, but it won't feature any principled protests against Biden administration policies, no matter how abhorrent they may be.
Think your friends would be interested? Share this story!
The statements, views and opinions expressed in this column are solely those of the author and do not necessarily represent those of RT.
You can share this story on social media: