Postponing Oscars 2021 due to Covid-19 would be a cowardly move, the final nail in the ceremony's coffin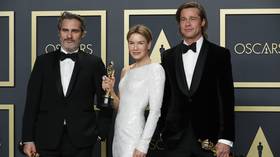 The Academy of Motion Picture Arts and Sciences should think carefully before they delay the 93rd awards ceremony over coronavirus as they may discover the public don't miss it half as much as they think they will.
Next year's Oscars are likely to be delayed due to the Covid-19 pandemic according to a report in Variety. Yes, it appears coronavirus has managed to achieve what the Second World War could not, frightening Hollywood enough for them to consider moving their annual back-patting snooze-fest in 2021.
The Academy of Motion Picture Arts and Sciences had already altered the rules to qualify for a nomination by allowing films that are released digitally to be considered for Oscars (previously any film had to run for at least seven days in Los Angeles County to be a contender). But now it appears to be eyeing going a step further and postponing the big night.
In many ways, this could be seen as a silver lining of the pandemic. Being spared lectures on veganism by sanctimonious millionaires as they collect gold statues for playing dress-up, is almost certainly a good thing. However, the move reeks of a mixture of cowardice and an attempt to feed the narrative that this depressing socially-distant world we find ourselves in is the 'new normal'.
Also on rt.com
So clapping is no longer offensive in the Covid-19 era – are we now un-woke enough for a Woody Allen movie?
Allegedly, the reasoning behind the delay is that film production and cinema releases have been curtailed by the virus outbreak. But films have still been released this year and February is nine months away. Admittedly, there is no way of knowing what state the pandemic will be in by then, but one should at least be hopeful we have returned to a semblance of normality by then.
Why is the academy being so pessimistic in its outlook? It seems baffling that a world war wouldn't stop them from having the ceremony but a disease with a 98.7 percent survival rate in the US may prevent them going ahead as planned for the first time in 93 years.
One wouldn't have to be too conspiratorially minded to think that notoriously liberal Hollywood is trying to feed the narrative that the Trump administration has dealt with the outbreak badly. It is an election year after all.
Celebs in general haven't put on a good performance during the pandemic. From the painfully cringeworthy 'Imagine' video put together by Gal Gadot, to the incessant posts about how much they are struggling to cope with being unable to leave their sprawling multi-million-dollar mansions, most of their appearances have come across as attention seeking and tone-deaf.
Also on rt.com
Covid-19 is the slow death of celebrity: As fame's brilliance fades, we can see the real heroes clearly
"It's impossible to know what the landscape will be," Academy President David Rubin told Variety. "We know we want to celebrate film, but we do not know exactly what form it will take."
I would suggest that Mr. Rubin needs to think long and hard before postponing the Oscars, as he may find that they aren't missed nearly as much as he may think they will be. Fewer and fewer people watch the event year after year, as it becomes ever more insufferable and irrelevant. Of late, they have taken to bestowing their highest honours on comparatively seldom seen 'woke' films like 'The Shape of Water', 'Moonlight', and 'Parasite'.
Then, for the past two years, they have failed to find a host after Kevin Hart was hounded out of the role in 2019 over a decade-old joke. Perhaps most egregiously, they spent years lavishing garlands on sexual predators like Harvey Weinstein, only to perform a sudden volte-face and throw unquestioning support behind #MeToo, thinking that would absolve them of their sins.
The Academy's willingness to hold off on the proceedings over the pandemic could prove to be the final nail in the coffin of the annual event, and perhaps that is not a bad thing.
If you like this story, share it with a friend!
The statements, views and opinions expressed in this column are solely those of the author and do not necessarily represent those of RT.
You can share this story on social media: