Britain's shameful refusal to take responsibility for jihadi bride Shamima Begum is a battle it can't be allowed to win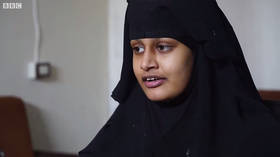 The Supreme Court's decision that Shamima Begum should not be allowed to return from Syria to fight for her 'stripped' British citizenship has been backed by Boris Johnson. But this is a case that reflects very poorly on the UK.
Britain has once again proved it's in denial and doesn't want to face its own issues.
In February 2015, Shamima Begum left London for Syria aged 15 to join Islamic State, along with two school friends. Ten days later, she married a jihadist and went on to have three children, all of whom are now dead.
In 2019, the then-Home Secretary Sajid Javid removed her British citizenship, effectively leaving her stateless – a decision which has been backed by his successor, Priti Patel.
Since then, Begum has been fighting to have her citizenship reinstated, and in July last year she was granted the right to return to contest the decision in court. But now Britain's Supreme Court has determined she cannot return to fight her case in person and she's marooned in legal limbo.
The reason given for the decision by the president of the Supreme Court, Lord Reed, was that the right to a fair hearing did "not trump all other considerations, such as the safety of the public."
Also on rt.com
Britain taking back ISIS kids doesn't mean Shamima Begum will walk free & it might strike a blow against terrorism
Frankly that's a ridiculous statement, the equivalent of a racist dog whistle. Begum is currently 21 and stuck in a refugee camp in northern Syria, controlled by armed guards. What danger or threat does she pose?
Returning on a flight, being met by the authorities at the airport and then placed in custody until her hearing would be a simple scenario to arrange.
Lord Reed's decision smacks of being a smokescreen. If public safety was really such a consideration, then why, for example, don't the courts sanction Prince Charles?
Investigations show he's had 95 meetings with eight repressive Middle Eastern monarchies and played a key role in promoting £14.5 billion of UK arms exports, by the likes of BAE Systems, in the past decade.
Let's be honest here: grubby collusion with regimes who espouse democracy and slaughter any peaceful opposition is one reason why Britain is hated by so many Islamic groups.
The cosying up to Saudi Arabia and the UAE, and the propping up of Bahrain's regressive royal family, plus the disgraceful debacle that occurred in Iraq under warmonger Tony Blair, are more of a threat to British people than Shamima Begum. Those actions are what drives rogue elements to carry out attacks and pump out anti-British propaganda.
Also on rt.com
So it's wrong for Australia to send a British killer to UK, but OK for Britain to dump ISIS bride on Bangladesh?
This is in no way to underplay the wrongs that Begum committed. She joined an appalling band of extremists, who wreaked destruction and murder on anyone who stood in their way. Although she was an impressionable schoolgirl when she left Britain, her actions should have consequences.
But how can Britain and its courts cut her off? Her indoctrination happened in the UK. It was in the UK that she fell under the evil IS spell and began to believe it was her calling. How can a so-called developed Western society deem itself not responsible for how its citizens behave?
To cancel her passport, as Javid did, is egregious. Begum was born in Britain and lived there all of her life before going to Syria.
Reflecting on the Supreme Court's decision, Boris Johnson's spokesman said, "The government's priority is maintaining our national security and decisions to deprive individuals of their citizenship are not taken lightly."
The whole affair has been influenced by Begum coming from a Bangladeshi family. Javid, the son of Pakistani immigrants, tried to make the case that she could get a Bangladesh passport, so would not be left stateless – which, according to the United Nations, is a fundamental human right.
But her citizenship should not up for debate. She has never been to Bangladesh. She is British.
Also on rt.com
If ISIS really is resurgent, it is the United States that is to blame, NOT Iran
The Supreme Court's ruling looks even more nonsensical when you consider it stated that her case could proceed if she could conduct it from Syria. Her lawyers are not allowed to enter the camp, so an uneducated young woman would be expected to legally argue against the British state over whatever WiFi connection can be found in the ramshackle accommodation she lives in.
Britain's attitude is horribly out of touch; it feels like a throwback to colonial times. And there will be very few figures prepared to speak up on Begum's behalf, as they will be fearful of being drowned under a torrent of pro-IS accusations.
The issue is not Begum going to Syria. That was completely wrong and is not up for debate. It's how we move on. Compassion is a sign of decency, and whatever went wrong with Begum – whether it was grooming, propaganda, or a failed education – happened under the auspices of the Union Jack.
The UK should return her citizenship, judge her actions fairly and robustly, punish her appropriately, and then offer her a path to rehabilitation. But the Supreme Court decision makes that outcome look further away than ever.
Trying to claim the moral high ground over a naive young woman is a coward's way out. When will Boris and Britain get the guts to face facts?
Think your friends would be interested? Share this story!
The statements, views and opinions expressed in this column are solely those of the author and do not necessarily represent those of RT.
You can share this story on social media: