Paying the rioters and handcuffing police will only lead to more crime and more victims in minority communities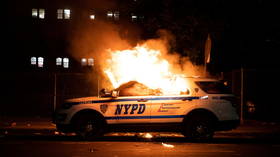 Over the last year, the Black Lives Matter movement raised over 90 million dollars as police officers found themselves more restricted in their jobs. By doing this, society enables those who destroy it.
During 2020, several US cities were beset by riots. Millions upon millions of dollars of damage was done, lives were lost, all the while a chant of Black Lives Matter was ringing through the air. The organization who has made the chant its name raked in more than $90 million in 2020. At the same time, we find people still chanting for the defunding of police. Here in my home state of Illinois, our governor has just signed a bill that will make it more difficult for police officers to do their jobs properly.
The new law bans chokeholds, and does not allow police officers to purchase what the governor and the Democrats define as military equipment. These things include firearms of .50 caliber or higher and tracked armored vehicles. Given that caliber of round is largely only used in anti-materiel rifles, and Illinois police don't have a tendency to use actual tanks, the ban makes the 'problem' look bigger than it is. It's not just the letter of the law that is foolish, but the spirit as well. That and the massive amount of money that BLM has brought in show two sides of a sickness plaguing the United States.
To put it plainly, there does not exist a single argument to defend police brutality. The problem is blaming the wrong thing for a larger issue. Similar to the mistake made by Chicago activist Early Walker in his push to ban the video game Grand Theft Auto, Americans are blaming military equipment and chokeholds for issues and situations where those were not the problem. There isn't a place where police are gunning down people with anti-materiel rifles and running them over with armored vehicles. We're not a nation that's having a Tiananmen Square issue. We are in a place where bad cops need to be dealt with harshly, all the while not punishing the police officers who work diligently to protect their communities.
Derek Chauvin kneeling on the neck of George Floyd showed a bad cop doing his job badly. Applying a chokehold does not necessarily show a cop doing his job badly. I very much believe bad cops should be punished, but is the hold the problem? Is the equipment the problem? Of course not. These are scapegoats that will solve nothing when banned, and in many situations the equipment and training that is available saves lives far more than it takes them.
When a police officer is told that he could not use a rear naked choke to restrain a subject that is trying to harm him, you take away his options to protect his own life and the lives of others around him. The same can be said of certain bits of equipment used. But I wouldn't expect a politician to understand that.
Also on rt.com
Black lives matter, female empowerment doesn't? Pro-Trump women's group barred from painting non-partisan mural on NYC street
On top of that realization, where does that put the police officers who put their lives on the line every day to protect the community? What message does that send to them? Where does that say our values are? It goes without saying that police should have accountability to the citizens, but it also goes without saying that we shouldn't be rewarding the people who don't defend the neighborhoods. It certainly doesn't incentivize people to become police officers, and it disenfranchises those who are already working the beat.
A serious decision needs to be made in America. We as citizens need to decide whether or not we truly value our communities. Do we value them enough to be smarter about these situations? Do we value them enough to enable the people who want places to improve, and seek for the people who burn our cities to be punished? If you're listening to Democratic politicians in the year of our Lord 2021, I'm afraid the answer to both questions is a resounding "no."
Think your friends would be interested? Share this story!
The statements, views and opinions expressed in this column are solely those of the author and do not necessarily represent those of RT.
You can share this story on social media: