Market fundamentalism should never apply to utilities, as Texans are learning the hard way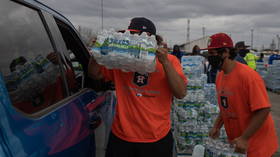 The devastating winter storm in Texas has not only left dozens dead, but survivors are being slammed with massive bills from the state's market-driven utility companies – evidence of the inhuman nature of the capitalist approach.
The United States is in the grips of a winter storm that has left millions without power along its Gulf Coast. In particular, the state of Texas, the so-called energy capital of the world, is being ravaged and many are wondering how and why such a thing is happening when energy suppliers knew the storm was coming.
First of all, most of Texas has an independent power grid and, in fact, there is no national US power grid at all. While the country sports a "balkanized" power grid split into several distinct zones, Texas operates a stand-alone grid that keeps it isolated from other markets. That means that during rare times of emergency such as this the state cannot draw from elsewhere, leaving 4.4 million customers without power at one point.
Also on rt.com
'I'll die of dehydration before I drink Dasani': Americans mock Coca-Cola for sending unpopular bottled water to Texas amid crisis
There are a multitude of factors at play in this scandal, but the major point is that operators failed to prepare; for example, equipment was never winterized and this led to a significant portion of the state's energy generation sources going offline when the freeze hit. As Texas state officials acknowledge, the onus falls on the Electric Reliability Council of Texas (ERCOT), which manages the state's electric power flow.
Texas's independent power grid also means that it has been able to avoid federal regulations and opt out of capacity market pricing, meaning that operators don't need to meet capacity for emergencies and can hike prices. It was even reported that ERCOT North hub ratcheted prices per megawatt hour to $1,489.75 last Tuesday, compared to the 2020 annual average of $26.
In addition to the tragic loss of life and weather-induced injuries suffered as a result of the cold snap and the power grid's inability to meet demand, many who were "lucky" enough to keep the lights on will be financially ruined as a wave of bankruptcies and foreclosures follow in the wake of the storm.
As the New York Times reported on Sunday, some are being stuck with electric bills in the tens of thousands of dollars. This is because thousands of Texans pay wholesale energy prices that are not fixed, but fluctuate with the broad market swings of supply and demand.
Again, pointing back to Texas's heavily deregulated energy market, operators in Texas are not required to meet demand – and consumers, who can pick from about 220 retailers, have little protection.
Some operators, like the company Griddy, pass wholesale pricing onto customers with a modest surcharge, which usually amounts to savings in normal times – but can obviously turn disastrous.
Also on rt.com
Biden declares 'major disaster' in Texas as state continues to battle power outages amid extreme cold
In fact, as the Times reported, this particular company, which has some 29,000 users, even advised its customers – most of whom probably had no idea what the consequences could be otherwise – to switch operators as the storm rolled in. But of course for many folks (especially older folks), this was a challenge that proved insurmountable and left them holding the bag.
It is clear why this is unfair and also idiotic, but apparently not so to those who built Texas's energy system. William W. Hogan, a professor of global energy policy at Harvard's Kennedy School and one of the architects of Texas's energy system, apparently believes that this model is good because it encourages consumers to reduce energy usage and operators to produce more electricity.
He said recently in an interview, "As you get closer and closer to the bare minimum, these prices get higher and higher, which is what you want."
It is unclear who "you" refers to in this statement, but it is surely not any reasonable person watching things in Texas. It's also hard to believe that the stated goals of Texas's energy system were actually met when clearly producers did not produce more electricity to meet rising demand.
Maybe the "you" that Hogan is referring to is someone like Jerry Jones, the billionaire owner of the Dallas Cowboys and Comstock Resources Inc., a major natural gas producer. Comstock CFO Roland Burns was quoted in an earnings call last week comparing the events to "hitting the jackpot" because of the "incredible prices."
He said, "Frankly, we were able to sell at super premium prices for a material amount of production." (An admission that they were profiting off of not meeting demand.)
Also on rt.com
Republicans sound alarm over major U-turn by Biden admin on Russia-to-Europe gas pipeline
Market cultists like to bask in the simplicity of their theories, the simple supply-and-demand concepts learned in basic-level undergraduate econ courses, but we are talking about public utilities – things that people need to survive – and not frivolous consumer products.
On these matters, the field of economics is not so clear cut; after all, our society famously promises people "Life, Liberty and the pursuit of Happiness" and must, if it would like to survive, deliver on these basic guarantees. But as we see with Texas, maintaining a fundamentalist utility market has no clear social benefit; it demonstrably only enriches the very wealthy while literally killing and bankrupting the working class.
Think your friends would be interested? Share this story!
The statements, views and opinions expressed in this column are solely those of the author and do not necessarily represent those of RT.
You can share this story on social media: