Palestinian elections may be doomed to fail if US and Israel interfere again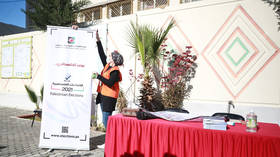 With the first Palestinian elections in 15 years planned for later in 2021, many fear that Israel and the US will again meddle in the democratic process. This has sparked much debate over whether the elections are set up to fail.
As stated by Palestinian Authority (PA) President Mahmoud Abbas on January 15, legislative elections will be held on May 22 this year, with the presidential vote following on July 31. The announcement has since caused many to fear the potential backlash, due to both party divides and foreign interference.
The last elections held in Palestine took place in 2006, and saw Hamas being democratically elected. What later ensued was a bloody civil-war-type conflict between Hamas and their Fatah rivals. Ultimately, the Palestinian Authority – which had presided over both the Gaza Strip and West Bank since the Oslo Accords – was forced out of Gaza after an attempted coup was foiled by Hamas' armed wing.
The divide between Hamas and Fatah has never been fully repaired, leading many Palestinians to question even the validity of the declaration that there will be elections later this year. Despite the fact that different Palestinian factions have agreed upon the mechanisms set to be put in place during their recent discussions in Cairo, many questions remain unanswered about who will participate and how it will truly be run. Analysts believe that Mahmoud Abbas only announced the decision in order to please newly elected US President Joe Biden – a suspicion that has led to further skepticism amongst Palestinians.
Another concerning sign of things to come is the emerging reports of Hamas officials in the West Bank being warned by Israel not to take part in the upcoming elections.
Also on rt.com
With Biden policy moves looming, Jewish National Fund to openly buy West Bank land, ACCELERATE EXPANSION of settlements – report
A History Of Destroying Palestinian Democracy
Despite the fact that Jimmy Carter had called the 2006 Palestinian elections "completely fair and honest," the results were rejected by Israel, the US, and others in the West. Hamas was, to them, an organisation with which they refused to negotiate, and so instead of recognizing the democratic election results the West began to hit Gaza with some of the most draconian sanctions the world had seen. Ultimately, the people of Gaza were punished by the US for simply casting their votes, which they did out of frustration over their living conditions not increasing all those years after the Oslo Accords.
But even prior to the 2006 Palestinian elections, which the US had pushed for, intelligence agencies had reportedly been acting to undermine the course of Palestinian democracy. It was revealed in the Palestine Papers, released by Al-Jazeera, that a seven-page 'Palestinian Security Plan', written by British Intelligence officials in 2004, had outlined a proposal to actively undermine Hamas, Palestinian Islamic Jihad, and the Al-Aqsa brigades. That is a cause for great concern, and has led to speculation that such things could occur once more.
It is clear that Israel would oppose a Hamas win in the West Bank. If it was to happen, we could end up seeing a massive escalation of violence, or even clashes between the PA and Hamas. In 2006, the PA refused to work with Hamas and partnered with the US and Israel to attempt to oust Hamas from power.
In November 2006, Lieutenant General Keith Dayton, US-appointed security coordinator for the Palestinians, met with PA strongman Mohammed Dahlan, reportedly promising it $86.4 million in order to build up its forces to "take on Hamas." The US Congress later approved $59 million in aid, which was to be non-lethal – though the Bush administration reportedly used other Arab regimes to get around that.
Cables released by WikiLeaks revealed that in 2007 Israel's military intelligence director, Amos Yadlin, had backed the idea of giving aid to Fatah was to depose Hamas. Yadlin had even stated that it was fine, even if it meant Hamas would end up controlling Gaza completely, and qualified his support by saying that if Hamas took over Gaza, Israel could then justify making the coastal enclave a no-go zone.
Also, a 45 minute tape released by the Observer in 2016 revealed Hillary Clinton had stated in 2006, that "we [the US] should have made sure that we did something to determine who was going to win." A statement like that, an expressed intention to openly conspire to rig a foreign election, raises real concern that the US could be considering such a move.
Also on rt.com
'Ignoring real war crimes': Netanyahu blasts International Criminal Court for claiming jurisdiction over Palestinian territories
In a time where the issue of election rigging is so prominent, the question of historical interference in the Palestinian democratic process should be up for discussion. If such interference was to lead to a brutal siege on Gaza, followed by a bloody US-backed coup attempt and civil war, pushing peace further away, then this election should ideally be protected at all costs to avert further harm.
It is wholly unfair and ultimately racist to deny Palestinians of their right to democracy. And whether this election process goes ahead or not, historically Israel and the US have worked to deny Palestinians that right. Ironically, the country which cannot stop invading foreign lands, under the pretext of ensuring democracy, has actively worked to destroy democracy in Palestine – and if you were to ask the average American, they would have no clue.
The biggest problem with the US-Israeli approach to the elections is that they consider almost every Palestinian political party to be a terrorist organisation, with the exception of the mainstream branch of Fatah. This means the only result they will recognise is a Fatah win, and so, due to the power of Israel and the US over the occupied territories, the Palestinian people are being given an ultimatum: vote for the party the West approves of and endure a slightly less harsh occupation, or suffer the immediate economic and military consequences of choosing any other.
Think your friends would be interested? Share this story!
The statements, views and opinions expressed in this column are solely those of the author and do not necessarily represent those of RT.
You can share this story on social media: