An actual university course aims to revive the art of chit-chat. Good luck making small talk with the perpetually offended, though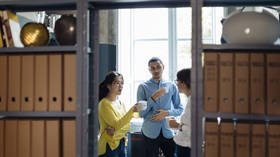 We've forgotten how to make small talk – so much so that trainee lawyers now need a university course to re-learn it. But at a time when voicing opinions is a micro-aggression minefield, would you even want to talk to strangers?
Some people can talk. I mean, they can really, really talk. For hours and hours. About absolutely nothing.
My mother, for example, can talk pretty much anyone under the table. She is the chit-chat champion of the known universe. You'd realise she was in a totally different chit-chat stratosphere, for sure, if you ever sat next to her on a plane or a train.
She'd have covered everything from the weather and staff uniforms to the pros and cons of soft furnishings before you'd even left the ground or pulled out of the station. I once heard her talk to a complete stranger for at least 10 minutes about sand on a beach, its rich colours and undulations, how it drifts this way and that. It can be really sweet... if you're in the mood.
And yet, apparently, she is a dying breed, and she possesses a valuable skill set that we all need to re-learn.
A real university is really offering a real course in... the art of the inane, teaching folk how to just chatter away to someone about, well, nothing much of anything at all.
BPP University Law School trains lawyers from 50 City of London law firms at campuses across the UK. And, as anyone who has spent much time with lawyers knows, they can be a little bit stiff, awkward and, well, fairly bloody dull to be around as a breed. Especially if they're a tax or local government specialist; they don't even have any courtroom dramas or crime anecdotes to share.
Also on rt.com
Proposed UK law allowing deplatformed speakers to sue universities is turning free speech from universal right to legal privilege
Fair enough, yeah. These men and women embarking on a career in the legal profession, they really do need a bit of help with their chit-chat.
So this law school is now offering what could well be the world's first ever module in chatting, designed and run by tutor Georgie Nightingall. "We often talk about good conversation as if it's just exchanging information," she told the Times. "But my experience with – my addiction to – good conversation suggests it's more about expanding your perspectives and your relationships."
Georgie, mate, you should just give my mother the job of teaching your legal eagles these skills and just stand back and watch. She's a chit-chat ninja, and it would only cost you a pot of tea and a few biscuits.
"Often asking small questions – what you do, where you live and the like – the person receiving that question assumes it's not asked with genuine interest," added Georgie. "So they respond in a prescriptive way ... that creates a perception people aren't willing to be open as we don't give one another any hooks."
Exactly. And what about the danger these days of giving offence with one of these 'hooks'? Speaking freely and openly to a total stranger and voicing any kind of an opinion about anything at all is an absolute minefield. Though, try to have a water cooler moment these days in this, the age of home-working, social distancing, and double-masking.
Back to my mother. She's 80, and she'd lay out any number of these 'hooks' to get a chat going.
I've often wondered how hilarious it would be for her to sit down in a plane seat on a long flight next to a person who is perpetually offended. You know the type – there's ever more of them around these days – those people who expect the other person to be ever-vigilant in policing their language, because they're apt to get offended about everything from shoe leather to coffee beans.
Never mind rape, murder, famine, or a global pandemic. These superheroes are saving the world from the worst and most terrifying of all evils – the true horror of being a bit embarrassed or mildly offended by something someone else says.
Or, even better, if a trans woman walked down the aisle and sat down beside her on an EasyJet flight to Mallorca... that would be comedy gold. I could actually sell that third seat on the aisle, a seat in the audience.
I suspect my mother would tell her/him she/he needed a shave and politely whisper: "Listen dear, you do realise that even though you're wearing a nice size-16 dress from Marks and Spencer, it's perfectly clear to everyone that you're actually a man? You look like a bloke, you walk like a bloke, you talk like a bloke. I don't mean to be rude but, well, doesn't that make you a bloke?"
She wouldn't mean anything nasty by it, it's just that the thoughts in her head fall straight out of her mouth. There is no filter. It's just the way she is. Old school. She wouldn't even realise she was potentially being offensive.
And this is, I would argue, precisely what a good – free and open – conversation is all about... if you're in the mood.
BPP launched its chit-chat course after it found almost half its students were worried about being judged on how they spoke; research has also found that young people are way more comfortable communicating via text message or online than in person. There's even a new book out now, schooling people on how to have an argument over the Internet.
Being schooled in the art of chit-chat, learning how to have an argument, wanting to change your name from Stan to Loretta because you "want to have babies." The world is becoming ever more like a Monty Python sketch. Life and satire are now, truly, blending into one. But where does satire end and real life begin?
Think your friends would be interested? Share this story!
The statements, views and opinions expressed in this column are solely those of the author and do not necessarily represent those of RT.
You can share this story on social media: