What the documentary 'Assassins' really exposes is that the mainstream media is just as naive as the women who killed Kim Jong-nam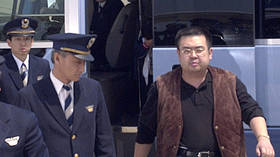 Oscar-nominated director Ryan White's new film has been critically acclaimed, but it's fundamentally flawed because it still buys into the 'Kim Jong-un = Bond Villain' mindset so many in the West adopt about the 'rogue state'.
There's always the expectation of a shocking reveal in any documentary about a high-profile event, because if there isn't, then why make it in the first place? The assassination of North Korea's leader's half-brother in Kuala Lumpur Airport in 2017 was that sort of incident. One big reason why it was so widely focused on was because it involved the so-called Hermit Kingdom.
Anything the Kims do is big news, from the satellite tracking of their personal train to speculation about how much weight they've gained. Last year, Kim Jong-un was supposed to have died, according to sources. The mainstream regards the family like rubberneckers at a car crash: they don't like what they see, but they can't stop looking.
Also on rt.com
'Creative approach': South Korea suggests North should freeze ALL 'nuclear activities' just to 'begin' rapprochement with US
Unfortunately, it is the same with 'Assassins', which unconsciously walks back onto that well-trodden ground. The premise is to show how two young women – one from Indonesia, another from Vietnam – were duped into smearing the VX nerve agent across Kim Jong-nam's face. He's the older brother, and the narrative concludes that he was killed to prevent any takeover attempts.
It must be said, from the CCTV footage of this middle-aged man walking around an airport to print out his boarding pass, he appeared to be an unlikely character to stage a coup in the world's most isolated nation, despite the occasional flippant comment he made to the media. This is the same guy who ended up looking like a fool when he was busted using a fake Dominican Republic passport under a Chinese alias in a bid to take his kids to Tokyo Disneyland. Of all the nationalities for a scion of the Baekdu bloodline to choose to pretend to be from, a small Caribbean nation is an odd choice. Nevertheless, the film sets this up as the motivation to kill him. And the ladies are portrayed as unwitting, naive pawns.
The biggest takeaway, though, is that the filmmakers are the pawns. It's common knowledge that Kim Jong-un has a warped sense of reality. He makes proclamations to his people about bringing the United States to its knees, whilst struggling to keep the lights on at home. That sort of delusion ended with him holding two summits with Donald Trump.
In 'Assassins', Anna Fifield – working for the Washington Post at the time – says that "now all of a sudden he gets to present himself as a peer of the most powerful man in the world." No one thought, or thinks, that. No nations apart from South Korea pay any heed to Kim Jong-un's diatribes. If there was any military conflict, we all know that he would be crushed, as his poor people are tragically malnourished and wouldn't be capable of fighting a war. But the movie buys into him being an 'equal' and makes a big deal of showing us the real North Korea.
We've got 'James', a mysterious North Korean gentleman, who according to the film has gone underground, his whereabouts currently unknown. He recruits the girls after asking a taxi driver to put him in touch with any who might be looking for work. James gets himself repeatedly captured on their social media and also uses Google Translate to communicate with them, due to the language barrier. His next subtle move is to buy one of them a massive teddy bear, which she carries into her hotel the night before the killing. This is so she can practice putting her hands over its eyes, in preparation for doing the same to Kim Jong-nam.
The filmmakers have swallowed all this as proof that the North Koreans are guilty of a sinister cover-up.
The ruling cabal may keep their people down and mistreat them horrendously, but they are not completely stupid. The authorities have access to the internet, they travel and read/watch the media from abroad. To think they are sitting in grand socialist-style buildings and plotting like James Bond villains is the logic of a goldfish.
After the assassination, the North Koreans overseeing the operation make their getaway; they are shown on the CCTV footage congregating and going to the departure gate together. They fly home via Dubai and Vladivostok, but as the movie shows, they do it covertly by changing clothes. Again, we are expected to assume that North Korea's security services haven't grasped that CCTV will be in operation in a busy international airport, and then to also assume that they think it won't be scrutinised after a man is killed in the middle of the terminal.
Instead, the film uncovers the new clothes as a smoking gun. The ladies are the only ones who are that naive. They come from poor families and didn't have any careers of note. One was previously a sex worker, so the offer of cash to take part in public pranks for Japanese TV (as they were told) was never going to be something they would turn down. But to see their lawyers and the media personnel speaking so earnestly in the film, is tragic. These people are all shouting about the integrity of justice and how these innocent girls were used by the North Koreans, who thought they were going to escape without a blemish.
Also on rt.com
North Korea's theft of $300m isn't a sign of desperation, but an indication it'll do whatever it takes to have nuclear weapons
However, it's clearly the opposite. They left this obvious trail of breadcrumbs and banked on the mainstream being addicted to the Bogeyman version of North Korea, If you want to take someone out, shooting, stabbing or even using a car to ram them are methods used day in, day out in cities everywhere. There was no need to make it so complicated or mess about with dangerous chemicals.
A large wedge of cash inside an envelope would have hired someone in Kuala Lumpur to do it far easier, and with much less fuss. If Kim Jong-un and his coterie wanted to build on his Hollywood image and keep his regime looking utterly ruthless and callous so naive governments would pander to them, they couldn't have asked for a better movie. The mission of 'Assassins' was to present the truth behind a killing, and it used CCTV footage and dramatic presentation to make us think we were watching an expose of a rogue state's dastardly actions. In fact, it all just looks like the same PR ploy the mainstream media keep falling for, and perpetuates the impression that Kim Jong-un is some sort of evil genius.
Think your friends would be interested? Share this story!
The statements, views and opinions expressed in this column are solely those of the author and do not necessarily represent those of RT.
You can share this story on social media: