Activism for hire? By ditching climate change for Sikh separatism, Greta Thunberg shows her naivety and erodes her credibility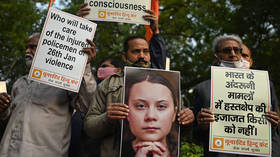 Straying wildly off-piste, teen activist Greta Thunberg has caused fury in India with her backing of a farmers' protest with links to an independence campaign for Punjab. It's clear she's in serious need of some proper guidance.
It was inevitable that as soon as Greta Thunberg grew up, her role as the global teenage icon of climate change would lose some of its allure. The international circuit for her spiel is only so big, and once she'd done a few laps the interest starts to wane with no one left to berate.
For many who have spent time in the glare of international adulation, when that spotlight starts shifting away it's then time to ask 'what's next?'.
Also on rt.com
A new film, designed as an homage to climate change's child deity Greta Thunberg, in fact portrays a terrified, badly misled girl
Although it seems Greta's found her 'what's next,' maybe she should have been a little more discerning. Because she's climbed the fence, crossed the field and stepped straight into a huge cowpat, by taking sides in a deeply divisive farmers' protest currently creating a stir in India.
Farm workers have taken to the streets over government plans to attract much needed investment to the agriculture sector in the nation of nearly 1.4 billion people. They say they fear that encouraging private investment would leave them at risk of exploitation from large and foreign corporations.
While this is certainly a domestic issue for India to consider, the farmers have attracted attention from international busybodies looking to exploit the movement for their own ends.
Caught in the middle of this is the now 18-year-old Greta, who shared an online 'protest toolkit' along with the message, "I still #StandWithFarmers and support their peaceful protest. No amount of hate, threats or violations of human rights will ever change that. #FarmersProtest"
This 'toolkit' was put together by the Poetic Justice Foundation (PJF), a Canada-based Sikh organisation accused in India of links with separatist Khalistanis looking to create an independent homeland in Punjab. Not exactly top of Indian Prime Minister Narendra Modi's 'to do' list.
As it happens, some time back I had business with the PJF founder Mo Dhaliwal, a Sikh who also runs an online strategy company called Skyrocket. In my dealings with him, he was a courteous and clever operator. Apparently nothing has changed, although he's certainly more controversial these days.
The project we were working on together – it was all about Brexit, rather than creating Sikh homelands – came to nothing, but clearly he's found plenty to occupy his time. He has certainly been noticed in New Delhi, where police are considering charges of sedition and criminal conspiracy against the promoters of the PJF toolkit – such as Greta Thunberg – for its role in "a call to wage economic, social, cultural and regional war against India."
PJF seems to be heading up the propaganda war for the farmers' protests, obviously hoping the numbers will translate into support for the Khalistan campaign. At least that's my guess.
And while the organisation coyly admits on its website that it is working on the farmers' protests in India, it does seem to have hijacked part of the campaign and is coercing supporters into pushing its goal of Sikh independence with the help of celebrities in its orbit. Celebrities like Greta Thunberg and pop superstar Rihanna.
Indian officials believe Dhaliwal's Skyrocket company paid Rihanna $2.5 million to post her support for the farmers' protest earlier this week. With more than 100 million followers on Twitter, that is serious social media reach and, you'd have to say, worth every cent.
There's no suggestion Greta – with a comparatively pale 4.8 million Twitter followers – was paid for her help in sharing the protest's activist documents. But when there's cash for endorsement, or even the stink of it, hovering around activism, then the motives and the message suddenly become incredibly murky.
How would the world have felt if a then 16-year-old Greta's famous upbraiding of the United Nations – "You all come to us young people for hope. How dare you! You have stolen my dreams and my childhood with your empty words" – had been paid-for by renewable energy giant Siemens, or Coca-Cola?
The young Swede needs to distance herself from this off-piste exercise, pronto. What does Sikh separatism have to do with the school protests she pioneered, or climate change, for that matter?
Also on rt.com
'As fake as her tweets'? Police open conspiracy PROBE into Greta Thunberg's 'protest toolkit,' accuse creators of 'WAR ON INDIA'
It's one thing standing next to some dopey politician for a photo-op as he hopes a bit of your stardust might rub off on him, without really understanding his motives. It's quite another to be co-opted into a national political battle way out of your comfort zone, where your name is used as an unqualified endorsement for one viewpoint and to have protesters marching down the street with huge banners bearing your image.
All those adults who trailed around in Greta's wake over the last few years – enjoying the media spotlight and the impression they were making a difference – should step up, take her by the arm and give her the guidance she needs as she transitions from teenage trailblazer into a young adult with a need to be taken seriously.
Without this help, then the young climate activist's future is looking shakier than one of those miserable polar bears on an ice floe.
We've all become used to having Greta Thunberg around. She gives us plenty to think about, even if we decide not to agree, but climate change is her gig... not Indian nationalism.
Think your friends would be interested? Share this story!
The statements, views and opinions expressed in this column are solely those of the author and do not necessarily represent those of RT.
You can share this story on social media: