Politics is destroying Australian sport, with the elite seeing it as the perfect way to ram woke views down 'deplorables' throats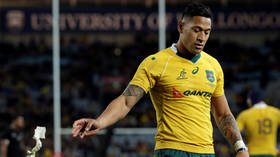 The upper echelons of Australian society are waging all-out war against sport Down Under, seeing it as the perfect opportunity to foist their woke views on working-class spectators, who they look down on with disdainful contempt.
Australian sport is under attack, as it no doubt is in other countries across the West. In his 1979 book "The Culture of Narcissism" the American historian Christopher Lasch included a chapter titled "The Degradation of Sport."
In Lasch's view, modern sport had become degraded because it was no longer an escape from everyday reality. He argued that sport had been reduced to mere commercialised spectacle, with an emphasis on crude sensationalism rather than athletic prowess. Sport had become, in his view, professionalised, trivialised and market driven – a mere appendage to the entertainment industry.
What is occurring now in Australian sport, however, goes way beyond the kind of degradation described by Lasch forty years ago. Today, woke elites are seeking to abolish those sports most loved by the working class and to compel other sports to rigorously conform to their fervently held intersectional beliefs. In this they are being aided and abetted by the large corporations that control sport in Australia, either directly or via sponsorship.
In 2016 the allegedly 'conservative' New South Wales Premier, Mike Baird, announced that he intended to abolish greyhound racing in that state. This was done without warning or public discussion, and was prompted by the premier's personal distaste for the most working class of all sports, and his desire to pander to the woke, so-called "Animal Rights" movement.
An unprecedented public outcry and threats to cross the floor by some government politicians forced him to back down three months later and today the sport of greyhound racing continues to flourish in NSW. Baird resigned shortly afterwards, accepting a highly paid job in the banking and finance sector, from whence he'd come.
However, in 2017 the Australian Capital Territory government also moved to abolish greyhound racing – but, unlike the NSW government, the ACT Labor/Green coalition government did not resile from its decision. The sport remains banned in the ACT, and the Canberra elite can now rest easily, without being appalled by the thought of a few greyhounds running around a track, being urged on by the local "deplorables."
Campaigns to shut down the horse-racing industry have intensified in Australia in recent years, but so far have failed – perhaps because horse racing is an elite sport (the woke elites do enjoy quaffing champagne at the Melbourne Cup) and is supported by the influential and powerful gambling industry.
Just this week, the elites in Victoria (Australia's most politically correct state by far) completed a successful blitzkrieg attack on the Collingwood Australian Rules football club in Melbourne – ably assisted by the club's boofheaded Chairman and its woke-struck board members. Collingwood is a working-class suburb and its football club is proud of its roots. The club's supporters are perhaps the most vocal and enthusiastic in the game and care little for political correctness, so it was no coincidence that the woke elites singled out Collingwood. Clearly the working-class football club was ripe for some radical elite restructuring, and the campaign to achieve that has been under way for the past few years.
Elite critics of the club focused upon some complaints made by a former African Collingwood player who is currently suing the club, a few racial slurs shouted out at games by a minority of Collingwood fans at Aboriginal players, and some boorish gaffes by the club's incompetent Chairman. Compelling evidence of "systemic racism," asserted the woke elites.
Also on rt.com
ACLU declares 'transgender myths DEBUNKED,' says trans girls don't have any 'unfair advantage' in women's sports
Foolishly, last year the club established an inquiry into these matters and, as required by the dictates of woke ideology, appointed two academics, one an Aboriginal activist, to preside over it. The inquiry findings were released this week. Not surprisingly, the inquiry found that the Collingwood football club had "a unique history in relation to racism" and was riddled with "systemic racism" – odd findings against a club that has had non-white players and has an Aboriginal board member.
The inquiry report made various recommendations, including implementing a diversity employment strategy; creating a "truth telling process," developing a strategy to "address and reconcile" past racist acts, establishing an "Expert Group on Anti-Racism" and that the club should consider "reparations, compensation and a public apology." Reading the report, you would be forgiven for thinking that the inquiry had been into the transatlantic slave trade or South African apartheid, rather than a few incidents at a football club in Melbourne.
The inquiry was conducted in typical woke fashion. Thirty people were interviewed, but they are not named in the report and their evidence is not set out in detail. The African player who alleged he was discriminated against by the club refused to take part in the inquiry, but his complaints were described, and it appears that the chairman and board did not make a formal response to the draft findings. Woke inquiries are never transparent, nor do they adhere to the principles of natural justice, and evidence is rarely tested.
Notwithstanding these defects, the board accepted all of the inquiry's findings and recommendations. "This is a proud and historic day for the Collingwood football club" said the Chairman nervously at a press conference earlier in the week, only to meekly apologise for the comment a few days later; after it was greeted by a barrage of woke outrage.
Corporate sponsors threatened to withdraw their money and calls for the immediate resignation of the chairman and board members were made. They should resign, not because of the inquiry findings but because of their craven capitulation to the dictates of woke ideology and gross incompetence in dealing with incidents that should have been properly dealt-with some time ago. Collingwood fans will no doubt make up their own minds about the club that cowardly acquiesced to their public slander and sacrificed them on the altar of political correctness.
The ever-vocal transgender lobby is also meddling in Australian sport – by demanding that transgendered formerly male players be allowed to play in female competitions. Tried and true woke tactics are being used to get what they want. Outrageous demands are made to womens' sporting organisations, and if they are refused allegations of "transphobia" are flung around with abandon, and those organisations that do not capitulate are frequently taken to court.
A Canberra transgender Australian rules football player is currently suing the game's governing body because it refused to allow the player to play in the women's first-grade competition – on the grounds that the player is stronger and has a larger and more powerful physique than the female players. The player in question is Hannah Mouncey, formerly Callum, who stands 188cm (6ft2) tall and weighs 100kg (220lbs).
Also on rt.com
'Sad day for women's sports': Row erupts after Joe Biden signs gender discrimination order paving way for transgender athletes
Other legal actions have been foreshadowed in other states. Womens' sports administrators in Australia are becoming increasingly concerned at what they see – correctly – as an attempt to completely erase women's sport.
The woke elites' attempts to control sport also extend to destroying the careers of individual players who express personal views contrary to fashionable woke ideologies. The Israel Folau case is the most notorious Australian example of this phenomenon. Folau was Australia's finest Rugby Union player. He is also a born-again Christian. In 2019, during the government- sponsored public debate over the same-sex marriage referendum, Folau made comments on the internet opposing same-sex marriage. Rugby Union's governing body promptly cancelled him and his multi-million-dollar contract.
Qantas (a major sponsor of the game) indicated that it may withdraw sponsorship if Folau was not dealt with, but it was the ideological zeal of Rugby Union CEO Raelene Castle that drove Folau out of the game. The woke witch hunt even came for Folau's wife, a professional basketball player, who was also "cancelled" for having the audacity to defend her husband. Folau sued Rugby Union Australia and received a multi-million dollar settlement before the matter reached court.
The Folau fiasco reduced Rugby Union Australia to near bankruptcy and created deep divisions within the sport that have still not healed – many Rugby Union players also have strong Christian beliefs and supported Folau.
Raelene Castle resigned after destroying Folau's career, and is now trousering a substantial salary as CEO of Sports New Zealand. No prizes for guessing what her views on the transgender and women's sport issue might be. Her influence on this side of the Tasman Sea remains, however, as this week it was reported that an Australian Rugby League club was considering signing Folau to a two- year contract. However, the club has already announced that it will not be signing Folau, after the predictable woke backlash.
Even if you have retired from sport after a distinguished career in Australia, you are still at risk of being "cancelled" – as Margaret Court, Australia's greatest female tennis player, found out recently, when she was awarded an Australia Day honour for her contribution to sport, and predictably vilified by the woke elites.
Gone are the days when sport was an escape from the world of politics. The zeal of woke elites to foist their beliefs on the lower orders is so strong that they will not rest till they have infected every sphere of Australian life.
Think your friends would be interested? Share this story!
The statements, views and opinions expressed in this column are solely those of the author and do not necessarily represent those of RT.
You can share this story on social media: