Congress holds taxpayer-funded group therapy session for AOC and pals, who were totally traumatized by Capitol raid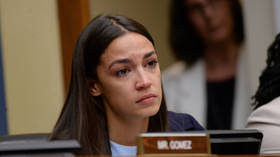 New York Congresswoman Alexandria Ocasio-Cortez has gathered a gang of lily-livered lawmakers on Capitol Hill to tell their personal stories of trauma, and if you disagree, you're practically a rapist.
Ocasio-Cortez and a number of prominent Democratic lawmakers, including Reps. Ayanna Pressley (Massachusetts) and Rashida Tlaib (Michigan), will speak in the House of Representatives on Thursday evening in a session "with the goal of creating space for members to talk about their lived experience" of the Capitol Hill riot last month.
Creating space for "lived experience" is the type of hokum heard on university campuses, but elected leaders are nevertheless gathering to indulge their own egos on the taxpayer's dime.
The story began on Monday when AOC claimed to have suffered a "near death" experience while she was trapped in the Capitol during the pro-Trump riot. In a live stream to her followers, she compared the trauma of the experience to being sexually assaulted, and accused the police officer who came to help her of staring at her with "anger and hostility," to the point where she feared death.
Also on rt.com
AOC compared to Jussie Smollett after her 'near-death' riot experience revealed as hiding from POLICE in office OUTSIDE Capitol
AOC, it turns out, was playing fast and loose with the truth of her "lived experience." Her office was in a building two blocks from the Capitol itself. Rioters never entered the building, and an evacuation proceeded peacefully. But good luck to anybody who tried to tell her this, as skeptics soon found out. Called out by conservative pundit Jack Posibiec, she shifted tack to speculate that "the tunnels" connecting her office with the Capitol weren't safe, and that "Trump supporters" planted bombs nearby (there is little evidence of this).
When Rep. Nancy Mace of South Carolina (who earlier wasn't above milking the threat for her own benefit either) announced that her office two doors down from AOC's was never "stormed," the New York Congresswoman accused her of shaming "survivors" into silence.
As the story currently stands, Ocasio-Cortez is a "survivor" in the same way that the cast of 'Survivor' are. Nevertheless, she managed to compare her experience on January 6 to that of a war veteran, prompting another round of mockery.
Alexandria Ocasio-Cortez may have been scared for her life. Nobody but her knows how it felt to be in her shoes that day. Yet anyone attempting to disagree with her on factual grounds is missing the point.
By elevating something as nebulous as "lived experience" to political discourse, AOC has managed to pull off something truly remarkable. Any opposition to her version of events isn't debate any more. It's a personal attack on a "survivor." You're with her or you're with the "insurrectionists." You believe her, or you hate sexual assault victims. You'll honor her "lived experience," or you'll side with the "white-supremacist sympathizers" in the Republican party who enabled her trauma.
AOC's theatrics aren't performance for performance's sake, however. According to Thursday's announcement, the Democrats speaking at the therapy session won't just share their "lived experience." They'll also "call for accountability."
What accountability means in practice is tougher domestic terror laws, explicitly aimed at Trump supporters and right-wingers. In the words of AOC herself, who to her credit has left the calls for domestic repression to others in her party and intelligence agency ghouls, accountability means a Nuremberg-like reckoning for anyone who worked for Donald Trump and the expulsion of anyone in Congress who disputed the results of November's election.
Also on rt.com
Greenwald & the 'Squad' agree: Neoliberal thought police have set their sights on 'domestic extremists,' putting dissent at risk
Conservatives hoping to defeat the likes of AOC with facts and reason are as delusional as she is. The right has been doing this for years and failing every time. With politics as emotionally-infused as it has been throughout the Trump era, nobody has ever changed their mind after watching some dorky Ben Shapiro videos, or come to some profound realization after tuning in to Dave Rubin's lame talk show.
That's because the establishment kowtows to this hysteria every time. The Biden administration and its allies in Congress will use her emotionally-laden testimony to usher in the repression they've already promised America. Supposedly neutral 'fact-checkers' will call you crazy for believing your own lying eyes, and the mainstream media will call you a "terrorist" for hurting AOC's feelings.
Consciously or not, AOC is leading the US down a dark path, with two possible outcomes. She'll either overplay her hand and discredit the entire Democratic party along with herself, or she'll succeed in doubling, tripling, and quadrupling down until the right is left with no other option but to become everything she claims it is.
Think your friends would be interested? Share this story!
The statements, views and opinions expressed in this column are solely those of the author and do not necessarily represent those of RT.
You can share this story on social media: