Rejoice all you Brits and Americans, you've got a record Covid death toll… and now you're working longer than anyone else too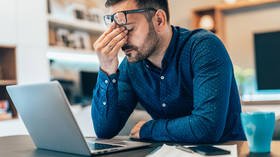 A survey has uncovered a surge in working hours in the UK and US, where people are now clocking the longest days on the planet. But it's just the latest step in a disastrous journey navigated by London and Washington.
Even Dolly Parton is fretting about how overworked her fellow Americans are. She has re-recorded '9 to 5' – her signature hit from a 1980 comedy film – as '5 to 9'.
In an eerie episode of schadenfreude, Dolly's new song arrived as the working masses suffered yet another punch to the gut.
A new study by NordVPN Teams has revealed that Americans and Brits are working longer than anyone else during the Covid pandemic. Working days are now lasting on average 11 hours, which is a jump of between 22 and 35 percent compared to nine hours in the UK and eight in the US before the quarantine.
It's a sobering statistic, especially when compared to the 20 countries currently most affected by the virus. Of all those death rates per 100,000 people, the UK stands proudly in first place and America fourth.
Indre Kadaksyte, a data analyst at NordVPN Teams, said: "The differences in data could be related to Covid-19 being handled differently in different countries but also due to the fact that remote work in some countries became a new normal."
That's a subtle way of saying that the major European nations aren't doing as much work.
In Belgium, where the European Parliament's headquarters are located, people are even working fewer hours than before the pandemic. The lazy waffle-munchers are clocking up only eight hours a day, down from nine in the pre-Covid world.
However, there is a serious side to this. It's been a brutal period for the suffering Brits and Americans. At the beginning of the pandemic, both populations were horrendously let down.
Donald Trump and Boris Johnson naively played down the threat from the virus, and then were both hospitalised after contracting it. Johnson in particular looked like he might possibly die at one stage.
That was followed by haphazard measures to contain the spread of the virus. Despite seeing it mushroom across China and then ravage Italy, two of the world's most developed nations sat about in a state of stupor. Half-hearted measures were introduced and there was confusion over whether mask-wearing was worth promoting.
This stemmed from two leaders who seemed to feel that admitting Covid-19 was a concern would somehow diminish their manhood or power.
Even though both the US and the UK are faring well in the vaccination race, the damage has been done. The death tolls for each stand at a nausea-inducing 461,000 (the world's highest) and 109,000 respectively.
It's this erratic form of government that has allowed the "new normal" to creep in. It plays into the narrative that because the authorities don't assume control, other actors spot an opportunity and leverage it.
Also on rt.com
'Let 'em die!' Doctor gets flamed over 'evil and twisted' tweet about maskless shoppers in Florida
Look at the state of flux in America. Millions of voters regard or suspect Joe Biden as having stolen an election, while millions of others want Trump impeached even though he has left office. There's a bitterness and hatred flying between both factions, when really they are expressing the same frustration – they've been discarded by those who were supposed to protect them.
It's the same tale in the UK. Scotland's figures around Covid-19 generally mirror that of England, but because of how Boris handled it, an independence surge has taken place so support for breaking free is at record levels. The same sentiment is building in Wales and even the North of England has a group of activists who want to partition the country. Pre-pandemic, none of these movements were as strong or popular as they are now.
The complete mishandling of the pandemic has seen the middle-classes humbled. Britain's key workers report seeing "the worst child poverty levels they can remember."
Those who felt economically stable are now visiting food banks and charity offices in a bid to struggle by.
Across the Atlantic, the end of last year brought the sharpest rise in the US poverty rate since 1960.
Too many records are occurring that show how far things have fallen.
It's a seemingly never-ending slew of bad news and now those in a job have taken another smash. They know their leaders won't step in as they didn't at any other point along this hellish journey. It seems that travel time to and from the office has been sequestered now as working.
The same with lunch. You only have to walk to the kitchen, so 'grab your sandwich and eat it as you contribute to a Zoom meeting' is the message. The only breaks you need are to visit the toilet and collect the latest delivery from Amazon.
With both economies struggling, there is only going to be more pressure for workers to do more, and do it for longer. The pitiful reality is that while many European nations offer generous social security, those in the UK and US don't have that fallback. The meagre state offerings would need to be supplemented, and even then, you're back to clocking 11 hours per day or delivering Uber Eats to young IT workers.
The case of furlough is also caustic. Some companies have chosen that option, but by law it means those employees can't work at all. It's clear that some firms are using it to cut costs and then can use the pressure of redundancy to push their remaining staff to do more.
And it never rains but it pours for Brits and Americans, as both countries are being ravaged by the new Covid-19 variants which are even more contagious. Coming from either nation used to be a badge of honour and a guarantee of enjoying conditions that others didn't. Not any longer, we're now the downtrodden masses, under the control of paymasters.
So all of you stateside and in the Queen's kingdom – get back to work now!
Think your friends would be interested? Share this story!
The statements, views and opinions expressed in this column are solely those of the author and do not necessarily represent those of RT.
You can share this story on social media: