After being snubbed by Biden and ostracized globally, Saudi Arabia's MBS needs more than crazy ideas like The Line to win respect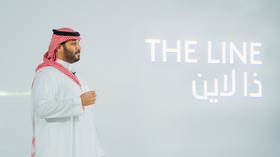 As muslim leaders jostle for room on the world stage, Saudi Arabia faces isolation with allegations of state-sponsored murder, atrocities in Yemen and grandiose dreams of a futuristic desert paradise that risk becoming a joke.
The ongoing search for a leader who can speak on behalf of the world's 1.9 billion muslims continues and has already thrown up some interesting candidates.
In the hard-man category, we have Turkey's President Recep Tayyip Erdoğan and Egypt's Abdel Fatah el-Sisi. In the international playboy category, there's Pakistan cricketing legend and Prime Minister Imran Khan and if you want to take it old-school, there's Saudia Arabia's power-behind-the-throne, Crown Prince Mohammed bin Salman – MBS for brevity's sake.
The latter is cut from a different cloth to his fellow muslim leaders. After all, MBS will be an actual king at the point when he succeeds his father, most likely sooner rather than later owing to the declining health of reigning 85-year-old King Salman.
But if he is going to make the leap from domestic king to internationally admired statesman, there are a few issues to deal with first. And that's aside from the belief held by many outside the nation that Saudi Arabia is a land stuck in the middle ages where women are denied basic rights and the routine beheading by sword of convicts is what passes for public entertainment.
Despite that, or maybe because of that, MBS has something of an image problem. It's a tough ask to be taken seriously as a man to do business with in the geopolitical realm when it is alleged you ordered your intelligence services to kill a troublesome journalist on foreign soil and dismember his body with a bonesaw.
Which is the cloud of stink that hovers over the House of Saud after the murder of Jamal Khashoggi, a Saudi Arabian-born columnist for the Washington Post who made clear his dislike of the Crown Prince. MBS is alleged to have ordered the brutal slaying at his kingdom's consulate in Istanbul. Five men were sentenced to death and another three jailed over the murder, which Saudi authorities claimed was the result of a "rogue operation."
And then there's the ongoing matter of war against the Houthis in neighbouring Yemen, where relentless Saudi-led coalition airstrikes since 2015 have killed thousands of civilians and drawn censure from international observers accusing them and their allies, including the USA, of war crimes.
So using the tried and tested 'dead cat' strategy, MBS decided last month to announce The Line, a totally bonkers urban utopian vision of a $500-billion desert dream. People would come from all over the world to live with no cars, no roads and no pollution in a development stretching along a single 170km straight line from the coast smack bang into the middle of the arid Saudi Arabian desert.
Why? Don't ask. There is no logical answer. Because the whole plan, launched with a slick TED-talk style video starring MBS is, according to the New York Times, "a distinctively Saudi form of arrogance, blending religious triumphalism and royal grandiosity." Not a great review. Think Xanadu. Think Kubla Khan. Think stately pleasure domes.
If you think that's nuts, it's only part of the broader plan called Neom. That's a techno city-cum-tourist destination the Crown Prince would like to build spanning his nation's Red Sea coast. Leaked documents indicate the project is looking at ideas such as a huge artificial moon, glow-in-the-dark beaches, flying drone-powered taxis, robotic butlers to clean the homes of residents and a Jurassic Park-style attraction featuring animatronic lizards.
Certainly not your run-of-the-mill new town. Britain's boldest urban experiment of this type, Milton Keynes, is famous for its roundabouts and concrete cows.
The international consultants are drooling over this one, even though the only clear resources they have determined so far are lots of sunlight and "unlimited access to salt water". Anyway, as far as MBS is concerned, at least that takes the focus off any involvement in the savagery of Khashoggi's murder and the bombing of innocent civilians in Yemen.
While we're on that, the Saudi Crown Prince was probably miffed to see President Trump leave the White House. After all, he had a pal in the Donald, who had admitted to journalist Bob Woodward that he had "saved his [Prince Mohammed's] ass" from too much US pressure over Khashoggi's murder.
Trump loved nothing more than the Saudis bringing out the cheque book to stump up for another of his deals which he could boast about to the American public.
"After my heavily negotiated trip to Saudi Arabia last year, the Kingdom agreed to spend and invest $450 billion in the United States," ran one official statement from the former president. "This is a record amount of money. It will create hundreds of thousands of jobs, tremendous economic development, and much additional wealth for the United States."
Of that healthy amount, $110 billion was for military equipment from US defence contractors.
While newcomer Joe Biden is not so ready to cosy up to the Crown Prince, calling his nation a "a pariah state" while on the presidential campaign trail is one thing, but suspending the sale of billions of dollars worth of American arms and munitions from Lockheed Martin, Boeing and Raytheon to a Middle East ally is quite something else.
So, there is a temporary freeze signed by Biden on those arms sales, enough to earn praise from the likes of Amnesty International, and maybe enough to call off the attack dogs straining at the leash to charge the US with war crimes as a result of its deadly transactions with MBS. As an aside, there's no word yet whether the UK will follow suit and halt its sales as well.
Maybe this setback will provide an opportunity to MBS to end the five-year conflict with Yemen. After all, he's a man who's shown he knows when it's time to call it quits, having recently agreed to end the three-and-a-half-year Qatar transport blockade despite no agreement being reached on the original issues upon which the dispute centred.
Also on rt.com
Saudi Arabia is on the brink of losing control of oil markets
That could have been the first move in the redemption of a tarnished international reputation, and it is about time he started some serious burnishing there, because the other candidates for the vacant role of leader of the muslim world are on manoeuvres.
Egypt's Sisi, a blockade ally of Saudi, quickly restored diplomatic links with Doha, winning international plaudits, while, elsewhere, Turkey's Erdoğan continues to build on his conservative credentials at home – denouncing LGBT youth this week – and play at regional power games with the EU and Libya.
Unless MBS can start chalking up a few seriously big wins on the international stage and curb the wacky excesses, he'll be left in their wake, an oil-rich gazillionaire pouring Saudi Arabia's wealth into Field of Dreams projects while the modern world passes him by.
Think your friends would be interested? Share this story!
The statements, views and opinions expressed in this column are solely those of the author and do not necessarily represent those of RT.
You can share this story on social media: