I'm all for equality, but locking up biological males in women's prisons because they say they're trans is obviously a bad idea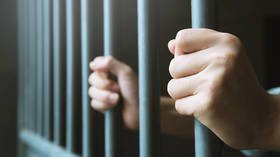 California will now incarcerate men who identify as female in women's jails. How mad do you have to be to not see a potential problem with locking women up with convicted rapists still in possession of their penises?
When is a woman a woman, and when is a man a man? Obviously, the answer to that question may not matter all that much in the supermarket or on the train. But it most certainly can make a hell of a difference in some environments. In prison, for example.
And now the answer to that 'is it a man or a woman' question is 'whatever they "feel" like' – at least in some American jails.
Also on rt.com
A transwoman who raped a female in an horrific attack has been jailed for 15 years – but could still end up in a women's prison
Of course, the transgender mob insist – pretty much without any caveats – that a trans woman is a woman. End of discussion. The fact this person was born with male genitalia, and may still have them in situ, is irrelevant.
Under a new California law, an inmate cannot be denied a place in a female prison because they have a penis. It also requires prison staff to address transgender inmates by the pronouns of their choice.
Connecticut already has a similar law, and gender identity is also a factor in how inmates are housed in Rhode Island, New York City, and Massachusetts.
Yet the dangers of self-identifying as a woman are obvious, and they are very real. If a man/woman is sent to jail but he/she is genetically a male, especially if he/she has not yet had an appointment with the scalpel, then, er, aren't they a man?
And couldn't this man/woman simply be gaming the entire system for some kind of a sexual perversion in the first place? Why can't he/she claim to be a lesbian trapped in a man's body? He/she remains physically attracted to women. Because, well, it's his/her right to choose to identify as a woman if he/she feels like it.
Here's a fact, though; biological males are stronger and way more violent than biological females – in the US, males commit 90 percent of all murders and make up 92 percent of the prison population.
Rape, of course, is the big risk. And it has happened already in the US. An inmate at the largest female prison in the state of Illinois claimed she was raped by a transgender woman who was transferred into the facility in June 2019. A political hot potato right now, if ever there was one. And the inmate claimed in a lawsuit that the Illinois Department of Corrections then conducted "a sham investigation" to try to cover it up.
Also on rt.com
The transgender lobby are fascists, says feminist campaigner who was tortured under Franco
New President Joe Biden has removed the Trump era ban on transgender people serving in the military and, on day one, signed an executive order aimed at preventing discrimination on the basis of gender identity or sexual orientation and prohibiting workplace discrimination in the federal government.
The president said: "Children should be able to learn without worrying about whether they will be denied access to the restroom, the locker room, or school sports." He has also promised to make the Equality Act law, which would redefine "sex" as "gender identity." Some fear this could see trans women admitted to areas traditionally reserved for females. And it would obviously give a genetic male an advantage in a female sports team. He 'feels' like a woman, but has the stronger physique of a man.
Biden has also nominated Dr. Rachel Levine to be his assistant health secretary, and she would be the first openly transgender federal official if confirmed by the US Senate. The direction of travel is clearly pro-trans people being accepted into society as a whole, and few people would argue against Dr. Levine's appointment, as long as she's qualified and competent. Her gender, by choice or otherwise, isn't relevant. Live and let live, and all that. But it can be viewed as massively politically incorrect to even suggest there could be a risk – in certain contexts, in specific environments.
Again, back to prisons and to the European side of the Atlantic. "Predatory and highly manipulative" transgender rapist and pedophile Karen White was jailed for life at Leeds Crown Court in 2018. She admitted sexually assaulting two women inmates while on remand in a female prison, plus the rape of two other women.
White, who was born male and previously known as David Thompson, used her transgender persona to get close to vulnerable women. The judge described White, a multiple rapist, as a predator who was a danger to women and children.
The court was told White had attacked two women while on remand at HMP New Hall women's prison. She had started gender reassignment and was wearing a wig, makeup and false breasts. She was up close to another female inmate while in a queue for medication. Prosecution lawyer Christopher Dunn told the court: "The complainant, while waiting, felt something hard press against the small of her back." She turned around to find the defendant's genitals exposed.
And it's not just happening in jails, of course, as RT discussed last month after a genetically male person called Michelle Winter was convicted of raping a woman.
Transgender women prisoners being put in a male prison are also, of course, at particular risk of being raped by male prisoners. So it seems the only real solution is a third way: special prison wings for transgender women.
Also on rt.com
'My 12yo daughter's friends and teachers pushed her into wanting to be a boy... thank God lockdown allowed her to escape'
Such a wing already exists in Downview Prison in the UK. The unit was opened in 2019 as a direct result of the Karen White case. But the trans lobby, you see, they don't want trans women to be set aside as something different. In their view, a woman is a woman.
OK. So, does that mean the right to be raped like a woman, too?
Think your friends would be interested? Share this story!
The statements, views and opinions expressed in this column are solely those of the author and do not necessarily represent those of RT.
You can share this story on social media: