A transwoman who raped a female in an horrific attack has been jailed for 15 years – but could still end up in a women's prison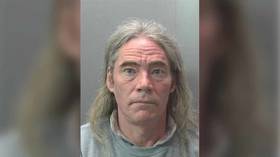 We've got to get real about the dangers of allowing vicious sex offenders with male anatomy to serve their sentences alongside vulnerable female prisoners. They are violent predators who pose a clear threat to women.
Last Friday, Michelle Winter was convicted of rape at Cambridge Crown Court in the UK. The victim told police that she still had nightmares about the incident and had since woken up screaming "Get off me!". In sentencing, Judge David Farrell described Winter as a dangerous individual, with a "clear propensity to violence." This was a horrendous attack.
But according to the local press, Winter's victim then suffered the additional ignominy of hearing her abuser referred-to by female pronouns throughout the trial. Winter, it seems, "identifies as a woman," terminology that has become so familiar that it rolls off the tongue before our brains question it.
Under the Editor's Code governing the written media in the UK, journalists are obliged to use the pronouns that transgender individuals use to describe themselves, and there is no exemption for rapists. I shall therefore avoid pronouns. Partly out of respect to the victim, who may well be sickened by it, but also to avoid misleading any readers into thinking that a woman did this.
I may not be able to adorn Winter with pronouns, but I can quote from the law: "A person commits an offence [of rape] if he intentionally penetrates … another person with his penis." The emphasis is mine, but the words are straight from the Sexual Offences Act 2003.
So when one British newspaper wrote the caption on its story about the case, 'Trans woman jailed for 15 years for raping another woman,' I was appalled.
We must hold on to these words in the Act because when we change words, we change the way we think. Biology cannot be fooled –even if people can be– and we risk overlooking the fundamental issue: rape is male sexual violence, and it is committed by men.
For this appalling crime, Winter was sentenced to 15 years' imprisonment, which, in Winter's case, raises the question, where? Under a disastrous 2016 policy, that may well have been a women's prison. With astonishing naivety, the UK Ministry of Justice announced that "People who are living in a gender different to that of their assigned sex at birth should, as a general presumption, be treated by offender management services according to the gender in which they identify."
Whatever fantasy world they imagined, the reality was epitomised in Karen White, a convicted paedophile who was on remand for grievous bodily harm, burglary, multiple rapes and other sexual offences against women. Despite being legally and anatomically male, White dressed as a woman and was duly transferred to a women's prison. The metaphorical fox in the hen house then sexually assaulted two other inmates before being moved back to a male jail.
White's is not an isolated case – there have been at least six other sex attacks in women's jails by transgender convicts. When these figures were revealed last year, Nicola Williams, director of the campaign group Fair Play For Women, said: "These new figures are another warning about something everyone knows: Allowing males into female prisons is dangerous for women."
The rules have been tightened up since then, but they are still based on balances of risk, and Winter could yet be placed in a women's prison. The current 2019 policy states "A balanced approach must be adopted when making allocation, care and management decisions relating to transgender individuals, balancing the risks and well-being of the individual with the risks or impact on well-being that the person may present to others." Should Winter apply for legal gender recognition, the default option would still be a women's prison.
The group who seem to be forgotten in all this are, of course, women in prison. Nowhere does the policy suggest asking female prisoners how they feel when biologically male people with penises are moved in with them, and there certainly is no mention of a veto. Women are expected to accept the decision and not complain.
But prisons are segregated for good reason. Women inmates are a vulnerable group, need protecting from stronger, often sexually violent, male criminals, and are relatively few in number. In the UK they comprise just four percent of the total prison population. At that rate, a hypothetical mixed-sex prison would average one woman for every 25 men. It would be a nonsensical idea. Besides, the United Nations Standard Minimum Rules for the Treatment of Prisoners requires that, "Men and women shall so far as possible be detained in separate institutions; in an institution which receives both men and women, the whole of the premises allocated to women shall be entirely separate."
But to apply the UN rules, we need to be clear how men and women can be distinguished in the first place, and that is an ongoing debate. Not everyone would agree with me that men and women are distinguished by our biology. Gender identity – despite being unprovable and unfalsifiable – has been written into laws and policies across the world, including the policy that applies to Winter.
Also on rt.com
'My 12yo daughter's friends and teachers pushed her into wanting to be a boy... thank God lockdown allowed her to escape'
We need to take a step back from that debate, and consider the underlying principles. Women and transgender people might both be vulnerable groups in prison, but they are not the same and they should be treated separately.
While much effort has been invested in policies and risk assessments, rather less thought has gone into maintaining the dignity of human beings. Women prisoners have a right to single-sex accommodation, no ifs no buts and no loopholes, and I say that as a transgender person myself.
Rather than campaigning to infringe the rights of women, transgender campaigners should be calling for transgender rights to be protected within the prison system designated for our sex: single-cell accommodation, separate washing and toilet facilities, and further protection that may be necessary.
Which brings us back to Winter, now facing a long stretch in jail. Prison is not meant to be an enjoyable experience. After the trial, Detective Constable Jack Henderson said, "I hope this sentence will serve as a deterrent to Winter and anyone else who chooses to sexually harm another person."
I hope so too, but words matter. We need to think straight, and we need to be honest. In the UK, rape can only be committed by men. People with penises. This is not the crime of a woman, whatever the feelings in Winter's head. For the sake of the victim – and indeed all women – that is something we must not forget.
Think your friends would be interested? Share this story!
The statements, views and opinions expressed in this column are solely those of the author and do not necessarily represent those of RT.
You can share this story on social media: