We like to say 'all lives are equal' but Covid has shown they simply aren't… and it's time we addressed this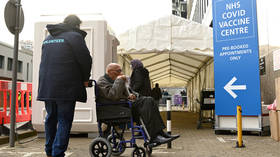 A British peer sparked outrage after pointing out that Covid-19 has demonstrated that some lives are more valuable than others. He's absolutely right, and it's something we have to think about as we fight the virus.
There are certain things that people just don't say.
They might be thinking them, but there's never an appropriate setting to verbalise them.
Asking someone "have you gained weight?" falls into that bracket. As does blurting out, "is that real?" on spotting what looks like a knock-off Louis Vuitton bag.
No such social graces bothered former British Supreme Court justice Lord Sumption, who on a BBC political show ventured into the toxic debate of what value can be placed on a human life.
It was discussed amid the backdrop of the pandemic, where Britain and most of the planet is playing a game of tug-of-war between trying to maintain both economic prosperity and public health.
In England, the approach to the rollout of the vaccine so far has been to administer it to the elderly first.
Those in care homes and over-80s have been top of the list, even though they are practically all retired and no longer working. The next wave will see over-70s and those who are "clinically extremely vulnerable" vaccinated. Again, most of the individuals in this bracket are no longer contributing to the economy.
There are nine different groups covering all those considered a priority, but that still only totals 32 million people, all of whom are over 50 unless they have serious health conditions. That's approximately 50 percent of the English population, and the rest of the UK is following a similar roll-out plan. It will be autumn before the rest of the population gets immunised. Isn't this prioritization of different people the government placing different values on different lives?
This, essentially, is what Lord Sumption said, to the chagrin of most in the mainstream. His words were that his children and grandchildren's lives were "worth more because they've got a lot more of it ahead."
Sumption is not a shock-jock, nor looking to create headlines or build up a career in the media. He was a successful, high-profile barrister before ending up as judge in the Supreme Court, retiring only after reaching the mandatory age of 70 back in 2018.
However, his comments were seized upon with vigour, primarily because he debated the issue with Deborah James, who has stage 4 metastatic bowel cancer. Sumption told her, "I didn't say your life was not valuable, I said it was less valuable." And as harsh as it sounds, it is a very real issue we all need to consider.
Also on rt.com
National lockdown will last for another six to eight weeks, UK cabinet minister suggests 
So much, for example, is currently being made of food poverty in the UK, with the government being shamed into providing schools meals, even though they are closed, because lots of kids aren't getting enough to eat at home due to a lack of family income.
Prime Minister Boris Johnson is also being urged to keep an extra weekly £20 Covid benefit supplement in place, as millions are reported to rely on it.
Many British families are being kept afloat by furlough and the bill for that is estimated at more than £46 billion. It's supporting around 2.5 million jobs, so if the government removed that safety blanket then there would be even more economic carnage.
The burden for all of this will be left for the next few generations of taxpayers, and it will be their debt to settle. Is it fair their hard work and contributions in the future are allowing the 'vulnerable' to be put above them now in the queue to be vaccinated?
If Sumption's logic had been applied, then that huge bill wouldn't exist to such an extent. The focus would have been on the young and those of working age; about getting businesses open as soon as possible and accepting the deaths of the elderly as a consequence.
And that is quite a tough proposition to swallow.
Should someone's grandmother be left to catch Covid so a cappuccino bar can remain open? On the surface, it sounds like a trite comparison.
But that business could employ five people, and then there's the indirect employment it creates for delivery drivers, cleaners, suppliers, advertising staff, bakers, coffee roasters and so on. One small coffee place remaining shut has a knock-on effect that ripples throughout the entire economy. Bigger businesses having to close their doors has an even greater effect.
Even working from home is taking a toll. A survey across various countries, including the UK and US, revealed that a third of people admit it has given them concerns around depression and anxiety. An even higher amount – 43 percent – have worries about gaining weight.
Those are issues that could unfortunately blight those workers for the rest of their lives.
And also, very little concern is being afforded to those forced to keep working – the people stacking the shelves of supermarkets or driving the trucks with that produce on board.
Why are they out there with the threat of Covid hanging over them, when we have academics pontificating about what should happen from the safety of their own home offices with little need to worry about contracting the virus?
Whether we like it or not, the extraordinary challenges of Covid-19 and the limited resources we have in fighting it have shown that a value really does have to be placed upon lives. And we should be thankful for that, as we need to wake up and stop dismissing it as a taboo that cannot be talked about.
Yes, you can argue that the elderly have done their duty, paid their taxes and deserve to be vaccinated first. But in doing that, we have to recognize we could be killing off some of the budding entrepreneurs who could reshape the economy when 'normality' returns.
Are we kissing goodbye to future innovations so our grandparents can enjoy a few more years of their retirement? Are we letting the unskilled face danger that the educated don't have to?
As Lord Sumption demonstrated, we shouldn't say what we think everyone wants to hear and dodge the issue. Covid-19 has proven that it's time for us to accept that lives cannot be valued equally.
But, of course, the big question is: how should our values be determined… and how much humanity do we really have?
Think your friends would be interested? Share this story!
The statements, views and opinions expressed in this column are solely those of the author and do not necessarily represent those of RT.
You can share this story on social media: