Biden scores domestic political points off Russia, but does NOTHING to prevent a crisis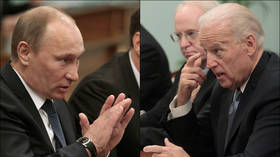 The election of Joe Biden as president of the US brings with it the likelihood of a continued adversarial relationship with Russia and its leader, President Vladimir Putin.
This article was originally published by Energy Intelligence under the headline Biden-Putin: Facing the Real Risks, and appears on RT with that outlet's permission.
Unlike his immediate predecessors, Biden has not made a "reset" of US-Russia relations a foreign policy priority. However, Russia's status as a nuclear-armed superpower is forcing the Biden administration to seek diplomatic solutions to the problem of arms control. Other similar avenues of potential positive engagement with Russia also exist in areas such as cybersecurity and European energy security. Instead of pursuing these and other kinds of real security risks, the new administration seems bent on a portrayal of Russian policy priorities that looks more geared toward building political support among a domestic US audience than resolving serious differences. The failure by the Biden administration to address the real areas of potential confrontation early on could lead to more serious crises in the not so distant future.
US-Russian relations just got a much-needed boost in the form an exchange of notes regarding a five-year extension of the New Start nuclear weapons treaty, scheduled to expire on Feb. 21, 2021. By putting forward a "clean" extension, the Biden administration avoided the deal-killing pitfalls inherent in the negotiating position of the Trump administration, which sought specific modifications of the treaty text, additional verification requirements, and a reduced timeline for extension. The Russian government clearly agrees with Biden and is fast-tracking the ratification of the extension.
By triggering the automatic extension provisions of New Start, the US and Russia have created a stable framework upon which they can begin more contentious discussions about a follow-on strategic arms treaty, as well as a new treaty covering intermediate-range missiles that would incorporate China. Similarly, cooperation on New Start could lead to discussions about the US rejoining the Open Skies Treaty and breathing new life into the long-dormant Conventional Forces in Europe treaty, which has been allowed to languish since Russia suspended its participation in 2007.
The progress in arms control, however, is the only bright light in current US-Russian relations. Moreover, it appears that the Biden administration is more influenced by domestic political considerations than actual national security concerns when it comes to Russia. This point was driven home by the White House's readout of President Biden's first phone call with Putin on Jan. 26.
According to the White House, Biden raised concerns about the arrest of opposition figure Alexei Navalny, Russia's alleged involvement in the Solar Winds cyberattack, interference in the 2020 US presidential election and reports of Russian bounties on American troops in Afghanistan, while reaffirming firm US support for Ukraine's sovereignty. Biden's stated priorities have a heavy domestic feel about them that seems to focus on making a contrast with the Trump administration. Some of Biden's talking points are nonevents. US military officers have dismissed as unfounded the claims about Russian bounties in Afghanistan, and US cybersecurity officials have declared that there was no evidence that any foreign power, let alone Russia, influenced the results of the 2020 elections. While the Solar Winds cyberattack provides an opening for meaningful cooperation with Russia, the Biden administration policy remains unclear and unformed (WEO Dec.30'20). There has as yet been no formal attribution by the US of Russian government involvement in the Solar Winds cyberattack.
The US embrace of Alexei Navalny's cause seems likewise designed to appease a domestic audience, disregarding the obvious negative perceptions this creates over US interference in Russian domestic affairs. Even with Ukraine, where the US has legitimate concerns over Russian actions in Donbas and Crimea, Biden's statement appears more attuned with juxtaposing his position with President Donald Trump. The domestic political slant of these stated policy priorities bodes poorly for better US-Russia relations. Rather, it feeds an existing anti-Putin narrative prevalent in US public opinion, while offering no clear path toward resolving more serious disagreements. These more important issues include the status of the Nord Stream 2 gas pipeline from Russia to Germany, Russia's ongoing military presence in Syria, and the potential for Georgian membership in NATO.
Also on rt.com
The best way to repair the Russian/American relationship is for both sides to minimise contacts, and keep out of each other's way
Real Security Threats
President Biden has declared the Nord Stream 2 pipeline a "bad deal for Europe." Ongoing US hostility to Nord Stream 2 serves as a focal point of broader differences over European energy security. On his last day in office, Trump imposed sanctions targeting the Russian owned and operated pipe-laying ship, Fortuna, attempting to stop the project in its tracks. Pipeline construction was further stymied by the filing of environmental complaints by German activists, which effectively block construction efforts on German territory, and the passage of a resolution by the European Parliament calling for a stop to pipeline construction in response to the arrest of Navalny in Russia.
Russia, however, remains undeterred, posting an eight-year Eurobond valued at $2 billion to underwrite the final phase of pipeline construction. Moreover, on Jan. 24 the Fortuna resumed its work in Danish waters, ignoring US sanctions. With the Nord Stream pipeline assuming an air of inevitability, the Biden administration has announced that it would review Trump-era sanctions to make them more effective in halting the project. The absence of any mention of Nord Stream 2 in the Biden-Putin dialogue is odd considering its impact on US relations with Germany as well as Russia.
Also missing from the reports on the Biden-Putin conversation was any talk of Russia's ongoing military presence in Syria. What makes this absence even more striking is the direct involvement of Biden's new Secretary of State Antony Blinken in crafting the Obama-era policies of regime change that prompted Russia's decision to intervene in 2015. Today Blinken, while acknowledging that the Obama administration failed in Syria, has also been critical Trump policies. A policy statement on Syria put out by the State Department declares that Biden,"would recommit to standing with civil society and pro-democracy partners on the ground. He will ensure the US is leading the global coalition to defeat Isis and use what leverage we have in the region to help shape a political settlement to give more Syrians a voice." In short, Biden is re-embracing the objectives of the Obama administration without explaining how to achieve them. Nor is any mention made of Russia's military presence in Syria and its impact on US options going forward.
Another potential hotspot left unaddressed by Biden in his talk with Putin is Georgia, which has perhaps the greatest potential for large-scale military conflict between the two powers. The Republic of Georgia, a former member of the Soviet Union, has been seeking NATO membership since 2005. These efforts were complicated by the Russian-Georgian War of August 2008. Then, Georgian forces had been dispatched into the Georgian territory of South Ossetia to "restore constitutional order," only to be repelled by Russian forces. Russia's victory over Georgia in 2008 and subsequent de facto contol over the Georgian territories of South Ossetia and Abkhazia triggered a debate within NATO about the importance of its requirement for a settlement of territorial disputes before any nation could become a member.
The official position of NATO is that Georgia must meet that criterion of membership before an invitation can be officially extended. Secretary of State Blinken alluded to this during his recent Senate confirmation hearing where he noted that NATO should keep its doors open for when Georgia meets the requirements of membership. Blinken, during his confirmation hearing, told the Senate that offering Georgia membership in NATO would not necessarily trigger a war between NATO and Russia. "I actually think just the opposite," Blinken said, noting that Georgian membership could deter Russian "aggression."
Blinken's statement, however, appears to be out of step with the thinking of Georgia itself. In statements made last year on the anniversary of the 2008 war with Russia, Georgian Prime Minister Giorgi Gakharia declared that "today Georgia is fully ready for NATO membership", noting that Georgia's integration into NATO was necessary for restoring its territorial integrity; implying that once Georgia had the guaranteed NATO backing , it would try to regain control over South Ossetia and Abkhazia.
The Russians have made it clear that NATO's collective defense requirements would only cover areas of Georgia administered by the Georgian government, thereby excluding Abkhazia and South Ossetia, and thus would not trigger an immediate war with NATO. If, however, Georgia were to use NATO membership to push for the military recovery of South Ossetia and Abkhazia, the Russian military has made it clear that it would respond forcefully. When seen in this light, President Biden would do well to temper the rhetoric of his national security team regarding Georgian membership in NATO. Georgian membership in NATO could easily set in motion events that would rapidly spiral out of control, leading to a war that NATO is ill-prepared to fight.
Topics such as Nord Stream 2, Syria, Georgian NATO membership and cybersecurity should be at the center of any future dialogue between the US and Russian presidents. It is one thing to use US-Russian animosity to build domestic political support while pushing issues of limited diplomatic value. It is altogether something else to needlessly risk crisis by failing to engage early with Russia on the critical issues, thereby increasing the potential for conflict.
The statements, views and opinions expressed in this column are solely those of the author and do not necessarily represent those of RT.
You can share this story on social media: