What do you want, a cookie? Northrop Grumman expects praise for diversity and ditching cluster bomb contract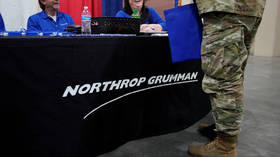 One of the top US weapons-makers, Northrop Grumman, is walking away from a contract to deal with the Pentagon's cluster bomb stockpile. Is this a case of suddenly developed conscience, or a "woke-washing" PR move?
Northrop Grumman CEO Kathy Warden said on a quarterly earnings call on Thursday that the company will back out of a contract involving "testing of cluster munition components," because inasmuch as they want to help the US military and its allies, they want to "be thoughtful about potential human rights implications, and how these technologies may be used in the future and provide equal consideration to safeguards associated with them."
"We recognize that even supporting an area like cluster munitions for investors is of concern, because safe removal implies that at one point there was an embracing of the use of these products," Warden reportedly said, according to Defense One.
Great news, you might say, the military-industrial complex is growing a conscience and abandoning the use of weapons that are frankly absolutely vile. Except… not quite.
Warden's own statement mentions "safe removal." She said the contract was for testing the existing US stockpile and "structured to help remove cluster munitions safely."
Turns out the last US company stopped making these munitions in 2016, and the Pentagon has been working with a shrinking stockpile ever since. Northrop not wanting anything to do with it won't make the US military stop using cluster bombs; instead, the Pentagon will likely give the contract to some fly-by-night shop like the duo that inspired the movie 'War Dogs.'
Sure, the decision may get Northrop Grumman praise from activists with the US Campaign to Ban Landmines and Cluster Munition Coalition or Human Rights Watch – both cited in the Defense One story – but it doesn't actually change anything on the ground.
Also on rt.com
'Nail polish in camouflage'? Army eases grooming rules, allows PONYTAILS and LIPSTICK in the name of 'equity' and 'inclusion'
The US continues to refuse to sign onto international conventions banning cluster munitions and landmines, weapons that kill and maim indiscriminately in whatever area they are deployed. Northrop Grumman is more than happy to keep making drones like the RQ-4 Global Hawk and strategic bombers like the B-21 Raider, which are also instruments of death.
Ah, but that's OK because did you know it was recently named among the top 25 of gender-balanced S&P 500 firms? Or that it made the Top 50 list of diverse companies maintained by Diversity Inc? All those people getting bombed overseas ought to rejoice that the people who made the bombs and the bombers are deeply committed to diversity and equity!
Much like the Pentagon's recent forays into performative "wokeness" driven by the Biden administration, Northrop Grumman's announcement – aided and abetted by Defense One and activists praising it – is virtue-signaling driven by public relations concerns.
Forgotten amid all the talk about "insurrection" and "terrorist threat" to "Our Democracy" in recent days is the fact that Republicans and Democrats couldn't be bothered to give Americans more than $600 apiece to relieve the consequences of coronavirus lockdowns, but were happy to unite in overriding President Donald Trump's veto – for the first and only time – on a military spending bill that blocked him from ending endless foreign wars.
That's the grim reality that "woke" virtue-signaling is intended to obscure. Don't fall for it.
Think your friends would be interested? Share this story!
The statements, views and opinions expressed in this column are solely those of the author and do not necessarily represent those of RT.
You can share this story on social media: