GameStop saga exposes deep hypocrisy from elite investors and proves US financial market is detached from reality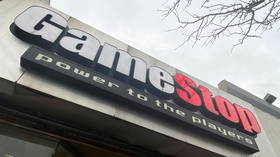 The destruction of a short-selling hedge fund by investors on Reddit was a formidable display of people power. It exposed the US stock market's feet of clay – and the panicked elites are sure to retaliate.
American video game retailer GameStop has made a splash in the news this week after a showdown took place between hedge funds attempting to short sell the company's stocks and Redditors attempting to fight back. After a hard-fought battle, the folks over at r/WallStreetBets scored a victory when a heavily battered Melvin Capital closed out its short position in Gamestop, putting several things plain on display – mainly, the utter absurdity of the US financial market.
Also on rt.com
NASDAQ temporarily shuts down stock trading after internet trolls destroy hedge fund with GameStop stock
The stock market is relatively simple: you buy a stock and if the stock goes up in value then you make money since it's worth more than what you paid for it. Short selling, however, operates on the exact opposite principle. Instead, under this scheme, short sellers make money when stocks go down in value.
In a nutshell, short sellers borrow another's stock and then sell them, betting that they will go down in value so they can buy them back later for cheaper and then return the share to its original owner while keeping the difference for a profit. It's a fairly straightforward process that happens all the time on Wall Street.
Hedge funds believed that with brick and mortar shops closing up all across the world because of the Covid-19 pandemic, GameStop would be no different. After all, large online retailers like Amazon are where the real growth potential is because of the overhead involved with physical stores. It's merely a consequence, hedge fund managers would say, of a process that started well before the global pandemic.
So hedge funds moved to drive GameStop's stock (GME) down, profiting as they continued to short sell before Redditors took notice and mounted a pushback. They purchased as many GME shares as possible to drive up the price, knowing that these hedge funds still had unaccounted shares to buy back. It meant that these hedge funds would be left paying huge sums for GME shares and hemorrhage cash without a choice.
This is exactly what happened. According to data from S3 Partners, short sellers have so far lost more than $5 billion on GME, including huge losses of $917 million on Monday and $1.6 billion on Friday. Melvin Capital, the hedge fund mentioned in the introduction of this article, had to take on a $3 billion bailout from two other hedge funds, Citadel and Point72.
Onlookers have already begun to joke that Redditors have taken "Occupy Wall Street" and made it into "Infiltrate Wall Street," but it's not merely a joke. What happened with GME was very clever on the part of these Redditors since they identified an extremely risky investment by these hedge funds and capitalized to essentially transfer billions from these large firms to themselves, ordinary day traders. In essence, they played the market perfectly – fair and square (unless proven otherwise).
Elite investors are definitely afraid when looking at the situation with GameStop as Redditors look to new targets, like AMC. Regular trading leads to fixed losses because your initial investment is what you pay for a stock; however, in short selling the losses could theoretically be infinite because short sellers are obligated to buy back stocks at any price. What may also worry them more is the fact that they will probably have no legal recourse against these Redditors.
Hedge fund managers have already taken to the airwaves to call on a Securities and Exchange Commission (SEC) investigation, and the Biden administration is "monitoring the situation." The GME rally even drew calls for investigation from Michael Burry, the famed investor who helped launch a retail-investor frenzy in 2019 by investing in none other than GameStop. All of them seem to think that the situation was anti-competitive stock manipulation, which would be extremely difficult to prove since, among other things, Melvin knew what Redditors were doing and stayed firm on their short position.
Elite investors and their foot soldiers in Washington are obviously mad about what's going on and the most likely outcome here is that new legislation or executive action will go through to shut regular people out of trading in some way or another. It's hard to say right now what might take shape.
Also on rt.com
US eases ban on security investments that finance Chinese military companies
In the interim, some in the media are painting this situation in stark political turns. In a column posted on January 27, CNN's Chris Cillizza blamed the GME rally on Trumpism, which is a lazy analysis that seems similar to the same liberal smugness that assumes anyone who plays video games is a Trump fanatic – and also dismisses that a lot of the online left supports these Redditors in their Wall Street infiltration.
It's hardly a political issue in the sense of left versus right, but rather ordinary people on the internet versus hedge funds. In my view, however, the real worrisome part here is that these Redditors are juicing certain stocks based on nothing – certainly not valuation – and only out of pure spite against large investment firms.
While that might be a noble thing to do it exposes the utter absurdity of the stock market, the problem the US financial market has with valuations and why I believe there will be an epic financial disaster soon (I have discussed this topic here, here and here). The GameStop debacle shows exactly how foundationless the financial market really is at a time when Wall Street's performance looks deceitfully rosy.
Like this story? Share it with a friend!
The statements, views and opinions expressed in this column are solely those of the author and do not necessarily represent those of RT.
You can share this story on social media: