UK's vaccine success as EU flounders shows what 'taking back control' means. It's no exaggeration to say Brexit is saving lives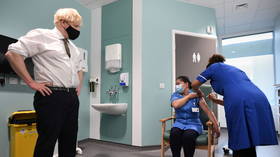 The European Union is in a flap, under pressure due to its mishandling of the distribution of Covid vaccines and failed attempts to divert UK doses across the Channel. Such brazen incompetence has justified Brexit already.
The foot-stamping blame game currently playing out in Brussels over the bungled roll-out of a vaccine is proof beyond all doubt that Britain's decision to leave the EU was the right move. When Germany, the Netherlands, France and Italy chose to follow Britain's lead and put in hefty advance orders for AstraZeneca's vaccine last June, they knew that any delay would have devastating effects further down the road on the EU's ability to offer immunisation to more than 400 million people.
Better to be proactive than wait for the slow wheels of a lumpen administration to turn; with the vaccine still months away from formal approval, it could delay the roll-out for months. And that is exactly what happened… Sovereign governments were elbowed out of the way by the bureaucrats in Brussels, who insisted that all vaccine orders must be placed by them and no freelancing would be permitted.
The result? While the essence of those national agreements was unchanged, Brussels' meddling in the process delayed the vaccine orders by three months.
What we are witnessing now is the outcome of that nanny-knows-best intrusion. While the UK now boasts of vaccinating 10 in every 100 people and is on course to hit 30 million doses by March, EU members can claim to have immunised only two in every 100 and are still awaiting approval of the AstraZeneca vaccine before it can be administered.
Undoubtedly, the EU's arrogance and bullying will cost lives.
Also on rt.com
English health chief says any restrictions on EU vaccine exports 'a worry' as Germany backs limiting jab shipments from bloc
And while European Commission President Ursula von der Leyen and others try to blame AstraZeneca for the delays, wrongly suggesting that doses were being sent elsewhere so the drugs giant could turn a profit, and even threatening export controls, the company's chief executive, Pascal Soriot, coolly observed that, "Everybody is getting kind of a bit, you know, aggravated or emotional."
He's right, of course. And that's because the ambition of the EU in attempting to implement and coordinate a single, centrally controlled response to the pandemic has been exposed as catastrophic overreach way beyond its competency.
Much as it would love to be the sole distributor of vaccines across the continent, when the people of Germany, France, Italy, the Netherlands, Spain and elsewhere in the EU look for public health services, they do not dial Brussels.
They expect their national governments to step up, take control and sort the problem quickly. We have seen in Britain how this sort of grassroots organisation works: commandeering empty local shops to use as testing centres, taking over sports centres as vaccination hubs, monitoring who's had immunisation (and who doesn't want it) and keeping the queues moving.
These are not matters that Brussels could ever dream of implementing with anything like the haste they demand, but that doesn't stop the EU overlords from grabbing the steering wheel and driving off a cliff.
Also on rt.com
EU officials say AstraZeneca CANCELLED meeting on vaccine supplies, pharma giant denies claim as simmering row boils over
The EU can do money, and its €1.8 trillion budget and recovery fund are proof of the massive amount of cash at its disposal. But even then it can't actually control what happens to the cash that it doles out with patronising beneficence.
Simply throwing euros at a problem is not the answer, as Italians have found to their cost: their government collapsed, Prime Minister Giuseppe Conte has resigned and politics have taken precedence over saving people's lives, as they argue over the best way to spend their EU windfall of €200bn in rescuing their trashed economy.
Meanwhile, in France, the problems are causing not only frustration at Brussels' interference, but widespread national humiliation, as the former frontrunner in the race to find a Covid-19 vaccine has most recently been found flailing way out of its depth. The country's revered Pasteur Institute pulled the plug on its work on a vaccine this week, and French pharma group Sanofi has admitted its version of the drug will not be ready before the end of the year, at best.
These latest setbacks are not only raising questions about how the country that produced Louis Pasteur and Marie Curie can now be so off the mark, but are seen as further evidence of France's decline in power and influence in an increasingly globalised world. Cue a prolonged period of French introspection as jazz plays softly in the background.
In Berlin, the government is hopping mad with Von der Leyen, who has never been a popular figure in her homeland. Only a third of Germans ever thought she'd make a good European president, and her high-handed approach to taking control of vaccine policy has gone down like a bat kebab.
Also on rt.com
AstraZeneca rejects 'completely incorrect' claim that Covid vaccine is less than 10 percent effective among elderly
Rather than 'fess up, Frau von der Leyen is trying to blame the Brits. Germany's Bild newspaper has gone on the offensive, accusing the president of failing to admit wasting time, and reporting that the commission's view is that AstraZeneca doses manufactured in Britain for UK use should be diverted to the EU to make up for the production shortfall there.
Whoever came up with that idea has clearly never heard of Brexit.
The newspaper says the suspicion in Brussels is that AstraZeneca is favouring the UK and non-EU countries at their expense, but the pharma business denies this, pointing out that, having signed confirmed orders three months later than Britain, the EU must simply wait in line.
That trenchant display from Brussels of temper, arrogance and distraction may have produced the desired results back when the EU was 28-strong, but post-Brexit, it evokes a singular feeling, albeit of a particular German nature: schadenfreude.
Not for the misfortune of our European neighbours, but for the members of the overbearing, power-grabbing elite that insists on interfering with their lives regardless of the wisdom of such action, or its disastrous consequences.
Who would have thought, just a month into the divorce, Brexit would bear such fruit?
Think your friends would be interested? Share this story!
The statements, views and opinions expressed in this column are solely those of the author and do not necessarily represent those of RT.
You can share this story on social media: