Miraculous anti-racist Covid-19 strain resurfaces in Australia, just in time for indigenous protests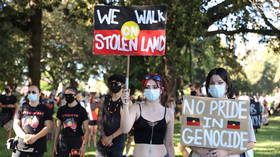 Residents of Sydney can't have more than five guests around for an Australia Day barbecue, but can gather in thousands to protest the national holiday. Covid-19 is truly a crafty disease.
January 26 isn't a day of celebration for everyone in Australia. Some indigenous Australians call the holiday "invasion day," and for them the anniversary of the landing of the British First Fleet at Port Jackson in 1788 is a day of mourning and protest.
The ongoing coronavirus pandemic didn't get in the way of planned protests this year. In Sydney, protest organizers split their gathering into 500-person blocs to get around the New South Wales government's restrictions, while in Melbourne, protesters split into 100-person groups.
The Guardian wanted readers to know that everything was great and safe and socially distanced, and that every arrest made had nothing to do with the protesters. Even as video footage inside the Guardian's article showed throngs of people packing a park and several arrests – including one for assault on a police officer – were described, the demonstrations were still "mostly peaceful and socially distanced."
The article was just one of more than a dozen Guardian stories published in the last two days calling the holiday "Invasion Day," which is hardly surprising given the left-wing slant of the Guardian. Nor is it surprising that the Guardian would downplay the threat of Covid-19 at these gatherings. After all, the mainstream media did the same all across the US and the western world at large last summer when 'Black Lives Matter' rallies were held in more than 60 countries worldwide.
But try to gather a few friends for a barbecue and see what happens, mate.
The protesters in Sydney reached an agreement with the police, whereby no arrests would be made if the demonstrators made an effort to remain socially distant. However, anyone hoping to invite five friends around to their house or gather outside in a group of 30 or more will earn themselves a visit from Old Bill and an on-the-spot fine of AU$1,000 ($775), or AU$11,000 ($8,520) in court.
Just look at the residents of Melbourne who were smacked with a whopping AU$20 million ($15.4 million) in fines during the state of Victoria's draconian lockdown last year, or the pregnant woman handcuffed and frogmarched out of her home for organizing an anti-lockdown rally in the city. Perhaps if they'd just broke the law anti-racistly, they'd have been fine. Likewise, if the 'Freedom Day' protesters arrested in Sydney back in September had only demanded freedom for indigenous Australians, they would have been left alone.
If the small group of protesters outnumbered and collared by police in a simultaneous protest in Melbourne had carried images of George Floyd instead of placards calling Covid-19 a hoax, they would have got a pat on the back from the Guardian, instead of baton bruises and fines from police.
Also on rt.com
'Safe' v. 'unsafe' gatherings? In Dems' Covid HYPOCRISY land, it all depends on whether the event will help get Joe Biden elected
None of this is hypocritical in the slightest, because Covid-19 is an anti-racist disease. It's true. The coronavirus has the power to transform "super-spreader" events, like Donald Trump's rallies, into spontaneous outpourings of disease-proof public celebration, like Joe Biden's victory parties. It passes over the heads of the righteous and socially just and infects the backwards, the bigoted, and the barbecuers, like a Biblical plague reworked for our secular age.
It's not political, it's just science. Right-wing motorcycle rallies are scientifically proven coronavirus catastrophes, while months on end of BLM protests actually slowed the spread of Covid-19. Don't roll your eyes like that! You're not a science denier, are you?
But, to opponents of Australia's lockdowns who were fined or arrested over the last few months, watching thousands of protesters take to the streets unmolested will sure look hypocritical, and political.
Like this story? Share it with a friend!
The statements, views and opinions expressed in this column are solely those of the author and do not necessarily represent those of RT.
You can share this story on social media: