'Safe' v. 'unsafe' gatherings? In Dems' Covid HYPOCRISY land, it all depends on whether the event will help get Joe Biden elected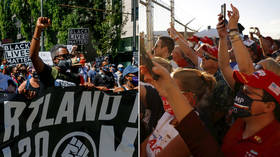 Democrat hypocrisy over which large gatherings are deemed dangerous in the era of Covid-19 reached new heights when a US senator went berserk over Thursday's Republican National Convention festivities at the White House.
"Can we take the gloves off and tell the truth?" Senator Chris Murphy said Saturday on Twitter. "Trump is deliberately killing people. He holds rallies where people get infected." The Connecticut Democrat added: "His plan is to kill people. Let's just say it."
I wasn't aware that the Democrats had been leaving the gloves on in their nearly four years of conspiracy theories and coup efforts against President Donald Trump. Nor have they demonstrated any interest in telling the truth, so this may be a new wrinkle.
But the insanity and inanity of Murphy's statement are something to behold. He thinks he's cracked the code on the Trump campaign strategy: killing people. One of many problems with this theory is that Trump would first be killing his most enthusiastic supporters if his scheme were to infect people at his rallies with the virus, which hardly seems like a good way to get more votes.
Also on rt.com
Megachurch sues California, challenging state over ban on large religious services while allowing massive protests
Nevertheless, Murphy is not alone in wearing a tin foil hat. Followers agreed with his theory and added their insights to the plot. One Twitter user suggested that a pandemic simulation done in 2019 might have been a "trial run" for the current murder scheme. Another suggested that Trump knows he will lose the November election, so spreading Covid-19 is his way of "paying back" Americans for abandoning him. A netizen who apparently overlooked the fact that Trump is already president said the pandemic is saving him the trouble of a military coup.
Strangely, though, neither Murphy nor any other Democrat leader expressed concern over the large mob of protesters who were gathered outside the White House as Trump capped the convention with his speech accepting the party's presidential nomination. It couldn't be that Murphy is only concerned about Republican lives because neither he nor any other Democrat leader condemned the mob for surrounding and threatening people trying to walk back to their hotels from the White House after the speech. The woke brigades certainly weren't following social-distancing guidelines when they accosted Republican Senator Rand Paul, Paul's wife and other White House guests.
Nor were there any Democrat rebukes of Friday's massive March on Washington, where crowds jammed the National Mall to hear civil rights leaders decry police violence against black people. In fact, we've heard not a peep from the left about safety concerns arising from the massive Black Lives Matter protests and riots that have embroiled the nation's cities for the past three months.
Media outlets and establishment-friendly researchers have told us that the gigantic gatherings didn't cause an increase in Covid-19 cases. Some even went so far as to say the protests slowed the virus' spread. A University of Colorado Denver professor theorized that while the protests brought large groups of people together, they caused even more folks to stay home.
Yes, the protests are only to be revered, no matter the number of buildings torched, stores looted, people beaten or police pelted with rocks. Former First Lady Michelle Obama said Friday that when she sees "the swift and powerful protests that have risen up around the country," her hope for positive change is revived.
Even when the BLM gatherings gravitate from noble marches for racial justice to block parties with music and dancing, Senator Murphy and his kind will not accuse anyone of murder. That's because they see the BLM movement boosting voter motivation to help elect their enthusiasm-lacking presidential candidate, Joe Biden, in November.
Biden's running mate, Kamala Harris, is among Democrats who have encouraged violent protest. She said the protests won't ever stop – and shouldn't stop -- and encouraged supporters to donate money to bail out people arrested during protests in Minneapolis. Obama said this month in her Democratic National Convention speech that electing Biden is the only hope of "ending this chaos."
The Covid hypocrisy all goes back to power and control. If your activity helps advance the establishment agenda, it's safe. If it doesn't, it's not. Going to church, school or the gym is unsafe. Keeping the abortion clinics and Lottery outlets open is absolutely essential. A biker rally in South Dakota is a "superspreading event." Protesting lockdown restrictions at the state capitol is verboten. A BLM mural-painting party in New York is so important that Mayor Bill de Blasio said it "transcends all normal realities."
Reality is not where the party operates. With the 77-year-old Biden mostly hidden away in his basement to avoid any unscripted moments in public, Democrats have decided that campaign events are especially murderous. If hosting 1,500 people at the White House is bad, holding Trump rallies at 15,000-seat arenas around the country will be downright genocidal.
Murphy seems to have left little room for the rhetoric to get even more crazy, but give him time. Calling Trump a premeditated killer may seem tame by November.
Like this story? Share it with a friend!
The statements, views and opinions expressed in this column are solely those of the author and do not necessarily represent those of RT.
You can share this story on social media: