Banished to a cold garage, investigated for sedition, exposed to Covid... Biden sure respects his National Guard troops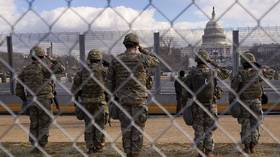 If you thought a president who needs 25,000 troops to safeguard his inauguration from threats that appear to have been manufactured would at least treat his praetorians with some gratitude and respect – well, you'd be wrong.
The newly installed US President Joe Biden has long ended his speeches with a quirky catchphrase, adding "may God protect our troops." Judging by the way the National Guard sent to Washington, DC to protect his inauguration has been treated, God alone will have to – because his administration certainly failed.
"Yesterday dozens of senators and congressmen walked down our lines taking photos, shaking our hands and thanking us for our service. Within 24 hours, they had no further use for us and banished us to the corner of a parking garage ..." one Guardsman said https://t.co/2QneUNtBDepic.twitter.com/Q8lZzP7hHV

— POLITICO (@politico) January 22, 2021
Politico first reported about some 5,000 troops being exiled from the Dirksen Senate Office Building – already not the best of places to camp out – to a nearby garage. According to a Guard spokesman, the Capitol Police ordered the move due to congressional business and "increased foot traffic," and the garage had "heat and restroom facilities."
Anonymous Guard members told Politico there was no heat, only one electrical outlet, and two toilets for the lot of them, adding, "We feel incredibly betrayed."
Meanwhile, Capitol Police Chief Yogananda Pittman said on Friday that they "did not instruct" the Guard to leave. At this point, nobody knows who gave the order, or if there ever was one. The troops were allowed to return to the Capitol campus, where their presence may be needed "for the foreseeable future," according to Senator Chris Murphy (D-Connecticut).
Also on rt.com
US shocked after National Guardsmen kicked out of Capitol Building and forced to lodge at parking lot after inauguration
Why, exactly? Recall that Washington, DC was turned into a military occupation zone for Biden's inauguration, ostensibly because of media reports that an FBI bulletin – never actually published or verified – said "armed groups" were going to organize a "huge uprising," both in DC and all 50 state capitals. That literally did not happen.
Biden, who supposedly won the most votes ever in US history, was nonetheless inaugurated before an empty National Mall filled with flags as stand-ins for people, and a select audience of politicians and Washington bureaucrats. The proceedings were watched by almost as many US troops as garrison South Korea – all because the Democrats have insisted on describing the January 6 riot at the US Capitol as an "insurrection against our democracy," as if it were a rerun of Fort Sumter.
America's founders, who patterned the country on the ancient Roman Republic, were probably spinning in their graves at the presence of a de facto praetorian guard more appropriate for the late Empire. In an ironic twist, the Democrats the troops came to protect mistrusted them about as much as the Roman emperors did their bodyguards, demanding ideological "vetting" to make sure they weren't secret Trump supporters.
Also on rt.com
'They are not Nancy Pelosi's servants': Governor DeSantis calls National Guard back home after outrage over their treatment in DC
Moreover, the deployment may have been a "superspreader" event for the coronavirus. There are now reports, again from Politico, that over 100 troops may have contracted Covid-19 along the way, because they were "packed like sardines" to get to DC and sleeping on top of each other inside the Capitol.
Yet Biden had spent the whole of 2020 insisting that Trump wasn't taking the virus seriously and pledging to do better, starting with mandating masks and vaccinating… as many people as Trump was vaccinating already. But that's totally different and "c'mon man, give me a break!" as Biden himself put it to a reporter who dared ask.
Keep in mind the National Guard is hardly the Special Forces, but weekend warriors who joined to afford college, or continued as reservists after finishing their active duty. Recruiting ads describe their work as primarily disaster relief – not patrolling US streets, or getting deployed to Iraq and Afghanistan, as they have been during the 19-year-long "war on terror."
Now that Trump's push to end the endless foreign wars was overridden by Congress, and Biden's foreign policy aims to return to US interventionist ways, some of the troops from the DC deployment may well find themselves facing even worse conditions overseas soon.
One would think a little more concern, a little more gratitude, a little more competence from people who've spent decades in government would have been in order. Fear not, Biden's actual military – the media who fought the virtual civil war on his behalf – will no doubt find a way to blame Trump for this. Maybe they will describe it as "conservatives pounce," or bury it and memory-hole the heretics at Politico for daring to bring any of it up.
Remember, the truth is that anonymously sourced story in the Atlantic from last September, about Trump calling the troops"losers and suckers" – and never the "manufactured facts" your lying eyes and ears tell you.
Think your friends would be interested? Share this story!
The statements, views and opinions expressed in this column are solely those of the author and do not necessarily represent those of RT.
You can share this story on social media: