Cancelling Josh Hawley's book is another blow against free speech by corporate America and only confirms conservative fears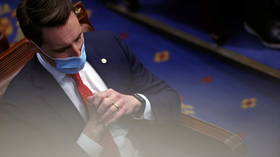 High-profile Republican Senator Josh Hawley, tipped by some as a future presidential candidate, had to find a new publisher for his book as it became collateral damage in the attack on freedom of speech and ideas.
Standing staunchly behind Free Hong Kong activists and criticising big tech for being too powerful could well be considered liberal views by some. They also happen to be the viewpoints of politician Josh Hawley. He represents the state of Missouri and was the youngest senator in the US at 41. Incoming Georgia senator Jon Ossoff has pipped him in the next congress, however, being just a tender 33 years of age.
A loyal Republican, he defended Donald Trump to the death and many Democrats felt he contributed to the 'incitement' of the chaos at the Capitol. He challenged the election results, refusing to back down, even in the face of condemnation saying: "I will never apologize for giving voice to the millions of Missourians and Americans who have concerns about the integrity of our elections. That's my job, and I will keep doing it."
Thanks to this stance, publishers Simon & Schuster ripped up his book deal for 'The Tyranny of Big Tech.' Their statement read…"As a publisher it will always be our mission to amplify a variety of voices and viewpoints: at the same time we take seriously our larger public responsibility as citizens, and cannot support Senator Hawley after his role in what became a dangerous threat to our democracy and freedom."
Not exactly a brave and unequivocal commitment to free speech there from the gatekeepers of literature.
Also on rt.com
Global corporate giants turn their backs on Trump & his supporters
The transparency of their motivation is so basic, it's befuddling that it occurs to a company of Simon & Schuster's size. The book was due to go on sale in the next few months, so clearly all the work had been done and the manuscript had been studied. They presumably have read it, decided it was worth going to print and wasn't in any danger of starting any riots. It was the peril of having to encounter dissenting voices that drove Simon & Schuster to 'ghost' Hawley.
Their lack of moral fibre is disheartening, books are the backbone of education. Even those who feel that the idea of big-tech tyranny is a ludicrous myth peddled by right-wing crackpots would benefit from reading it. They'd get to see Hawley's arguments and what research he had based them upon. They would better understand their enemy.
Hawley studied at Stanford University before going to do law at Yale, and while that by no means makes him correct or clever, it does suggest he has an impressive grasp of academia and research, as both are esteemed educational establishments. There is also the internal process at the likes of Simon & Schuster.
Before anything hits the shelves, it will be combed through by value-adding editors and double-checked by proofreaders.
A book is the ideal medium to deliver complicated topics, as a person has to methodically digest as they go. Compare that to the rat-a-tat pace of social media where content is so short that only granular detail is possible. Rebel! Don't Vote! Boycott! March! Refuse to accept the status quo, Sign this petition now – are the staples of Twitter and Facebook. It's polemic or bust. YouTube is the same, all and sundry rant on about anything they want and it's accessible for everyone to consume.
The fact that Hawley has taken the time to encapsulate his views and deliver them long-form should be hailed, but instead it's cancelled because of comments on another issue. Publishers like Simon & Schuster seem to be taking this line more now. Julie Burchill's book on cancel culture was scrapped by Little, Brown after she was accused of Islamophobia and Woody Allen's contract for his memoirs was ripped up after complaints about unproven sexual conduct accusations were aired.
They are trying to straightjacket authors, to uphold and adhere to whatever tune the publishers wish to play.
And there's no time limit, as Hawley's case shows, you could have spent years working on your book and it becomes a waste of time at the touch of a button from a lily-livered desk jockey. We all have to demand more, as authors are the ones who deliver most of the value. Without their ideas, insight and delivery publishers wouldn't exist.
Also on rt.com
Senator Hawley finds new publisher after being blacklisted over Capitol riot… and his old publisher will have to distribute it
The only reason publishers have such power is the public still believes they add a degree of prestige and validation. But if Hawley, Burchill or Allen wrote their book, employed an independent and skilled editor, and sold it via their website, what would be the material difference? My suggestion is none.
There's also the rank hypocrisy of book publishers as there are numerous titles that revel in the misdeeds of Adolf Hitler, Osama Bin Laden and Ted Bundy. You could gorge yourself and understand every facet of what they did, how they did it and who they did it to. It is deemed acceptable for publishers to earn their pot of gold from those type of rogues, but apparently not from sitting US Senators with a penchant for combative rhetoric.
Even if book publishers have concerns over someone's character, they could easily gauge it. In the case of Hawley, if it doesn't sell, then you know that type of content is either toxic or uninteresting. That at least would make sense and you could reject similar projects due to commercial restraints.
But it is the final twist in the tale of The Tyranny of Big Tech that shows what a sham this all is.
New publishers Regnery opted to snap it up, so it will now be released on May 4.
But who has an agreement to distribute Regnery's titles around the world?
Simon & Schuster.
Ignore the myths these self-serving publishers are peddling. Books need to be preserved, even if we fundamentally disagree with them. They are the antidote to the shock-jock, clickbait, scattergun information world we inhabit. Read The Tyranny of Big Tech, what have you got to lose, apart from ignorance?
Think your friends would be interested? Share this story!
The statements, views and opinions expressed in this column are solely those of the author and do not necessarily represent those of RT.
You can share this story on social media: