The accusation of Uighur genocide is Pompeo's last-gasp attempt to morally nuke China, but he's unlikely to find many backers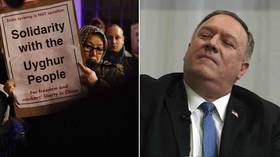 Outgoing US Secretary of State Mike Pompeo has tried to ramp up the pressure on Beijing – and Joe Biden – by labelling human rights abuses in Xinjiang as 'genocide'. Don't expect many other countries to follow suit, though.
Yesterday, on his last day as secretary of state, Pompeo took one final blast at China, declaring that it is committing "genocide" and "crimes against humanity" in its Xinjiang autonomous region, and accusing it of trying to destroy the Uighur population, a minority group who live in that far-western province.
The comments come following a 'review' he commissioned from the State Department in December. While Pompeo has always been quick to weaponise this issue as a means of bashing Beijing, the declaration of a "genocide" is a serious step with big moral and legal implications. This is not simple condemnation of human rights abuse; this is an accusation for which there is a very high legal threshold, and which, for historically obvious reasons, is the most serious crime a state can be accused of committing.
Yet here we have a US secretary of state dropping this bombshell accusation on both China and the incoming Joe Biden administration in his dying breath. It's opportunistic and cheap on his behalf, and overtly political rather than motivated by sincere concerns for the Uighur population.
It might even be described as a "moral nuke" against China, designed as it is to attempt to isolate Beijing and raise international pressure in the hope that allied states will be obligated to follow.
But will it achieve these desired results? While that all depends on how Biden approaches the issue, the available evidence suggests that even if US allies condemn the situation in Xinjiang, they may not follow up with any meaningful moves.
When Pompeo made this declaration yesterday, the UK Parliament was locked in a debate over the so-called 'genocide amendment' – an addition to the government's trade bill that opted to give British courts the legislative power to rule as to whether or not a state was committing genocide, and subsequently annul any free trade agreement with it.
Not surprisingly, the amendment was being pushed by the anti-China fanatics on the right wing of the Conservative Party, who see it as a useful proxy to undermine UK ties with Beijing, with former leader Iain Duncan Smith yet again leading a rebellion against the Tory front bench. The amendment was narrowly defeated, however, with Foreign Secretary Dominic Raab deeply opposed to it.
And this reinforces the broader point: the UK government is willing to condemn the situation in Xinjiang, but only superficially. Prime Minister Boris Johnson is not interested in ransacking its ties with China in the same way the US has done. There is a lot of evidence to back this up.
First, Britain has held off placing sanctions on Chinese officials, with the Foreign Office fearing "asset flight" out of London if it does. When pressured over allegations of forced labour in the Chinese regions, it merely issued an advisory telling companies to vet their supply chains or face fines, rather than enforce sweeping import bans in the way Donald Trump did. What we see from Downing Street is reluctance to confront Beijing, not enthusiasm, and while Pompeo's designation will intensify the pressure from the rebels against the government, there's no sign it will change its position.
Similarly, European Union states are also not going to act decisively on Xinjiang or follow the State Department in declaring the situation a "genocide." In fact, the EU has just signed a comprehensive investment treaty with China. There is, of course, condemnation on the grounds of human rights, but there has been and will be no sanctions. With Angela Merkel's likely successor to be Armin Laschet, who is even more favourable towards China than she is, expect little to change in terms of substance.
Given this, who does the US have left to back its stance? One could point to Australia and Canada, but it's unlikely; Canberra, especially, is aware of the consequences of crossing that threshold. There are very few countries that would see escalation on this matter as being in their own interests, even if they are sincerely committed to human rights.
And outside of the West, there is nobody. Countries in Africa and the Middle East have persistently lent their support to China's policy in the region in large numbers, including most of the Islamic world. Why? Liberal ideology blurs the reality that Islamic countries themselves do not want to encourage separatism or unrest in their own households by promoting it elsewhere and fanning the fans of pan-Islamist sentiment. Their silence is not, as has been suggested, because 'Beijing bought them off'.
Given all this, Pompeo's final salvo seems destined to fail. The US might be able to get a coalition of countries to condemn what they describe as 'human rights abuses' in Xinjiang, but it will not find many enthusiastic about crossing the threshold of declaring it a genocide.
The US could boycott the Beijing Winter Olympics in 2022, and it could also impose more sanctions, but the key takeaway from this is that it's ultimately likely to stand alone – a product, of course, of Pompeo's unilateralist 'America First' world view.
Like this story? Share it with a friend!
The statements, views and opinions expressed in this column are solely those of the author and do not necessarily represent those of RT.
You can share this story on social media: