Parting is such tweet sorrow... A fond farewell to Donald Trump's Twitter feed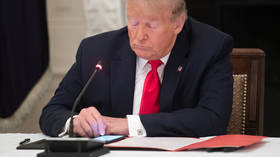 The president has lost both the Oval Office and his beloved Twitter account. His posts were hilarious, mad, and occasionally dangerous – but, God, it's been a helluva ride. @realDonaldTrump, we'll miss you.
Donald Trump governed by social media. Tweeting from bed in his teddy bear pyjamas or on his sofa in front of a huge TV screen, sometimes from a buggy on his golf course.
It was never gonna end well, and now it's all over. Twitter permanently suspended his account yesterday, and he has been indefinitely hoofed off Facebook and Instagram.
Also on rt.com
I twice voted for Donald Trump, but his seditious behavior means he will go down in history as the worst American president EVER
There are only so many teenage temper tantrums you can have until an adult takes away your smartphone.
Plenty of people say the dumbest things on social media, but they're not usually the 74-year-old president of the most powerful country in the world, with more than 6,000 nuclear warheads and 1.3 million active duty troops ready to go.
Their words don't rock stock markets.
Trump's Twitter journey all started in pretty limp fashion; his first ever tweet on May 4, 2009 was "Be sure to tune in and watch Donald Trump on Late Night with David Letterman as he presents the Top Ten List tonight!" Just some bland, promotional pap selling the Trump brand.
Seven years later, and he was about to be elected president – who'd have thought? That chubby orange-faced dude off 'The Apprentice', that serial bankrupt who erected gaudy apartment blocks and casinos and had a steady stream of pneumatic looking wives? Nah. Don't be ridiculous. That's never gonna happen.
His first tweet as president was: "I am honered to serve you, the great American people, as your 45th President of the United States!" The typo proved it was really him, and not some public relations drone. He later explained: "My use of social media is not Presidential – it's MODERN DAY PRESIDENTIAL."
Righto. He has sent thousands of tweets – and retweets such as "If Hillary Clinton can't satisfy her husband what makes her think she can satisfy America?" Which, uncharacteristically, he deleted.
In early June 2020, during the police brutality protests, he sent exactly 200 tweets and retweets in a single day. This being Donald Trump, he didn't get the irony that this tweet storm came shortly after he'd signed an executive order to regulate the platform after it fact checked one of his tweets. His previous record had been 142, during his impeachment trial in January 2020.
Also on rt.com
With unilateral censorship of a sitting US president, Big Tech has proven it's more powerful than any government
Anyway. It's over.
Trump is doomed to exist in the swamp of right-wing media and fringe conspiracy theorist outlets, exclusively read and watched by people who already love him. Oh, and the FBI. That's if he's not in jail for tax fraud. Ah well, at least the orange jump suit would match his face.
So, that's it, he's done. What will he do now if he wakes up in the middle of the night with a thought he just HAS to share? If I had to guess, I'd bet poor Melania is about to have her ear chewed off a whole lot more regularly (spare a thought for the First Lady).
It's highly unlikely Donald Trump would ever have risen to be President of the United States of America without the megaphone – his MAGAphone, if you like – of social media. He would have been far more controlled, his messages corralled, and he would have had to rely on the old school 'fake news' networks – and they would never have given him the airtime.
Also on rt.com
I'm a Trump supporter, but in the last days of his presidency, he has betrayed his party, his country and his legacy
Anyway, without further ado, here are 30 of The Donald's bestest tweets in his very own, very best, words. Mr President, for the last time, take it away:
1: I WILL be president, oh yes, and my self-confidence is the stuff of legend: November 2012.
"Thanks- many are saying I'm the best 140 character writer in the world. It's easy when it's fun."
2: Listen, I am an expert on the benefits of a healthy diet: October 2012.
"I have never seen a thin person drinking Diet Coke."
3: I could have been a scientist, honestly, I am a world authority on climate change: November 2012.
"The concept of global warming was created by and for the Chinese in order to make U.S. manufacturing non-competitive."
4: And I'm an arch feminist; what do you expect if you allow women into the military? But, I mean, men and women shouldn't always mix: May 2013.
"26,000 unreported sexual assults in the military-only 238 convictions. What did these geniuses expect when they put men & women together?"
5: Fancy a free round of golf, Barack? September 2014.
"If Obama resigns from office NOW, thereby doing a great service to the country—I will give him free lifetime golf at any one of my courses!"
6: Again with the over self-confidence, it's just the way I am: May 2013.
"Sorry losers and haters, but my I.Q. is one of the highest -and you all know it! Please don't feel so stupid or insecure,it's not your fault."
7: Did you know I am a genius detective, and the then-US President wasn't born in the USA, so he is illegitimate, according to my "extremely credible source?" My source is not just credible, he's EXTREMELY credible. Oh man, I forgot to put that in caps and there are no exclamation marks! Anyway, job done – boot Barrack out: August 2012.
"An 'extremely credible source' has called my office and told me that @BarackObama's birth certificate is a fraud."
8: I don't want to go to bed with my fellow socialite Arianna Huffington, co-founder of the Huffington Post: August 2012
"@ariannahuff is unattractive both inside and out. I fully understand why her former husband left her for a man- he made a good decision."
9: Genius. Bugger, why didn't I think of this one for my re-election? Missed a trick: November 2011.
"In order to get elected, @BarackObama will start a war with Iran."
10: Come on guys, climate change, it ain't all bad: November 2012.
"It's freezing and snowing in New York--we need global warming!"
11: Every six-year-old boy knows this one: "my dad is bigger than your dad," or "my gun is bigger than your gun," etc: January 2018.
"North Korean Leader Kim Jong Un just stated that the 'Nuclear Button is on his desk at all times.' Will someone from his depleted and food starved regime please inform him that I too have a Nuclear Button, but it is a much bigger & more powerful one than his, and my Button works!"
12: We need to save our bald eagles from wind turbines: August 2012.
"It's Friday. How many bald eagles did wind turbines kill today? They are an environmental & aesthetic disaster."
13: President Obama's mind isn't on the job; it's on the basketball court. Though, during my presidency, I will play golf around 300 times: November 2012.
"Why is Obama playing basketball today? That is why our country is in trouble!"
14: I'll say it, but I won't say it – here's another one for the feminists: October 2012.
"While @BetteMidler is an extremely unattractive woman, I refuse to say that because I always insist on being politically correct."
15: Here's another one for the folks who love my scientific mind: October 2012.
"Remember, new 'environment friendly' lightbulbs can cause cancer. Be careful-- the idiots who came up with this stuff don't care."
16: See, I told you! I know how to handle a deadly disease: August 2014.
"The U.S. cannot allow EBOLA infected people back. People that go to far away places to help out are great-but must suffer the consequences!"
17: I don't need the fake news media, I have Twitter: May 2020.
"The Lamestream Media is doing everything within their power to foment hatred and anarchy. As long as everybody understands what they are doing, that they are FAKE NEWS and truly bad people with a sick agenda, we can easily work through them to GREATNESS!"
18: I wrestled and beat that pesky China virus, and those steroids man – I feel awesome: October 2020.
"I will be leaving the great Walter Reed Medical Center today at 6:30 P.M. Feeling really good! Don't be afraid of Covid. Don't let it dominate your life. We have developed, under the Trump Administration, some really great drugs & knowledge. I feel better than I did 20 years ago!"
19: I would whip 'crazy' Joe Biden in a fight, bring it on (Damn, I hadn't thought of calling him 'Sleepy Joe' then, and 'Crazy Joe' actually sounds like a guy who can throw a punch. Never mind. Crazy or Sleepy, even if Joe wins he won't have won. Never. Not in my world): March 2018.
"Crazy Joe Biden is trying to act like a tough guy. Actually, he is weak, both mentally and physically, and yet he threatens me, for the second time, with physical assault. He doesn't know me, but he would go down fast and hard, crying all the way. Don't threaten people Joe!"
20: Lowest approval ratings since Eisenhower? Those bloody opinion polls are rigged, in fact anything in which I don't come out on top – there must be some kind of fraud: January 2017.
"The same people who did the phony election polls, and were so wrong, are now doing approval rating polls. They are rigged just like before."
21: I beat Hillary in the popular vote as well as the Electoral College. I did! Because I say I did! Fraud, etc: November 2016.
"In addition to winning the Electoral College in a landslide, I won the popular vote if you deduct the millions of people who voted illegally."
22: I would have got Bin Laden sooner, so there: November 2018.
"Of course we should have captured Osama Bin Laden long before we did. I pointed him out in my book just BEFORE the attack on the World Trade Center. President Clinton famously missed his shot. We paid Pakistan Billions of Dollars & they never told us he was living there. Fools!.."
23: I'm NOT paranoid, right! But that bastard Barack, he had my wires tapped! March 2017.
"Terrible! Just found out that Obama had my 'wires tapped' in Trump Tower just before the victory. Nothing found. This is McCarthyism!"
24: Hey Iran, wanna fight? This is in CAPITALS and there are exclamation marks, so you better watch out! July 2018.
"To Iranian President Rouhani: NEVER, EVER THREATEN THE UNITED STATES AGAIN OR YOU WILL SUFFER CONSEQUENCES THE LIKES OF WHICH FEW THROUGHOUT HISTORY HAVE EVER SUFFERED BEFORE. WE ARE NO LONGER A COUNTRY THAT WILL STAND FOR YOUR DEMENTED WORDS OF VIOLENCE & DEATH. BE CAUTIOUS!"
25: Even I don't know what this one meant, and this was way before Covid-19: May 2017.
"Who can figure out the true meaning of 'covfefe' ??? Enjoy!"
26: A porn star I never had sex with, honest, she looks like a horse: October 2018.
"'Federal Judge throws out Stormy Danials lawsuit versus Trump. Trump is entitled to full legal fees.' @FoxNews Great, now I can go after Horseface and her 3rd rate lawyer in the Great State of Texas. She will confirm the letter she signed! She knows nothing about me, a total con!"
27: I don't want to have sex with Meryl Streep: January 2017.
"Meryl Streep, one of the most over-rated actresses in Hollywood, doesn't know me but attacked last night at the Golden Globes. She is a....."
28: I didn't wanna be Time's person of the year, I don't like the attention: November 2017.
"Time Magazine called to say that I was PROBABLY going to be named 'Man (Person) of the Year,' like last year, but I would have to agree to an interview and a major photo shoot. I said probably is no good and took a pass. Thanks anyway!"
29: I'm a very stable genius, I am! January 2018.
"Now that Russian collusion, after one year of intense study, has proven to be a total hoax on the American public, the Democrats and their lapdogs, the Fake News Mainstream Media, are taking out the old Ronald Reagan playbook and screaming mental stability and intelligence.....
....Actually, throughout my life, my two greatest assets have been mental stability and being, like, really smart. Crooked Hillary Clinton also played these cards very hard and, as everyone knows, went down in flames. I went from VERY successful businessman, to top T.V. Star.....
....to President of the United States (on my first try). I think that would qualify as not smart, but genius....and a very stable genius at that!"
30: I am a very unhappy 'stable genius'. Less than two weeks left of my term in office, it's worth reminding you of this one: May 2014.
"The global warming we should be worried about is the global warming caused by NUCLEAR WEAPONS in the hands of crazy or incompetent leaders!"
Think your friends would be interested? Share this story!
The statements, views and opinions expressed in this column are solely those of the author and do not necessarily represent those of RT.
You can share this story on social media: