Ted Cruz and other White House wannabes don't want to save Trump; they just want to cash in on MAGA to help their 2024 ambitions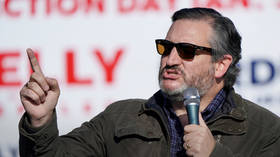 For Republicans, today's futile attempts in Congress to 'stop the steal' and prevent Joe Biden from becoming president have nothing to do with the election just gone, and everything to do with the one in four years' time.
The extraordinary events of the last few days in American politics mirror the political crisis that took place after the scandal-ridden 1876 presidential election.
The historical analogy, however, is by no means a perfect fit, which means that Joe Biden is likely to become president – unlike Samuel J. Tilden, the hapless Democratic candidate in 1876 who had the election stolen from him by Republican Rutherford B. Hayes.
Also on rt.com
Trump's flirtation with politics is over. His legacy is an America beset by divisions, rancour and a huge degree of instability
Ted Cruz and a number of Republican politicians last week commenced legal proceedings seeking a ruling that Vice President Mike Pence had a discretion not to declare Joe Biden president when Congress meets today to formally endorse him as president.
Pence challenged these proceedings, and the courts dismissed them last Friday.
Undaunted, over the weekend, Cruz and his supporters urged Republicans to refuse to endorse Biden as president today, and instead establish a commission to inquire into alleged voting irregularities during the recent election.
Cruz explicitly acknowledged this week that his proposal was based on the events that took place following the 1876 presidential election.
Powerful Republicans, including Senate leader Mitch McConnell and Mitt Romney, reject Cruz's proposal (despite being threatened by Cruz supporters) – but the situation became more alarming on Monday, when Vice President Mike Pence sided with Cruz and his cronies.
It will be interesting to see what Pence does today – after all, he is to preside over proceedings in Congress and personally declare Biden president. Perhaps Pence is just playing along with the Republican populist base, knowing full well that Cruz's proposal will not be endorsed by Congress.
Also on rt.com
Trump supporters clash with DC police in BLM plaza ahead of 'Save America' rally (VIDEO)
These recent desperate acts are nothing more than last-ditch attempts by Trump and his supporters to steal the election from Biden.
Cruz, of late apparently a born-again Trump clone without the drive or wit, is cynically attempting to curry favour with Trump voters and cement his credentials as the leading presidential candidate in 2024.
Even so, the personal hypocrisy involved in a Trump/Cruz alliance is staggering.
In the 2016 primaries, Trump gave Cruz the nickname 'Lyin' Ted' and said, "The State of Iowa should disqualify Ted Cruz from the most recent election on the basis that he cheated – a total fraud." If Trump's assessment is correct, Cruz is uniquely qualified to track down voting irregularities.
Cruz was equally complimentary about Trump in 2016, saying, "If I were in my car and getting ready to reverse and saw Donald in the backup camera, I'm not confident which pedal I'd push."
Clearly Trump's election defeat has generated some very strange partnerships within the Republican Party.
What then are the parallels between recent events and the 1876 election?
In the 1876 election, the Democratic candidate, Samuel J. Tilden, won the popular vote by a large margin.
Early counting suggested that he had also won enough Electoral College votes to become president – but as voting continued, the Republican candidate, Rutherford B Hayes, clawed back Tilden's electoral vote lead.
Both parties (with much justification, especially the Democrats) alleged that widespread voting irregularities, bribery and fraud had occurred in four states – Florida, South Carolina, Louisiana and Oregon.
In the circumstances – despite Tilden having easily won in Louisiana – the Electoral College (controlled by Republicans) refused to certify the electoral vote in all four states, and returned disputed results for them to Congress.
Tilden contended that, in such a situation, the Constitution obliged the House of Representatives (at the time under Democrat control) to conduct a contingent election in respect of the four disputed states – as it had done in the 1803 presidential election, when Aaron Burr and Thomas Jefferson received the same number of Electoral College votes.
Congress rejected Tilden's view, and, on a bipartisan basis, voted to establish an electoral commission to deal with the disputed Electoral College votes. The commission had 15 members – five Democrat congressmen, five Republican congressmen and five members of the Supreme Court.
In January 1877, the commission voted 8-7 (along party lines) to award all the disputed Electoral College votes to Hayes, which resulted in him stealing the election from Tilden and becoming president.
The sordid reality was that, behind the scenes, a truly despicable political deal had been struck between Republicans and Southern Democrats whereby Hayes would be handed the presidency, and, in return, federal troops would be withdrawn from the South and reconstruction completely dismantled.
Within 10 years, the old Southern elites had regained absolute political power, blacks had been disenfranchised in the South and the 'Jim Crow' regime was firmly in place.
There are fundamental differences between what occurred after in 1876 and what is happening this week.
These make it clear that Cruz's ploy lacks any legitimacy whatsoever.
First, unlike in 1876, the Electoral College has not returned any disputed electoral votes to Congress. In fact, the college has certified the validity of the votes in all states. All relevant state electoral authorities have also certified that the election was conducted properly and fairly.
Also on rt.com
Democrat Raphael Warnock has ousted Republican Kelly Loeffler in Georgia Senate race, AP & other major media outlets project
Second, unlike in 1876, Trump has already brought some 50 legal actions (including one omnibus action in the US Supreme Court) challenging the election results. Each one of these actions has failed – many of them being summarily dismissed.
Trump has not put any credible evidence before the courts to support his allegations of widespread electoral fraud. Why should he be given yet another opportunity to make unsubstantiated allegations?
And why should a commission established by Congress be asked to revisit allegations that have already been ruled on and rejected by the courts?
Third, Cruz's proposal for the establishment of a commission may well be unconstitutional, and the Supreme Court is likely to endorse that view rule if the matter comes before it.
Fourth, there is no possibility of a bipartisan backroom political compromise of the kind that occurred in 1876. No deal will be struck and, unlike Tilden, Biden will not quietly go anywhere.
The likelihood is that Congress will reject Cruz's proposal to establish a commission to enquire into voting irregularities, and endorse Biden as president. The Democrats, with a measure of Republican support, can ensure that this happens, and this appears to be the most likely result.
Having said that, however, nothing is certain in American politics these days.
Also on rt.com
Trump warns of 'big voter dump' against GOP in Georgia Senate race, as Warnock declares victory before all ballots counted
Except, perhaps, that Trump and his supporters are willing to do absolutely anything to steal Biden's election win from him, including debasing the entire American political system, if that is what it takes.
What happens today will depend upon whether there are enough principled Republicans willing to endorse Biden as president, and finally consign Trump and his cohorts to the dustbin of history.
Think your friends would be interested? Share this story!
The statements, views and opinions expressed in this column are solely those of the author and do not necessarily represent those of RT.
You can share this story on social media: