Trump's flirtation with politics is over. His legacy is an America beset by divisions, rancour and a huge degree of instability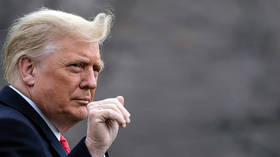 The narcissistic businessman has never seen politics as a vocation, and he's incapable of engaging in the hard slog of politics for the next four years. But can Biden fix the mess that Trump leaves behind? I doubt it.
As the US Congress prepares to formally endorse Joe Biden as president on January 6, there is speculation about what the future may hold for Donald Trump, as well as about his legacy more generally.
While the future is uncertain, the events of the past two months have, by and large, been predictable. Trump's re-election was always doubtful in circumstances where he was opposed by a conventional mainstream Democrat politician such as Biden, who, unlike Hillary Clinton, was an effective campaigner and was not weighed down by an excess of historical baggage.
Trump's abject failure to deal with the Covid-19 pandemic clearly weighed heavily with those relatively small number of swing voters in the half dozen or so key states that determined the outcome of the recent election. Former Australian prime minister John Howard, a winner of four elections, has said that every Trump Covid-19 press conference was "an electoral suicide note" written to these voters, and this seems correct.
Trump's reaction to his defeat was also predictable. His consideration of declaring martial law to thwart a Biden victory was pure Trump, as were his numerous hopelessly flawed legal challenges to the election result. The Supreme Court's swift rejection of his latest legal action was never in doubt, notwithstanding three Trump appointees sitting on the bench.
Also on rt.com
The five lessons a post-Trump Republican party needs to learn from the president… and five things it would do well to ditch
His petulant refusal to accept Biden's victory was fully in accord with his innate narcissism and contempt for the democratic political process. So too were his progressively more irrational appeals to the "Trump base" to reject the election result. Even this week he urged his supporters to hold a mass protest rally in Washington.
Fortunately, the Electoral College electors resisted the temptation to improperly vote for Trump – despite some of them being pressured by him to do so. Luckily, no "faithless electors" emerged to prop up the increasingly deluded Trump regime and create an immediate political crisis.
His slew of pardons for his cronies was also to be expected, although, in fairness to him, these were no more audacious or improper than the raft of pardons granted by Bill Clinton when he exited office.
Also to be expected was the recent public desertion of Trump by mainstream Republican politicians and officials, in particular Senate leader Mitch McConnell and Attorney-General William Barr. So too the Republican rejection of Trump's veto of the recent defence bill.
What, then, does the future hold for Trump personally?
There has been speculation that he will remain in politics with a view to running for president in 2024. In my opinion, that is to misunderstand him completely.
Trump has never seen politics as a vocation, and complete narcissists never accept defeat. Trump is incapable of engaging in the hard slog of politics for the next four years, let alone submitting to a political process that he regards as illegitimate. Trump's flirtation with politics has ended.
Also on rt.com
Trump's planned TV network would take broadcasting to new depths. Here's an idea of the horrors it might have in store…
He will now focus on his business interests, which, if some reports are to be believed, are in a state of considerable financial disarray. Prosecuting authorities in New York still have him in their sights, and their pursuit of him will now intensify. Dealing with these issues is likely to keep the ex-president busy for the next few years.
The suggestion that Trump's family members may now seek a career in politics is even more fanciful.
He is a unique individual, and there will be no Trump political dynasty. His family is even more unprincipled and lacking in judgement than he is, and, more importantly, do not possess even a modicum of his charisma.
So, what is the future for the Trump legacy more generally?
Three aspects of his legacy may be noted. First, his four years as president have intensified the deep-seated cultural, racial, and political divisions that characterise modern America, and these divisions will not miraculously disappear in the near future. Trump did nothing to solve the fundamental problems that now bedevil American society, and the best that can be hoped for under a Biden administration is a return to "business as usual", which is hardly a wildly appealing prospect.
Second, thanks to Trump's debauching of the political process during his term in office, a significant proportion of the American populace will never regard Biden as a legitimate president. This is hardly a recipe for political stability.
Third, Trump has further corrupted and destabilised the Republican Party during his presidency. The fact is, the Republican Party is now deeply divided, while, at the same time, remaining hostage to its fervently pro-Trump voting base.
Thus, we have the curious spectacle of some Republican politicians such as Ted Cruz echoing Trump's populist rhetoric, while others, like Mitt Romney, reject his approach to politics altogether
Also on rt.com
Trump's enduring legacy will be the fact he's changed the Republican Party forever
And beneath these divisions lies the fact that the Republican Party cannot afford to alienate its now – thanks to Trump – uniformly populist voters. This too is hardly a recipe for political stability. Trump may be gone, but his legacy in these respects will live on.
American society remains beset by fundamental and seemingly unbridgeable divisions, and its political system is characterised by a degree of instability and rancour unimaginable 30 years ago. Biden may well promise to "heal" America, but it is doubtful whether any contemporary American politician has the stature and ability to achieve that.
In fact, an even more troubling prospect may await America in the future.
A few years ago, the conservative American political commentator, P J O'Rourke, was interviewed about Donald Trump. O'Rourke is a libertarian supporter of Ronald Reagan, but had nothing but contempt for Trump, and predicted that his significance could lie in the fact he may be a crude harbinger of a future America ruled by a right-wing dictator.
In O'Rourke's view, Trump was an inept buffoon, whose harnessing of the populist base nevertheless presaged the possible emergence of a more competent proto-fascist political leader.
O'Rourke's comment may appear absurd, but if there is a lesson to be learnt from recent American politics, it is that there are no certainties anymore and the old political order is verging on collapse. In such circumstances, who is to say what Donald Trump's most important legacy may turn out to be?
Think your friends would be interested? Share this story!
The statements, views and opinions expressed in this column are solely those of the author and do not necessarily represent those of RT.
You can share this story on social media: