Sorry Hong Kongers... broken Britain is in no fit state to open its doors and must rethink rash offer of citizenship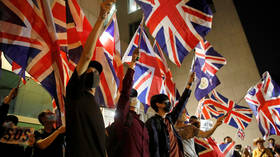 The UK is crippled, with jobs in peril, housing shortages and an economy that has been ravaged by Covid. A potential influx of millions from Hong Kong is the last thing the country needs.
When Boris Johnson extended his open invitation to Hong Kongers to come and live in Britain as a grand humanitarian gesture towards those wishing to flee a Chinese crackdown, the world was a very different place.
China was then the international bogeyman, blamed universally for the outbreak of Covid-19 and struggling to contain protests in rebellious Hong Kong over the then-newly enacted national security law.
That flexing of muscle from Beijing brought strong criticism from the British government that it undermined the 'one country, two systems' the UK naively thought it had left cemented in place when it handed the territory back to the Chinese in 1997. Meanwhile, China was furious at Britain's meddling.
While the UK proclaimed that the British Nationals (Overseas) scheme was a response to China's actions, and the UK's historical and moral commitment to BN(O) citizens, you have to wonder why the government waited 23 years to extend this offer. Dare I suggest that it was largely a piece of political grandstanding?
Also on rt.com
Hong Kong is no longer British, never really was, and it's time to let go of all our hypocritical, nostalgic colonial nonsense
Little thought seemed to have been applied to the logistics of such an offer. And now, with the BN(O) scheme ready to welcome our first arrivals from Hong Kong on January 31, we face mayhem.
Having swept a path to the UK's front door, no one in government is even sure how many Hong Kongers we can expect to arrive. Estimates from Oxford University's Migration Observatory in November suggested anything from 9,000 to more than one million in the first five years. To even call that an estimate is overstating. It just doesn't know.
Because elsewhere, a survey from the Hong Kongers in Britain organisation released last month found that 97 percent of those it asked said they intended to emigrate to the UK. With an estimated 5.4 million BN(O) citizens eligible to emigrate to the UK, that means potentially 5.2 million migrants, not one million. And of those intending to migrate, the vast majority (88 percent) said they had no family here.
This is on top of what we would consider regular migration, which in 2019, the last figure available pre-pandemic, held up at 260,000 net, a world away from the 'tens of thousands' figure touted by wildly optimistic ex-prime minister David Cameron back in 2010.
The think tank Migration Watch said last week that if the annual figure holds up at around 260,000 once the Covid crisis passes, then by 2043 we would be needing an extra 4.7 million houses – meaning a new home built every five minutes or nearly 300 every day. Reach for the hammers. Now.
Also on rt.com
It's madness for UK to threaten China, so why aren't media and MPs speaking out against Bojo's crazy plan?
All this is exclusive of any influx of Hong Kongers, although they already have their eyes wide open with the HKB survey stating that 73 percent of those asked identified finding accommodation as the key difficulty upon arrival in the UK.
On top of that, 48 percent said finding a job would prove problematic. So, no home, no job. And frankly, it is hard to say when that scenario might change, because the UK is in no fit state to welcome hundreds of thousands of citizens from the former colony or anywhere else.
While the BN(O) scheme initially appears incredibly generous, the offer on the table is not actually the yellow brick road to freedom and democracy that it first seems. Aside from the parlous state of our schools, the shortage of housing, our creaking-at-the-seams health system and our crippled jobs economy in these pandemic-ravaged times, there is the cost involved.
As our friends from HK will discover, there is no such thing as a free lunch. A full estimate of visa fees and the immigation health surcharge – for National Health Service access – found that the cost to a family of three on the BN(O) scheme looking to become British citizens would be £20,000, according to the Migration Observatory.
That is on top of living expenses. The HKB poll found, encouragingly, that 84 percent of prospective migrants said they had the financial resources needed to survive the first six months after arriving in the UK, while 16 percent could not afford to support themselves.
As they won't be entitled to welfare benefits, what happens to that 16 percent if they can scramble through the net?
Also on rt.com
After Hong Kong, China's new priority is Taiwan and Beijing aims to wear it down in an intense war of attrition
When the government announced the BN(O) scheme back in July, it trumpeted the youth, industry, entrepreneurial skills, high education level and income-earning capacity of HK residents. And sure enough, the HKB survey found that those BN(O) hopefuls had a mean age of 37, a mean income that was 52 percent higher that the HK average, and 71 percent have a university degree.
However, the survey also found that among the 74 percent of those new arrivals who had jobs in Hong Kong now, 43 percent of them were in business or financial services, areas heavily hit by the Brexit trade agreement freshly signed with the European Union.
Financial services, which no longer have access to passport rights – allowing the UK to sell into the EU with the need for extra regulatory clearance – face a rocky few months while the industry recalibrates. Not the best time to be looking for a bank job, or any job for that matter, with UK unemployment expected to be 2.6 million by the middle of this year.
This is the reality of the UK offer to Hong Kong. While the PM might believe the gesture to offer a lifeline to BN(O) citizens makes him look noble and brave, this could all unravel very quickly as disgruntled migrants find they have no job, no home, no family and are in the middle of a calamitously managed global pandemic.
They could well decide they would be better off if they had never left Hong Kong. And you could hardly blame them. This whole plan needs some urgent triage, before it's all too late.
Think your friends would be interested? Share this story!
The statements, views and opinions expressed in this column are solely those of the author and do not necessarily represent those of RT.
You can share this story on social media: