A creeping black vs. black schism is dividing America as some descendants of slaves demand a special status over immigrants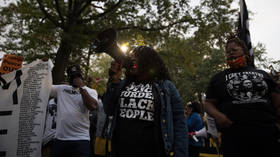 The Black Lives Matter movement has shone a spotlight on many racial issues and has inadvertently led to a higher profile for the issue of how American Descendants of Slavery are treated, and what their place is in US society.
'Judas and the Black Messiah', the biopic of assassinated Black Panther chairman Fred Hampton, is the type of movie you'd expect to spark controversy.
But most wouldn't expect it to be in the form of criticism that a black man was cast in the lead role.
The issue for some is that he's the 'wrong type' of black, as Daniel Kaluuya is a Londoner with Ugandan parents.
They instead wanted the role to go to a not-very-well-known subset of the black diaspora, an American Descendant of Slavery (ADOS). One infuriated black America woman tweeted: "Why is Daniel Kaluuya in the US seeking roles of Black American #ADOS civil rights icons? If he doesn't want to talk about race, seek other roles, stay away from ADOS history. Our history is the story of a people forced into a race struggle."
The spat has offered a glimpse into a passionate and raging debate that many will be unaware of.
Also on rt.com
African Americans want black national anthem and black-only towns, but that's borrowing from the white supremacist playbook
In 1988, Rev. Jesse Jackson popularised the term 'African American'. The problem is that African or West Indian immigrants to the US can also be classified under that category, alongside black people born in America. The concept of ADOS is to carve out an identity and pathway exclusive to just the descendants of slavery in North America.
It's a complex matter, and it excludes millions of individuals.
For example, one of the founders of ADOS, Antonio Moore, has spoken about how Barack Obama should not be seen as one of them, as the former president's mother was white and his father Kenyan: "Barack Obama rode the narrative of slavery, the memory of Martin Luther King Jr., and the celebrity cache of Oprah, all the way to 1600 Pennsylvania Ave."
The ADOS approach is causing increasing tension between groups in everyday life. Writer Chimamanda Ngozi Adichie, who moved to the US from Nigeria to study at the age of 19, has experienced such issues, explaining, "There is a certain kind of black American that deeply resents an African whom they think of as privileged, privileged Nigerians especially. My husband and I have got to the airport and they've said to us, 'You're Nigerian, I bet you have twenty-five thousand dollars in your bag, let's see it.'"
Also on rt.com
Call for $14 trillion in slavery reparations while riots rage in US is extortion, not justice
The converse viewpoint also exists.
William A. Darity Jr. of Duke University is one of the leading scholars in the field, and he produces much of the content that ADOS proponents rely on.
He told RT this week: "The irony is recent black immigrants seem resistant to the ADOS assertion of a distinct ethnic identity while maintaining their own identity as Nigerian (even more narrowly as Igbo), Ghanaian, Jamaican, etc."
The idea of being divided into a social category by skin colour is alien to most Africans.
Kenyan writer Mkawasi Mcharo Hall explains: "Our identity was and still is ingrained in ethnicity, not in skin color. It explains why most Africans experience being called 'black' or 'African' for the first time when they come to America."
There are simple examples of this. Amala and Efo riro are popular Nigerian dishes, but they wouldn't be accurately described as African, in the same way haggis would be classed Scottish and not European.
It's also common for immigrants to grasp their culture to a greater degree than they did previously.
The basic human condition of wanting to feel at home results in families creating local groups, or opening shops to import their national products.
There is no malice – it's an instinct, as most people feel some connection to their homeland and want to express it.
Also on rt.com
As blacks in America, we must prioritize the family. Everything else comes after
That communal rallying point doesn't exist for ADOS.
Due to the horrific crimes committed against their ancestors, they don't know where they came from. Most slaves arrived in the Americas from West Africa, with Benin even apologising for its role in selling fellow Africans back in 2000.
This is a point that's a major motivation for the all-black militia NFAC leader Grand Master Jay, who told RT earlier this year, "We have no identity, they call us African Americans but tell me, where in Africa? There are 55 countries in Africa."
The schism is exacerbated, as African immigrants generally have higher average earnings than ADOS, while they and their children tend to do better academically.
The key behind their success is they have a better level of education and therefore can command greater salaries – as Darity Jr. explainedm "Generally immigrants who are hyper-selected from the population of their country of origin do better than the native-born population, on average, in the receiving country. Hyper-selectivity means the immigrant population has a higher level of education and financial resources than the average for their fellow citizens. Recent African immigrants to the US represent an extreme of hyper-selectivity; they are better educated than most Americans, black or white, upon arrival."
A study in 2013 showed that 35 percent of African immigrants had a college degree, higher than the entire US population (30 percent) and far more than ADOS (19 percent).
It also revealed that the average salary for a black immigrant was $43,800 and for ADOS it was $33,500 – although the US average was $52,000.
Along with pressure from some parties for a greater role for ADOS in the arts, namely using their own actors to play real-life characters, there's also an ongoing campaign for reparations for slavery, which would only be given to those who can prove an ADOS lineage. So if someone was descended from slaves in Barbados, they wouldn't be eligible.
As we move into the new year, I challenge #ADOS /our allies 2 stay focused, remain steadfast & on mission, keep growing in understanding & agile enough 2 try new strategies 4 new challenges. We have what it takes 2 do what most think is impossible. Stay exceptional!✊🏾#Reparationspic.twitter.com/Yg1k0pGlJX

— For The Future Negro 🇺🇸 📰ADOS📣 (@4FutureNegro) December 27, 2020
Darity Jr. said, "While there are some individuals in the ADOS movement who are excessively concerned with immigration policy, the majority are concerned primarily with reparations specifically for the ADOS community. ADOS has a unique claim on the US government just as the former British colonies in CARICOM have a unique claim on the UK, and the Congo has a unique claim on Belgium."
The tumultuous events of 2020 which spawned the BLM movement have added another edge to the debate. Can a newly arrived immigrant from Africa with a well-paying job and university education have the same problem with structural racism as a minimum-wage blue-collar ADOS?
The idea of growing up somewhere, compared to relocating, is vastly different, as ADOS founder Antonio Moore has expressed with feeling. "The audacity that it takes to come to a post-'Cosby Show' America for less than a lifetime and feel the right to interject half-baked opinions about American black life is something I still can't understand."
Think your friends would be interested? Share this story!
The statements, views and opinions expressed in this column are solely those of the author and do not necessarily represent those of RT.
You can share this story on social media: