As blacks in America, we must prioritize the family. Everything else comes after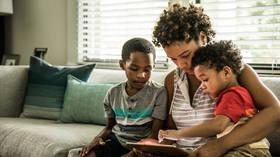 The percentage of African Americans who were raised by only one parent in 1960 was 22 percent. Today more than 70 percent of black children are born to unmarried mothers. It's having tragic consequences, and we've got to fix it.
I am a black person, and I believe that the breakdown of the black family is the most harmful thing to the black community.
I am divorced twice, but I have two beautiful daughters that live with me, and I provide for them and do not run from my responsibility. I didn't close their mother out of their lives either, as I believe children need their parents if they are going to be successful. Many experts have researched the topic of a strong, healthy family, and the constant conclusion is that a child without a good father figure grows up with a disadvantage that cannot be erased by education, fame, stature, or money.
How many times have you seen childless activists run to the news shows to claim how white people and law enforcement are primarily responsible for holding blacks back? But the heart of the matter is that the family unit figures to be the differentiating factor in their offspring's quality of life.
Start with rebuilding the family unit
Although the breakdown of the family group has an ill effect on all groups, including young white boys and girls as well, I have observed quite a bit of it in the state of Maryland, where I was born and raised. Young men, black or white, need a steady father-figure in their lives. Young women need their father as well to demonstrate how they should expect young men they meet and date to treat them.
I am sure many could disagree with me, but start rebuilding the families and morality, and you will quickly see the improvement in the quality of life for every segment of society, most importantly for Black America. Ignore these things, and you are doomed to proliferating the status quo.
As long as we throw money towards mothers who either have a good father removed by a judge or have children by men who do not want the responsibility, the problem will persist. It does not matter if the money is welfare from the state or child support from the removed father.
Also on rt.com
As a UC Berkeley professor and a person of color, I REFUSE TO SERVE the Democratic party and #BLM – and so should you
Blame Democrat policies, and Republican silence
Living outside of Baltimore, Maryland, where the core city is primarily black and Democratic, it would be a mystery how systemic racism exists where blacks pretty much preside over the black areas with the most crime. For that matter, interracial couples are a common sight in suburban malls. Yet the liberal/Democratic cheap shot is to see racism everywhere.
Black and white families need to re-assess their needs and put family first. It may not please feminists to know that the role of the father in the family is essential, but the lack of one shows its face daily in the news.
I would argue that it boils down to systemic racism, but in the form of the cynical policies created by Democrats, which control most of the areas in which we, the people, live. Let's not forget, the most significant predictor of life-prolonged poverty is single motherhood. The highest rate of single motherhood is among African American women, and Democrats have encouraged this for years, along with generational welfare dependence – it isn't rocket science.
But I don't let Republicans off the hook either because they are partly to blame, too. Major party leaders are right now bowing to the outrage mob and assuring African Americans that it's everything else that needs to change – but not addressing the main problem.
Personal responsibility is the pillar
Personal responsibility is a huge part of an individual's success, or at least, that's where I draw my line. An entire group cannot continuously blame others without taking the time to self-examine and make the necessary changes to their own lives and behavior. It's true that the welfare system instituted by Democrats only served to further deepen the problem by instituting the requirement that only single women/single mothers qualified for it, or were able to get more money than married ones.
It started a huge wave of divorces to qualify and made it a deterrent to marriage and the stability of a nuclear family. While many groan and recoil at this administration's slogan: 'Make America Great Again', it's time millennials took the opportunity to take this advice to heart regarding revisiting the values that earlier generations grew up with that helped to provide stable families and gave kids the healthy childhoods they needed to grow into productive and successful adults.
Self-respect is another important leg
There was and still is value in self-respect, in marriage, in waiting to have children until married, and being able to support a family financially and in marriages where both partners refuse to give up so quickly but instead work at the relationship as so many of our Greatest Generation couples did. Self-respect and respect for others, as well as responsibility and accountability, are qualities that are currently sorely lacking, and society, and our country, would greatly benefit from seeing these traits cultivated and applied once again.
It would be idiotic not to bring in the topic of religion. There is NO substitute for good Christian values. Raise your children not to be a victim, but to be accountable for their actions and how their own life turns out. Do this, seek God, and things will work out. I swear it works!
Think your friends would be interested? Share this story!
The statements, views and opinions expressed in this column are solely those of the author and do not necessarily represent those of RT.
You can share this story on social media: