Woke review of the Queen's paintings shames true heroes of Xmas favourite 'Zulu' by insulting their bravery as 'colonial violence'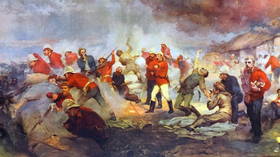 A painting of a famous battle scene owned by the Queen and retold in the film 'Zulu' has been relabelled. A Black Lives Matter-inspired review has shamefully decried the bravery at Rorke's Drift as racist and violent imperialism.
While it must be hard for the Queen to ignore the clamour of the woke constituency, especially when one's own grandchildren are the poster couple for this increasingly insidious mindset, caving in over the relabelling of 'The Defence of Rorke's Drift,' at Christmas of all times, is really a step too far.
The 1880 painting, commissioned by Queen Victoria from Lady Butler, depicts a battle that took place just a year earlier in which about 4,000 Zulu warriors were held at bay by 141 mostly sick and wounded men who had been left at the mission station by advancing British and Colonial troops during the battle to build a unified South Africa.
Also on rt.com
How Black Lives Matter, a Marxist political movement, toppled the establishment to become Art's #1 powerbrokers
Hours earlier, another detachment of troops had been left at Isandlwana, where they stumbled across a Zulu camp of 20,000 warriors. That misfortune resulted in the death of around 1,350 British soldiers and auxiliaries in one of the worst defeats in British military history.
The Zulus had stopped the British in their tracks and later celebrated their mighty king Cetshwayo and the slaughter in song, which was even reprinted in The Times in 1879.
They were not alone in finding military glory, as the defence of Rorke's Drift reminds us. So now the painting commemorating it hangs at the top of the main staircase in St James's Palace as a permanent tribute.
To try and infer, however, that those lives were lost and that courage was shown all in the name of some abstract idea of "imperialism" is absurd. To suggest that Zulus fought as "anti-imperialists" is also plain wrong. These are modern concepts, earnestly discussed at length in universities and nowadays applied to instances where they just don't fit.
Because if we must all feel guilt and remorse over battles fought in far-off countries hundreds of years ago, where does it all end?
Also on rt.com
Off with their shrunken heads! A leading UK museum decides the display of South American human remains is racist
Do we ban director Cy Endfield's 1964 film, Zulu? That would be a shame because it is a British festive season perennial (on Amazon Prime at the moment) and stars Michael Caine and Stanley Baker with Richard Burton as narrator. What of them? Should we cancel the trio as racists?
No one should feel guilt at enjoying a historical painting or a popular classic movie re-telling of a famous battle as a Christmas indulgence. We all know Zulu's director took a few liberties in his version of events but, unlike those poor confused souls who struggle to distinguish reality from fiction with 'The Crown,' we are not overly concerned at the factual inaccuracies and won't be needing a disclaimer.
It is entertainment. And, after all, that is what Lady Butler's painting is too. Not a political statement promoting imperialist violence. It is a reminder of a battle involving improbable odds and tremendous bravery that followed an earlier encounter that had ended in a humiliating defeat.
That label now sitting alongside 'The Defence of Rorke's Drift' is a surrender those involved in the battle would be unable to comprehend. To have their bravery derided as colonialist violence is a bewildering and thoroughly modern insult.
Also on rt.com
The removal of a bust of the British Museum's founder is no trivial issue. It is a step towards the erasure of the Enlightenment
But while they are at it, those pursuing this illogical cultural revisionism by insisting that the painting be flagged up as "connected to colonialism and imperialism" might think about approaching the Zulus' ancestors to redact all versions of their song celebrating their slaughter of British forces from history books in case it upsets schoolchildren.
It would never happen, of course, because that's not what all this is about. This is about forcing people and institutions, the Royal Household included, into accepting woke opinions and intractable thinking as the only acceptable version of events.
The aftermath of the battle at Rorke's Drift saw 11 men awarded the Victoria Cross. For self-righteous, entitled and privileged fools to be allowed to undermine that is a disgrace of which we should all be ashamed.
Think your friends would be interested? Share this story!

The statements, views and opinions expressed in this column are solely those of the author and do not necessarily represent those of RT.
You can share this story on social media: