As the West still reels from the consequences of Covid, the clear winner looks to be China

Tom Fowdy
is a British writer and analyst of politics and international relations with a primary focus on East Asia.
is a British writer and analyst of politics and international relations with a primary focus on East Asia.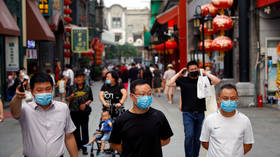 Despite facing a host of sanctions, China is exiting a coronavirus-dominated year in better shape than many countries in the West. In time, 2020 will be seen as the year there was a major shift in the global balance of power.
"Has China already won?" is an interesting question that was the premise of a recent New York Times article titled 'China's Combative Nationalists See a World Turning Their Way'.
The article refers to an apparent belief in China that, despite growing tensions with the United States and the West – often framed as a 'new Cold War' – Beijing has the upper hand. And this line of thought stems from how countries are dealing with the overriding issue of 2020, Covid-19, which many have tried to pin on China.
Despite the finger-pointing, there are some good reasons for Chinese confidence. While the West has wrestled with frequent waves of the virus and spiralling death counts, life in China has long been back to normal. Its regime of strict lockdowns and mass testing, even spanning entire populations of major cities, has paid off.
Also on rt.com
Don't be fooled by all the scaremongering around a third wave of Covid-19 – these are just the ripples of a fading virus
The West initially painted the situation in Wuhan as a dystopian nightmare and a huge political failure, yet China has prevailed while other places have struggled. Similarly, as the GDPs of Western countries are set to end the year shrinking by unprecedented scales, China will emerge as the only major economy in the world that is growing.
Of course, this doesn't mean the West is looking at China with reverence. Quite the opposite. Instead, some have scapegoated their own situations on Beijing and ramped up the aggressive rhetoric. In the US, the Donald Trump administration has bombarded Beijing with sanctions and restrictions non-stop for six months.
So, while many in the West argue there has been a backlash against China and its global standing, and claim that the country should be 'contained', this kind of talk doesn't seem to scare Beijing much.
Whether the West likes it or not, there is evidence that China's growing confidence is well-placed, and that the year 2020 will stand as a significant turning point in the global balance of power. Disapproval of Beijing matters little, because the economic current is rapidly turning in China's favour. Its economy will grow by around two percent this year, and in 2021 experts suggest a GDP growth of around eight percent. While other economies, such as the United Kingdom, have to rebound from record declines, China is adding growth to growth. On this note, a Japanese economic institute has forecast that China will become the world's largest economy by the year 2029. The severe damage the virus has done to the US economy has now put it within touching distance.
In addition, foreign investment is continuing to pour into China at record levels, with the Financial Times reporting that this year investors have placed over $150 billion into Chinese-related funds, as it has been the only stable market in the world. This flies in the face of talk of the US and Chinese economies 'decoupling' and Trump-related measures aimed at curtailing Beijing.
Also on rt.com
Claims that Biden will be influenced by Beijing are Trump's brazen attempt to create a Chinagate crisis that doesn't really exist
What's more, talk which suggested supply chains would leave China or that there would be a 'backlash on trade' simply hasn't been borne out. The Regional Comprehensive Economic Partnership has consolidated China's place as the centrepiece of Asia's economy, while rail links between China and Europe have been used at record levels. If anything, China's position in supply chains is stronger, not weaker.
There are also the Covid-19 vaccines to consider. While the US has developed the Pfizer/BioNTech and Moderna vaccines, which have global appeal, to combat the virus, there is one big problem: Western countries are hoarding them. This leaves the developing world at the back of the queue to wait until the West looks after its own first, a scenario we have never encountered before.
China, however, has pledged priority supply of its own vaccines – manufactured by Sinovac, Sinopharm and CanSino – to countries throughout Africa, the Middle East, Latin America, South Asia and Southeast Asia, while the West – which has traditionally dominated pandemic response and humanitarian aid – can do very little. For example, China vaccinated the prime minister of the United Arab Emirates, a diplomatic coup to say the least.
Given all this, it is then fair to ask the question if, indeed, China has 'won'. The term is, of course, very subjective, and the criteria are hardly definitive, but Beijing has many reasons to feel satisfied. Despite the relentless negativity, the country sees itself forging ahead of the West in a battle that has become a 'survival of the fittest', and it recognises that a window is now opening to really reinforce that advantage.
This might prove a rude awakening for many in the West, who were taught to believe in the absolute supremacy of their own ideology and system, and cannot conceive the idea of potentially being on the 'losing side' of a cold war or having a communist state become the world's largest economy in just eight years. But at this stage, that looks to be where we are heading.
Think your friends would be interested? Share this story!
The statements, views and opinions expressed in this column are solely those of the author and do not necessarily represent those of RT.