Liberals' backing of further lockdowns is costing human lives… and showing just how 'liberal' they REALLY are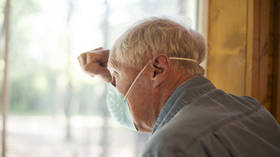 Why are we treating Covid just as we did in March? The last 10 months have shown forcing people to stay inside is causing endless damage. And the loudest backers are the leftists you'd expect to be more vocal in their opposition.
I overheard a really tragic conversation over the fence at my parents' garden a few months ago. A very old man came by, wearing a mask, and his daughter (or daughter-in-law) was in the house, also wearing a mask, and she said he shouldn't be outside.
He pleaded with her to see his grandchildren. She, very condescendingly, told him that he didn't understand the risks of Covid and shouldn't be out of the house. He, almost crying, said he was going to die of something anyway, and that he'd like to spend his last moments with his family instead of rocking back and forth in his apartment alone.
On Friday, New York Governor Andrew Cuomo announced he would be closing indoor dining in NYC. He's also tweeted reminding people that "over 70 percent of cases can be traced to households and indoor gatherings."
Because, apparently, back in March, nobody was sensible enough to realize that it's a psychological fallacy to think you're any safer at home with family than you are out on the street, given that Covid doesn't care if you're with your Aunt Barbara or if you're with the deli owner across the road.
I'm saying all of this because it seems insane to me that, ten months in, we are handling Covid the same way we did in March. I was sympathetic then. The hospitalization rates were climbing, and it seemed better to quarantine than to put frontline workers into the awful position of deciding who should or shouldn't be able to receive care.
But enough is enough. People are losing their livelihoods and getting evicted in the cold, winter months. Parents are going insane trying to juggle working from home with their kids around, even though research shows that the infection rate in schools is very low. Our suicide and homicide rates have drastically increased. I don't even know what it's going to look like in January, now that our only 'ethical' options are to stay at home alone for four months.
It baffles me that the same liberals who said "mental health matters" a year ago are now basically arguing that if you commit suicide because you're forced to stay at home, it's your own damn fault. It baffles me that the same anti-establishment hippies from yesteryear are now perfectly comfortable with having a government dictate your every move.
Say what you will about me, but at least I'm consistent. And I don't understand why we can't give people options: if you're vulnerable to Covid and fine with being a homebody, stay home. If you're not, proceed as usual and wear a mask.
Also on rt.com
Bill Gates says bars and restaurants should 'sadly' be closed for 4-6 months, no return to 'normal' until 2022
This seems like the most sensible option to me, but it's not what we're going with. Instead, we are praising authoritarianism, and dooming certain groups of people to death. Those people matter. Those are also human lives.
"The Left is not liberal anymore," a friend of mine and lifelong liberal recently said. Being liberal used to mean liberating people from social constraints. I'm all for that. But this is the opposite of that.
And no one seems to be asking the question of whether or not this is psychologically reasonable. I can assure you that every psychologist I've interviewed in 2020 says it's not. We're told to "listen to the experts." These are experts. There's a difference between looking both ways before you cross the street and not leaving your house because you're afraid of being hit by a car. The first is exercising caution. The second is anxiety. Our response to Covid, at this point, is an example of anxiety.
I think about that old man sometimes, and I wonder if he's OK. Because this might seem like kindness to you, but it seems like cruelty to me.
Think your friends would be interested? Share this story!
The statements, views and opinions expressed in this column are solely those of the author and do not necessarily represent those of RT.
You can share this story on social media: