'Remember HIS name...'? With Kim Kardashian, Bernie Sanders & race-baiting SJWs, justice and mercy are reserved for the murderer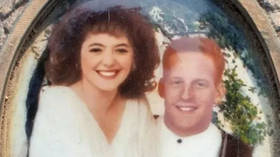 That poor Kim Kardashian is just beside herself with grief, and Democrat Senator Bernie Sanders is accusing the federal government of "premeditated murder" for executing death-row inmate Brandon Bernard.
Others, such as New York Times "journalist" Maggie Haberman, noted the cruel irony of President Donald Trump tweeting about saving lives just hours after Thursday's execution of Bernard at a prison in Indiana. And those brave race-baiters – the ones who stoke and feed on our nation's divisions like insatiable horse-leeches – saw an irresistible opportunity to do their thing because Bernard was black. For instance, Bishop Talbert Swan chimed in with misleading comparisons of Bernard's death sentence being carried out with supposedly lenient treatment for white killers.
None of the celebrity critics expressed any concern over the husband-and-wife youth pastors whom Bernard helped murder in 1999. Kardashian at least focused her defense of Bernard on how he has changed as a person during his two decades on death row. Others played absurd games with what-about-isms to make Bernard the real victim.
Swan made one of the most twisted and disingenuous arguments, first nothing that Bernard was 18 at the time of the crime and "shot no one." He failed to mention that Bernard doused the couple's car with lighter fluid and burned the woman to death (her husband had already died from a gunshot wound to the head while both were confined in the trunk after being robbed).
Swan then points out that Trump, who denied clemency for Bernard, praised Kyle Rittenhouse, who "murdered two Black Lives Matter protesters." He added that white "Christians" – since when does a "bishop" use "Christians" as a pejorative? – raised money for Rittenhouse's bail. He fails to mention that Rittenhouse was 17 at the time of his alleged crimes and apparently hasn't seen the video evidence that appears to show the white teen being attacked before firing his weapon.
The bishop then points out that police bought Dylann Roof a Burger King hamburger after his arrest for killing nine black people at a church in Charleston, South Carolina. Other distraught tweeters noted that Bernard is dead, and yet Roof remains alive in prison. The implication is that Roof was shown favor for being a white murderer of black people, in contrast to Bernard being unfairly executed by a racist, bloodthirsty president because he was a black man whose victims were white.
What these race-based conspiracy theorists fail to factor in is that Roof was sentenced to death in 2017 for the heinous murders he committed in 2015. He's on death row and will be executed in due time if Democrats don't eliminate the death penalty and ban such sentences from being carried out. Bernard was sentenced 20 years ago and was killed by lethal injection after his legal appeals were exhausted.
Also on rt.com
Activists plead with Biden to 'ABOLISH the death penalty' after federal execution of Brandon Bernard
As for the burger, police aren't allowed to starve suspects during interrogation, regardless of the skin color of alleged murderers or their victims. Doing so could lead to allegations of false confessions. While Swan falsely said police "took" Roof to Burger King, the fact is that they brought him food during questioning. Perhaps the race-baiters wouldn't have been as triggered if police had instead stopped the interrogation to make Roof a bad sandwich (and leave off the mustard).
Others aggrieved by Bernard's execution point out that some of the people who support such sentences – perhaps those Christians mentioned by Swan – also oppose abortion. The alleged problem is that they oppose killing unborn children but favor executing at least some convicted murderers. But think about the opposite: opposing the execution of any convicted murderers while favoring rights to kill unborn children.
The outrage is driven at least partly by the fact that death sentences are being carried out by the Trump administration, which has executed nine federal inmates since July. For sufferers of Trump Derangement Syndrome, anything the Bad Orange Man does is exponentially infuriating. It doesn't matter that Barack Obama's administration declined to grant Bernard clemency during its eight years in charge. Trump is the bogeyman, and Trump alone is the culprit.
And for many observers, Bernard's execution is just the latest in a long line of unjust murders of black people by the state. For some, regardless of justification (or lack thereof), the killing of a black person by government agents is automatically racist and probably reason enough to burn and loot our cities. We're told to "say his name," say Brandon Bernard, to remember this latest victim and inspire us to take revenge.
But what about their names? Oops, we haven't mentioned their names. Their names are Todd and Stacie Bagley. They, too, were young, at 26 and 28. They were white (sorry) youth pastors from Iowa who were on a visit to Texas when they agreed to give a ride to two of Bernard's friends. But those two and a third accomplice robbed the Bagleys and forced them into the trunk of their own vehicle in a pre-planned carjacking, according to prosecutors.
Bernard had supplied the gun for the robbery and helped buy the lighter fluid that he and an accomplice doused the couple's car with at a remote recreation area on a military base. After one of the other teens shot the husband in the head and the wife in the face, prosecutors say, Bernard set the car alight. Stacie Bagley allegedly died in the fire.
According to one of the teens, the woman's last words were, "Jesus loves you," and "Jesus, take care of us." While locked in the trunk, the couple had tried for hours to preach to two of the robbers, who were sitting in the back seat. They even told the teens about their upcoming revival meeting at the local church.
In the end, they were shot and burned. They didn't get 20 years to reflect on their lives and try to become better people while awaiting death. They didn't get to spend time building relationships with celebrities, say final goodbyes to loved ones, or make any requests about a last meal. All Stacie Bagley could do was say, "Jesus, take care of us" before watching her husband be shot dead, and then be shot herself and burned.
So yes, remember the names. Remember Todd and Stacie Bagley. Today is a day to lament the taking of their innocent lives – not to pretend that one of their murderers is a victim.
Also on rt.com
US executes death row inmate Brandon Bernard in 9th federal execution in 2020
Think your friends would be interested? Share this story!
The statements, views and opinions expressed in this column are solely those of the author and do not necessarily represent those of RT.
You can share this story on social media: