The armed police raid on home of ex-Florida Covid-19 data scientist Rebekah Jones is an intolerable, dystopian intimidation tactic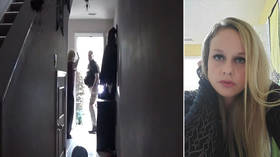 The Sunshine State made headlines when law enforcement agents stormed sacked whistleblower Rebekah Jones' residence, allegedly pointing guns at her and her children, then seizing her computer, phone and hard drives.
According to state officials, Jones, a former Florida Department of Health (DOH) data scientist, was fired for "insubordination," but she claims she was dismissed for refusing to alter official Covid-19 data to make reopening the state more palatable for the public at the behest of Republican Governor Ron DeSantis, a close ally of U.S. President Donald Trump.
After her firing, Jones, the former geographic information system manager for the Florida DOH, created her own information dashboard and gained a large public following. Her public recognition immediately became political – some see her as a hero, others as having her own political agenda. She was publicly criticized by Governor DeSantis as not being a "real" data scientist, a style not so dissimilar from how President Trump has handled whistleblowers in his administration.
Jones' house was stormed, according to an official affidavit, because an unauthorized message sent from an official state emergency management account that urged DOH employees to speak out was traced back to her, which she denies.
As USA Today reported, others in the field see that as a clear attempt at intimidation and a "scary time" to be a researcher.
"Brazen actions by Florida authorities demand greater transparency to protect the free flow of information and rights of the public," the American Association of Geographers said in a statement.
The Florida Department of Law Enforcement, however, disagrees. According to an official statement, they believe that their officers showed "tremendous restraint" when executing the warrant in Jones' home. A video of the incident that was posted on Jones' Twitter account was deeply disturbing, as she said in a tweet, "They pointed a gun in my face. They pointed guns at my kids."
This was clear intimidation, and it will probably only continue. Jones apparently had proof on her hard drives that show that state officials "were lying in January about things like internal reports and notices from the CDC," and her source for any leaks could be criminally investigated. Jones publicly warned her contacts on CNN,"DeSantis will know soon enough that you've been talking to me. So be careful." (A spokesperson for DeSantis denied the governor's involvement).
Just like Trump, Governor DeSantis has pushed a hurried reopening strategy and presided over the fourth highest Covid-19 death toll in the union. His administration has also drawn criticism from local officials – Republicans and Democrats alike – for disallowing them from setting their own rules on face masks and social distancing. Florida's official strategy has been, as Jones would attest, based on a denial of reality.
Echoing Jones' claims over the last six months, the South Florida Sun-Sentinel found in a recent investigation that some health department spokespeople were told not to issue statements about the Coivd-19 situation in Florida, a key battleground state in US presidential elections, until after the election in November. Some officials also deliberately withheld information, according to the investigation.
Any reasonable person who saw the video of the raid on Jones' home would agree that it was over the top and excessive, just like her treatment so far by state officials and the ongoing criminal investigation against her and potentially others. Regardless of the circumstances of the raid and whether Jones actually committed wrongdoing, the message is clear: transparency will not be tolerated if it doesn't fit the proper narrative.
Also on rt.com
Florida governor goes after media who 'waxed poetically' of Florida Covid-19 crisis, brandishing numbers
Even for the United States, which has mounted an abysmal federal response to Covid-19, this is beyond the pale. The country is currently in the thick of the worst coronavirus outbreak in the world, averaging well over 2,000 deaths per day and counting. Florida has one of the oldest populations in the country, and thus one of the most susceptible to Covid-19. The public, especially in Florida, has the right to know information about the epidemiological situation in order to properly mitigate risk.
From the start, everything that's happened in the United States with the coronavirus situation has been an egregious violation of human rights, plain and simple. Thousands are dying everyday and in a few weeks millions more are facing abject poverty, homelessness and starvation. The situation is a dystopian nightmare and raiding the homes of whistleblowers seeking to inform the public about their state's pandemic response is just another example of that.
Like this story? Share it with a friend!
The statements, views and opinions expressed in this column are solely those of the author and do not necessarily represent those of RT.
You can share this story on social media: