Covid-19 has exposed the fatal flaws in Britain's university system and hastened its inevitable decline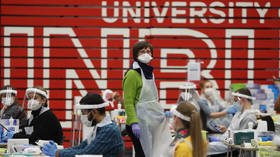 The pandemic has left university students depressed, staff burnt out and highlighted a host of problems with the higher education model. As a lecturer myself, it pains me to say the whole system is in crisis.
Only a few more teaching days are left of this term, and as a lecturer with 10 years of experience at a British university, I can honestly say this year has been the toughest.
Since September, universities, and students, have hardly been out of the news. Back then all the talk surrounded rising rates of Covid-19 in student communities. Then, in October, it was about how those infection rates among students had spread into the wider populations of university towns. At the time, I wrote an article asking people not to blame students for rising infection rates, but rather hold the universities and the government responsible for their poor management and lack of foresight.
Also on rt.com
Covid rates in uni towns across UK are raising tensions among locals, but don't blame the students – it's fatcat bosses' fault
Now we are at the end of term and reflecting on students' mental health, with a new survey revealing many have suffered depression. We all remember the headlines about students being locked into halls of residences at the University of Manchester. In Nottingham, thousands of pounds of fines have been doled out. Students up and down the country have talked about being imprisoned as universities invited police onto campuses, effectively criminalising them for being there.
It is hardly surprising that many students, either isolated in halls and away from their families or stuck at home trying to cope with online learning without the necessary resources, are struggling with anxiety. I have heard from colleagues all over the country, and witnessed for myself, students trying to learn on mobile phones because they don't have laptops or full access to resources on campus. Student support centres have not been given the adequate resources to cope with the new problems the lockdown and Covid have brought.
If you look through any of the academic support social media sites, it is clear that the faculties are also struggling. We have been overwhelmed by the unprecedented levels of academic and emotional support required by our students. I'm not exaggerating when I say that everyone is truly burnt out. What we need, along with 60 million vaccines, is 60 million threads of mental health support.
At this point in the term, all who work in the university sector will be receiving emails from vice chancellors thanking them for all their hard work. But I'm going to be honest, a 'thank you' is neither wanted, welcomed nor enough.
All of these problems were in the post. It's been building for many years – universities think of themselves as businesses selling a product. They spend millions on marketing and competing with each other globally for 'business' (sorry, I mean students).
The cities they sit in have also come to rely far too much on the student pound. Landlords and, more recently, international property developers have done very well out of the global student population – and all of this has left students, faculty members and support staff at their mercy. Universities are starting to turn into latter day 'Dark Satanic Mills' of vulture capitalism rather than seats of learning.
The glittering multi-billion-dollar campuses don't look much like the Satanic Mills of William Blake's day; they are more like shopping malls. Currently they look like unused, empty and soulless debts hanging around the necks of every student and worker. Here in the UK, as graduates struggle to find decent jobs that will pay them enough to even start to pay back their £30,000-plus loans, these vainglorious buildings will be propped up by every single person in the country, as the universities will inevitably go cap in hand to the government for bailouts.
The pandemic has only highlighted what was already happening within the university sector; it is top heavy and about to fall. Education is supposed to be a social good, not just a piece of paper to swap for a job.
Last year, I went on strike as my union called for an unprecedented 14 days of industrial action over pay, conditions, and the increasingly precarious nature of academic teaching. My profession has been denigrated. For 10 years, we have watched while the sector has suffered from inflated fees, the withdrawal of government funding, unmanageable student debts, university campuses being re-imagined as five-star hotels, and vast salaries for vice chancellors and managers, while security staff, cleaners, canteen staff languish on poverty pay.
The Covid crisis is showing us all just how sick our society really is, how little we have in social goods, and how vulnerable we are to the excesses of market capitalism.
If you like this story, share it with a friend!
The statements, views and opinions expressed in this column are solely those of the author and do not necessarily represent those of RT.
You can share this story on social media: