A shocking new Netflix documentary explores the seedy side of Dominique Strauss-Kahn, former poster boy for the global elite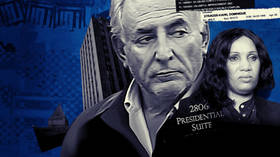 The new four-part mini-series showcases sex, money, power, class, race and gender as it dives deep into the fetid swamp of the former IMF head's controversial 2011 sex assault case in a futile search for truth.
'Room 2806: The Accusation', the new documentary that premiered on Netflix on December 7, tells the twisted tale of Dominique Strauss-Kahn (known as DSK), the former chief of the International Monetary Fund (IMF), and the sexual assault scandal brought against him in 2011.
At that time, DSK was at the zenith of his career. As head of the IMF, he had performed admirably during the 2008 financial crisis and now the former French finance minister seemed poised to defeat unpopular incumbent Nicolas Sarközy and become the president of France.
Life was good for the darling of the Socialist Party and of the socialite set, thanks to his career success and his marriage to the beautiful heiress Anne Sinclair, an accomplished and connected American-born French journalist.
Then DSK went to New York on a business trip and stayed at the smart Sofitel Hotel, in room 2806 – the $3,000-a-night presidential suite. This is where, on May 14, 2011, the 62-year-old had a brief sexual encounter with a 32-year-old maid, Nafissatou Diallo, right before leaving to catch a scheduled flight.
Diallo, an illiterate immigrant from Guinea, in West Africa, quickly reported to hotel security, and then the police, that she had been sexually assaulted. In response, the New York Police Department (NYPD) swiftly arrested Strauss-Kahn at JFK Airport.
And thus begins the series' tumultuous journey to find out the truth of what actually happened in Room 2806.
Along the way, DSK is charged, held in New York's notorious Rikers Island jail, resigns from the IMF, and loses any chance of becoming the French president. In addition, both DSK and Diallo have their lives upturned and their backgrounds scoured, and are ultimately thoroughly humiliated in the press… and yet the truth still remains elusive.
'Room 2806' is like a B-movie or a dime-store novel, in that it is filled with a series of ever more improbable twists and turns. Conspiracy theories, neither unfounded nor satisfactorily debunked, swirl around the case, as French intelligence, and their connections with Sarközy and the Sofitel's parent company, raise serious questions as to whether DSK was set up.
And there are shocking revelations about both DSK and Diallo, which leave the viewer both dismayed and disoriented, as it becomes all too apparent that neither protagonist can be trusted.
The well-paced series uses May 14, 2011, the date of the alleged sexual assault, as the story's pivot, but it moves forward and backward in time in an attempt to give more context. This approach initially humanizes DSK, who, at times, comes across as an impressive and sympathetic figure in this real-life melodrama.
Despite his power and wealth, which usually protect people like him, DSK's social status is instead an incentive for law enforcement and the media to be vicious towards him. His licentious proclivities, both past and future, are exposed in detail. His friends and supporters claim he's merely a libertine and a lothario, rather than a rapacious sexual predator, but that is far too generous an assessment. As the film reveals, he is a lecherous, lascivious, and depraved degenerate who is a shameless slave to his own voracious ambitions and appetites.
Also on rt.com
Oscar-nominated actress Ellen Page, star of Netflix's 'The Umbrella Academy,' declares that she's transgender and now named Elliot
Unsurprisingly, Daillo is sympathetic – at first. The narrative of the hard-working single-parent immigrant preyed on by an entitled and debauched member of the elite is a compelling one. But there is something off about her… and those feelings of unease are backed up when she's exposed as being a much more complicated and compromised character than had been originally portrayed.
As ultimately unlikeable as DSK and Diallo both are, this case attracts a collection of odious secondary characters like dung beetles to a manure pile.
Shakespeare wrote, "The first thing we do, let's kill all the lawyers", and this insight is certainly applicable to the DSK case. His lawyers are, not surprisingly, considering his enormous wealth and status, the very best in the business. Benjamin Brafman is one of the most talented and notorious in New York, for the right price, he quickly slithers to his client's defense with fork-tongued aplomb.
Diallo has a pair of lawyers as well, neither of whom seem to have a brain between them, and, in the documentary, they bend over backwards to aggrandize and embarrass themselves.
Then there are the self-serving activists who use this awful case as a platform from which to shout their inanities. There's a black former NYPD officer who's now a race activist – he does a cheap Al Sharpton impersonation and screams that Diallo is a victim of racism, even though that's a vacuous claim and there's explicit evidence to the contrary.
Feminists plant their protest flag on the dung heap, too. Some even suggest the DSK case was the true beginning of the #MeToo movement. This seems a historically tenuous claim, but that is only to be expected from vapid hysterics.
The events documented in 'Room 2806: The Accusation' leave you feeling in despair for humanity and in need of a shower. It also leaves you believing DSK, Diallo, their lawyers, the cops, and the parasitical activists are all vile creatures who truly deserve the pronounced misery of each other's company.
Little wonder that DSK, now an embittered 71-year-old forced into the shadows, has announced plans to release his own documentary next year, claiming. "The time has come for me to speak out" – something he declines to do in 'Room 2806'. Is it likely to be any more illuminating? I suspect it will simply throw another forkful or two on to the steaming dung heap he created in the first place.
Think your friends would be interested? Share this story!
The statements, views and opinions expressed in this column are solely those of the author and do not necessarily represent those of RT.
You can share this story on social media: